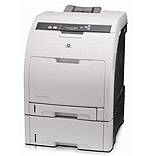 Do you still work with black and white documents and collaterals? Or do you outsource your printing needs when it has to be in colours? HP brings a cost effective solution for you – the HP Colour Laserjet solution.
To empower the growth of businesses through technology, Hewlett-Packard (HP) India is partnering with small and medium enterprises (SME) to establish the relevance of colour printing solutions in office.
Research has shown that colour documents and collaterals are 80 per cent easier to read in comparison to black and white ones. Even the payment response improves upto 30% if the invoices of the company are coloured. But since small businesses think getting coloured print outs is expensive they usually prefer black and white. And if there is something to be done with colours they usually outsource it.
But with the HP laser printers coloured prints will no more be a problem or expensive. By using this technology companies can expect savings upto 25% in over 2-3 years. Its features like intuitive control panel and user friendly menu makes it a preferred option above many other printers. Its inline technology prevents paper jam, thereby preventing wastage and gives you exceptionally quiet operations. Because of its small and convenient size it fits anywhere in your office. HP also claims that it is three times faster than the other printers available in the market.
The HP LaserJet Printer series enables high productivity through supplies and device manageability, networking and security features and it produces superior quality at an affordable price. The printers might cost you anywhere between Rs. 18,000 to 6 lakhs depending on the features that you choose for your office.
HP is reaching out to sectors, including the hospitality, healthcare, retail jewellery, advertising, and manufacturing segments, among others, which can improve their customer loyalty and profitability.