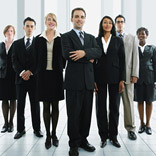 Finding the right talent is one of the biggest challenges faced by startups. In fact it is more about building the core team which would drive the business. The founder of a startup would in most circumstances prefer to do the hiring himself rather than outsourcing it to a head hunting firm. In most of the cases an entrepreneur has to find people from his contacts, either directly or through references. Here are a few tips that will help you select the right candidates to have your business rolling.
1.     Network well
If as a startup entrepreneur you are not able to find people through references, it means you are poor at networking and maintaining contacts. It is possible that you may not have realised the importance of a circle. Perhaps you may have been able to do things on your own, but you will have to build your circle now. Many startups have been able to build amazing teams merely out of their contacts or through their references. Many people have got their ex colleagues partnering them for business. So start building your circle now.
2.      Consider people who may not be a perfect fit
One important question before startups is should they consider people who do not perfectly match their expectations. The hard Indian reality is that it is extremely difficult to find people who would be willing to understand a startup and work for it. The next lesser severe bottleneck is to find people who have the right mix of skill sets you are looking for. Well if you have surpassed the former more difficult hurdle, then you should definitely get in touch with people who are at least willing to work for you. Don't reject them outright. Present your pitch to them effectively. They will spread the word about your startup in their own circles and this word of mouth publicity can get you amazing people to work with.  
3.     Start a blog for your company
Many people will advocate working for startups as it is fun working in a close knit, informal environment. Just blog about what happened in your company today. What was the small but extremely valued achievement made today, who was credited to it and how the small team revelled. Write about that set back and the great lesson you learnt from the same. Write about your everyday challenges and the learning that comes in everyday. That can be a convincing way to attract people who would like to work with you.
4.     Pitch Yourself Right
You must be careful in designing the right pitch for your start up candidates. Simply consider why a young guy would be interested in working with you. Don't look at it in terms of an opportunity to go ga ga ga about your company. Keep it simple instead of talking in a jargon which a fresher may not understand. Highlight the areas that might interest someone who is on the verge of starting his career with your company.
5.     Never Hire a Wrong Person
You may be in a hurry and say I want this guy today itself. However it is never a possibility that you may get the right person as and when you desire. You have to be patient. And more importantly nothing will justify a wrong hire. Always consult your existing team before giving the final nod to a prospect because it is actually the entire team which has to work in tandem with one another.
6.      Offer ESOPS (Employee Stock Options) 
You may not able to offer a pay package in tandem with industry standards. However you can sound lucrative by offering ESOPS. Have shares allocated towards that and spread the word around it. Include this proposition in their offer letter and see it working.