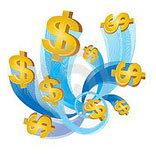 Whether it is a multi-billion dollar empire, or the tiny mom-and-pop convenience store on the street corner, cash is the lifeblood of any business. Many small businesses with limited financial training are having problems staying alive, let alone prospering. The primary reason is bad cash management. Too many self-employed people neglect their cash flow until it is too late to recover.
Here are some great tips to manage your cash flow.
THUMB RULE
The basic key to good cash management for any business is 'Planning & Monitoring'. A good idea is to do a monthly planning at the beginning which will be monitored and analyzed on weekly basis projections. Planning will include parameters like debts, variables, outstanding in market or revenue collection. 'Plan and fix your targets and you will surely never go wrong in your calculations and suffer credit crunch. This fundamental management function will alone prove the 80-20 theory as this demands less of hard work and more results', says Rahul Jain, CEO, Business Coaching India.
KNOW YOUR PEOPLE
Do negotiate with your vendors and keep looking for new ones who can give better deals in terms of pricing and credit time. Similarly, keep a constant check on your clients' performance because if they regularly default on payments you will always suffer from credit crunch which will force you to take unnecessarily loans for which you will have to pay additional interest. So, its better you fire such clients.
CREDIT PROFILE
"Cash is king" for a small business. The more cash you put into your business and the less you pay out, the more successful the business. Here your 'Business Credit Profile' plays the central role. It must present your business favorably to customers, suppliers, lenders, investors and insurers. A favorable credit profile can enable you to inject more cash into your business by receiving a bigger loan or attracting more money from investors.
KNOW THE CAUSES
Cash flow problems can come from either end of the business cycle- spending or receiving. Growth opportunities necessitate cash investment; customers not paying quickly enough will not generate cash. Understanding the causes of cash-flow issues can help you head off problems before they start.
PREPARE
When cash is tight, you need tools at hand to solve the problem fast. Line up several sources of financing in advance. Match sources and uses appropriately. Try to minimize your fixed expenses.
GROW SMART
Consistent growth is the best way to smooth out bumps in cash flow. When opportunities for growth present themselves, plan carefully. Every investment, whether in inventory, people, or equipment, should have a clear return.
TAKING ON NEW BUSINESS
Managing your accounts receivable (A/R) is important at all times. Most service businesses conduct their due diligence when taking on new clients in order to ensure that they receive payment back in a timely manner. The best safeguard for your company's cash flow is to be proactive before new customer billing even begins. When taking on a new customer, always ensure there is a contract in place, setting out the terms of repayment, and make sure you cover all your hard costs before beginning work.
IT AS A BUSINESS TOOL
IT support has become inevitable for any business today. In small businesses like retail, the biggest challenge in managing cash flow is the time between paying for inventory and selling it. Businesses dealing with inventory should have point-of-sale (POS) software that gives them information about price adjustments from their suppliers so they can react more quickly to price changes that impact profitability. This will surely prevent being stuck with unsold inventory and tying up cash.
INVENTORY IS NOT CASH
Every item you have on your shelf should eventually be transformed into cash, and the sooner the better. As long as it's inventory, it's basically dead. If it is not moving, you're not having cash flow. Determine which items account for majority of your sales and then minimize ordering other items that are selling poorly or infrequently. Determine your economic order quantity and don't order too much inventory just to save a few pennies. Make sure you are getting competitive prices.