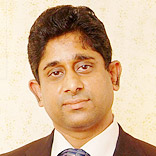 Since its inception in 1992, IBM India has focused on building integrated, multi-product, IT solutions to help SMBs innovate in the challenging times. IBM believes in its capabilities to deliver on the promise of smarter planet by playing a vital role in developing the small and medium businesses. We talk to Mr. Naresh Narasimhan, Director, General Business, IBM India who tells us what has been their strategy.
Bhuvnesh Talwar(BT): What is your definition of Small and Medium Businesses?
Ramesh Narasimhan(RN): IBM offers solutions for the SME market based on company size: Small businesses (fewer than 100) and Medium businesses (100-999). The SME market is and will remain a key focus for IBM India. IBM offers SMBs solutions and technologies that are critical for their survival in the Indian market. Globally, SMBs represent more than 90% of all businesses and employ over 90% of the world's workforce.  They  produce  more  patents  and  more innovations  per  employee  than  large  firms. Today, it is not about how big you are, but about how smart you operate.
BT: What makes the Indian SME space interesting to you?
RN: Mid size business is vital to world economy as over 65 percent of world's GDP comes from SMBs. SMBs and midsize companies want to work smarter and need to gain greater insight into their customers and market trends. This is especially true for midmarket companies.  They are the engines of innovation and are also expected to lead the world economy back to growth.  These companies, even more so than larger competitors, have the DNA to quickly seize new opportunity and leverage the competitive advantages of a smarter planet. Smarter Planet is about building a more instrumented, interconnected and intelligent world and applies to midsize companies just as much as it applies to governments and corporate giants. IBM's General Business (read SMB) unit is one of the fastest growing units for IBM India.
BT: What are the major challenges or roadblocks you have been facing in the SME space?
RN: SMBs currently lack the time, resources and in-house staff to keep pace with the changing technology. This is where technology leaders like IBM step in to play a role by managing the complete spectrum of IT solutions spanning hardware, software implementation and training. We invest a great deal in designing and developing solutions – products and services – that are designed specifically and customized for the SMB marketplace. To be able to address more of the mid market opportunity, IBM has been expanding geographic coverage beyond the tier I and II cities in India and enhancing partner relationship to be able to address more of the mid-market opportunity.
Our solutions are exclusively designed for SMBs with high flexibility and better ROI in mind rather than simply repackaging enterprise solutions at a cheaper price. The solutions draw strength from IBM's extensive research and consultancy and design is driven by the right solution, right package, and right value proposition that meet their need in consultation with channel partners. The end result is something the partners feel as a compelling value for their customers. We focus on solutions as we don't believe in a piecemeal approach.
BT: What are the different technology solutions and products offered by you for SMEs? Please mention their features as well.
RN: IBM is the only player in the market that can offer end-to-end leading solutions for the small and medium businesses. There is no other company in the world with the capabilities of IBM to deliver on the promise of a smarter planet. IBM's tailor-made solutions help SMBs reduce cost; improve service delivery and enabling business innovation. We will continue to invest in the mid market. IBM is serious and committed to enable the growth of mid size business have been make inroads into Tier II and III centers in India. IBM's acquisitions in software and services have given the company tremendous new capabilities to help midsize companies prosper and grow, even during difficult times.
We have invested in the development of products and services specifically priced and designed for the SME marketplace under the brand name "Express Advantage". IBM's Express portfolio is comprised of hardware, software, services, solutions and financing and is designed to meet specific needs for SME's. IBM Express Systems are easy to install, deploy and manage and very affordable.  Now with Express Advantage product portfolio, we are offering complete solutions from IBM's Software, Systems and Technology, and Services groups – and will address security, business recovery, employee collaboration and energy efficiency needs of midsized businesses. The offerings are broadly categorized as point product, infrastructure solutions and business solutions.
We launched the Smart Business which is a breakthrough way for small and medium businesses to acquire, use and manage technology that is radically simple. IBM conducted focus groups with hundreds of small and medium business executives around the world. They told us about their IT experience. They said existing offerings from competitors were costly, complex and limited their choice, as well as their business agility.
BT: Do you find Indian SMEs adopting technology aggressively? What are the main deterrents for them?
RN: Yes, they are. Midsized organizations like their enterprise counterparts need smarter solutions that can help them better harness their information so they can continue to innovate and grow. Customers across the board are looking at efficient management of IT infrastructure and are investing in emerging technologies like business analytics, virtualization, Green IT and collaborative technologies. A recent IBM global study highlighted that even in tough economic conditions; over 50 per cent of Indian mid market business decision makers expect their IT budget to increase in 2009 as compared to last year. Businesses are looking at the value for money and investing in technologies that will enable them to gain a competitive advantage in this market place.
BT: Which business sectors are your prime targets or which segments are flourishing?
RN: We are the leader in technology solutions for SMB and large enterprises spanning across industries and verticals. While our list of SMB customers runs quite long, and spans across all industry sector pan India, to refer a few: India Glycols, Mahesh Sahakari Bank, Surat District Co-operative Bank, Kurmanchal Bank, Kusumgar Corporates, Innovation AutoRisk etc.,
Let's consider the following case: Madhav Bank is a co-operative bank based in a small town of Sirohi in the state of Rajasthan had the ambition of bringing technology-enabled banking to its large base of rural and semi-urban customers--offering them services like centralized banking, internet banking and mobile banking. IBM's 5-year contract with the bank to provide a remote IT infrastructure hosting and management from its center in Bangalore helps the client achieve its ambitions while not investing huge up front capital.
BT: How much of your revenue and market share constitutes of SMEs?
RN: As discussed earlier, the SMB market is a huge focus for us and we are committed more than ever to provide value to our mid market clients. IBM's unique value proposition to help its clients do more with less in economically challenging environment continues to earn greater trust and more business—resulting in an increasing market share, year after year.  
BT: Which one has been a more profitable business- Big Cos or SMEs?
RN: Think of IBM and images of large enterprise, big business implementations usually come to mind. We have the largest number of patents than any other company for 16 years in a row, and invests over $6 billion annually in R&D. IBM has over 3,000 scientists in eight Research labs in six countries, 25,000 technology developers in more than 60 major development labs, a Business Partner network of more than 100,000, and an innovation ecosystem of greater than one million. Indeed, not many would guess, for IBM Small & Medium is a Big Business. SMBs want the same thing as do large enterprise clients. That is value and innovation. And, we have almost a century of legacy of being the innovation partner of choice.