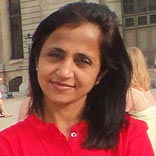 If you are passionate about something, their story will inspire you − it is the journey of ordinary people achieving extraordinary goals. While interacting with SMEntrepreneur, Saroj Samtani, Director, HangOut, talks about her success story, challenges and future plans. 
How did the concept of HangOut originate? 
HangOut started 12 years back. At that time, the hospitality segment was rapidly growing. Naveen Samtani has experience in the hospitality industry. He turned this opportunity into an entrepreneurship venture by opening a small bakery at Lokhandwala market. The initial concept was to provide designer cakes and pastries for the middle and upper middle class. A bakery was set up in Oshiwara to cater to the outlet.
Tell us about your journey as an entrepreneur? 
Ups and downs are always there but we were quite prepared. For a bakery, the first year is the testing period, once you survive that and show people that you are here to stay, and after this, the customer loyalty walks in. For us, the initial two years were tough, but we were quite patient and fought them through.
What were the initial challenges, and how did you overcome them?
Our biggest challenge was to acquire skilled manpower. We hired senior master chefs and conducted training classes. The initial two years were very difficult. We had a live kitchen that prepared cakes within 15 minutes. This concept really worked in our favour and increased the footfall, which eventually enabled us to climb the ladder of success. 
How do you maintain a same standard of quality at all your outlets?
Having a centralised bakery enables us to maintain a standard of quality all across our outlets. Even today, out of 20 cake orders, I personally look into at least 10 of them. 
What factors you keep in mind before opening a retail outlet? 
Research plays a major role here. We do a thorough feasibility study regarding the kind of population that resides in the locality and the environment of the location. We do a survey of residential area, and if the factors are in our favor, we go ahead with the decision.
Are there any training programmes that employees undergo?
We have international chefs coming in from time to time to train our staff. The training programmes stretch from a few weeks to couple of months. We lack the elaborate culinary institutes to skill the manpower. With training classes in place, we manage to elevate ourselves to a broader platform.
How do you deal with changing consumer patterns?
We try to incorporate and deliver the international standards when it comes to designer cakes. The exposure to the international lifestyle has increased drastically, and the innovations abroad are what we try and incorporate here.
How do you deal with the competition? What do you think is your strength?
The competition is not an issue considering the way we are going ahead. We are always innovating and upgrading ourselves, that is what keeps us going. 
All of our retail outlets and two factories are purchased and not taken on lease. The real estate value of the company itself is large. That is one of our biggest strengths. 
Tell us about your marketing strategies and their success.
We have grown over the years mainly due to word of mouth. We never adopted a formal marketing strategy. Personal interactions with customers and delivering cakes within 15 minutes initially helped us a lot. We did give out advertisements in newspapers. We also had students coming for industrial visits to learn the process of bakery. Even today, we have schools coming in for industrial visits. 
In our factory at Charkop, we have a training section that is mainly for the customers. We are planning to have short classes for people who are willing to learn about bakery. 
What are your expansion plans?
We will be increasing the number of outlets within six months. At Charkop, there will be a separate unit for chocolate production. We have been to Europe recently for brand association in this context. We are in contact with some Dutch and French companies. The chocolate factory will have foreign brand collaboration, but the cake shop will be in-house. We will also incorporate Hazard Analysis of Critical Control Points (HACCP), which refers to certification required for a food outlet.
We have also entered into apartment hotels by the name HangOut Villas, which will start within a month. We have acquired five bungalows in Lonavala, and we are converting them into apartment villas of four rooms each. Once this venture takes off, we plan to move to Shirdi and Goa as well.
We are also in the process of opening up a chocolate shop in a mall. 
Fact file:
Retail outlets: 8
Area per outlet: Around 300 sq.ft 
Service hours: 10 am to 10:30 pm
Turnover: Estimated at Rs 10 to 12 crore