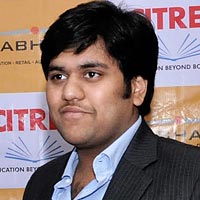 What does your company offer?
The core activities of the company include air-charter and passenger services for corporates, adventure tourism, political elections, entertainment industry, print and electronic media, production houses, emergency relief operations and other aviation-related technical and consulting services for its vast range of clientele across the country.
What services do you offer for adventure tourism? How your services are unique in nature?
We offer the services of Heli Skiing and Winter Sports, and quite notably, there are only two operators in India including us that are engaged in providing these kinds of services.  We are also on the verge of starting the services of Heli Biking.
How has been the growth of the sector in past five years? What do you think about its future?
The growth in this sector in the past five years was a little slow due to recession. However, we expect a double digit growth in the next five years.
How much initial investment is required to start a business in this field?
Well, the business can be started with a minimum investment of Rs 3 crore and with an old flying machine. But this is not a viable option, since customers look for the quality, which can be taken care of by providing new and advance flying machines. Hence, an investment of Rs 20 crore will be ideally fine to start with.
What requirements are to be fulfilled prior to enter this segment?
Apart from the financial investment, there are lots of requirements for commencing this business like obtaining NOC from the Ministry of Civil Aviation,  a good team and developing a good vendor network.
What sort of government permissions is required for starting the business?
The permission of DGCA (Director General of Civil Aviation) and BCAS (Bureau of Civil Aviation Security) are mandatory for the commencement of this kind of business.
What safety measures are required for the business?
The insurance of pilot, flying machine, passengers and their baggage are mainly the safety measures for this business.
What are your current footprints?
We are operating in each and every state of the country without leaving a single state.  We are also expanding our existing fleet of helicopters by adding four more new and advanced helicopters very soon, which will boost the business growth of our industry. 
Do you look for any sort of investors in the business?
Yes, investors are always worthwhile for the maintenance of a sustainable growth pattern. So keeping this theory in mind, we look for investors in this business.
How has been the response from the market?
The market response is quite positive so far.  To sustain, operators need to be innovative as there are more than 100 operators in the market, causing cut throat competition in the segment.
 
What is the market size and your market share?
Total domestic passengers carried by the scheduled domestic airlines between January and May 2013 were 25.998 million against 25.808 million during the corresponding period of previous year thereby registering a growth of 0.74 per cent. The air transport including air freight in India has attracted FDI (foreign direct investment) worth $456.84 million from April 2000 to July 2013, which has propelled as a catalyst in our growth drive.