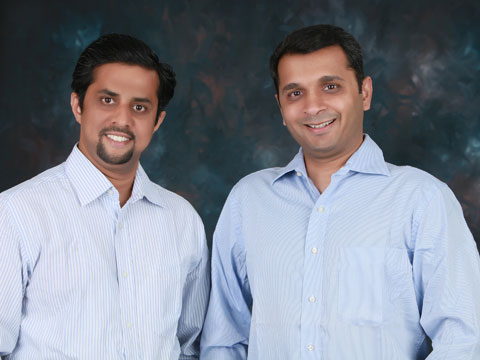 With the ever increasing roles in work profile every day, one needs to add skills sets in his or her resume. A good placement in a good company with a good environment is every job seeker's dream. How efficient this entire set up could be? Here comes Hiree to your rescue. The online recruitment start-up aims to remove hurdles and helps an active candidate get hired.
Manjunath Talwar, CEO and Co-founder of Hiree has 15 years of experience in innovating Global Consumer and Enterprise Products. He defined roadmap for Media properties generating $100 million+ revenue like Yahoo Autos, Games, Travel, Homes, Celebrities, TV and Weather. Manjunath, an alumnus of IIM-Kozhikode, is a music enthusiast. He enjoys travelling to his favourite holiday spot – Coorg.
On the other hand, Abhijit Khasnis is the COO and Co-founder of Hiree with over 15 years of experience. He has worked in leadership roles at tech giants like Yahoo, Oracle and i2 building their flagship products. He has built and led large engineering organisations creating enterprise and consumer internet products.
Born and brought up in Maharashtra, Abhijit is a BITS alumnus, an avid technology enthusiast and lifetime coder. He came to Bangalore to do his CDAC course post engineering. Over years, he has worked in small start-ups and large enterprise companies.
To know more, Entrepreneur India meets the founders of Hiree and speaks to them about their online job portal, the technology involved, its features and their future plans.
Coming from the technology background and having great jobs, how and why did you guys thought about starting your own venture?
Abhijit: At the age of 38, having a technology background, the idea of venturing into a start-up began while working together in Yahoo. Our association dates long before Yahoo, when we worked together for i2. We had seen many of our contemporaries from Yahoo venture into start-ups and doing something really great. For example – Rajiv Srivastava of Urban ladder is a huge success now. There were also a few who had tried, but didn't suceeed! Hence, there are many who have become mediocre to great entrepreneurs. When we see creativity, technology and innovations spurting up all around us, it is natural to get influenced. Hence, we also wanted to explore our idea and take our aspirations and dreams to a height.
There were multiple factors that made us decide to startup. Primary being the big challenge we have been facing in hiring and building large teams. We knew the solution but nobody was solving this problem for us. Given the product / technology background we wanted to use that, to solve this big problem. Also, the overall ecosystem has been very supportive of startups. Hence, we wanted to explore our idea and take our aspirations and dreams to a height.
Who conceptualised the name myNoticePeriod.com (now known as Hiree)?
Manjunath: Well, Abhijit had thought about the name. Initially, we wanted to target those who were in the notice period bracket only. Our essential aim has been to choose or shortlist only those candidates, who are actually in the notice period. This is essentially because we wanted to give the companies active job seekers.
In existing job portals, a jobseeker stays on even after switching to a new job. The jobseekers are never removed form the portals. We see this as one persistent problem.
Due to our technology, we do not maintain the database of any job seeker, who is not active. The subscription usually is for three months and then it automatically becomes inactive.
We also have a team to verify if the candidates are actually looking for a job change. It is then we connect them to the companies and our work ends there. Thereafter, we do not correspond. If the company finds the candidates skills requisite for the company, then they are chosen.
Abhijit: We have outsourced this to a call centre to individually call the candidates and speak to them, verify their information and help them put right information.
When we were working in Yahoo, we realised that due to the lack of technology job portals still maintain the old database. Our aim and priority has been to maintain active database. We have developed good technology to make Hiree a better place for job seekers.
What was the reason rebranding myNoticePeriod.com to Hiree.com?
Manjunath and Abhijit: We were looking for a name from a job seeker's perspective and see how it resonated with them. Hiree is simple, easy to remember and represents a job seeker. And given the company's focus on job seekers, this makes it a perfect match.
Manjunath: When we started myNoticePeriod.com, our aim was to reduce the hiring lead time for employers and give better offers to jobseekers. We started with smaller target group of notice period candidates. Given the success and customer feedback, we are now expanding the benefits of the powerful hiring platform to all categories of job seekers. Hence, the need for the new name Hiree. With Hiree, we will grow even faster, add innovative features and deliver further efficiency gains for our users.
What is innovative about Hiree.com?
Abhijit: Hiree has a differentiated product than any other job listing portals. We are working to make the backend experience and matching algorithm meet new heights. An android app for 800+ paid clients has been launched and an app for the job seekers is in the works. We have big data analytics powered back-end platform which helps identify and rank candidates based on activeness and quality. Recruiters get to see the most active, relevant and good quality candidates given this.
Manjunath: Well, I think ours is the only company to have a recruiter facing mobile application. To be very honest, even in USA there are no job portals that offer to keep active database of job seekers.
We are not going after building a database of millions of candidates, we want to identify the most suitable candidates, who are very actively looking for opportunities and can join fast, including candidates who are on notice period. The core technology built to get most active candidates high within search results will further improve hiring efficiencies. This takes us closer to our vision of being the fastest technology driven hiring platform.
Please explain your marketing strategies?
Manjunath and Abhijit: We have ventured into billboards and it really did a lot of good. The FM radio advertisements also pooled a lot of success. Our disappointment was the print media. Now, the company has been spending mostly on digital media with targeted ads on Facebook, Google, Yahoo!, Saavn, and Youtube. At this initial stage of Hiree, our main objective is to increase brand awareness among jobseekers. Our efforts are aimed at maintaining a prominent recall value in the mind space of jobseekers.
Tell us about your staff?
Abhijit: Employee count has gone up more than ten times in last eight months. In October 2014, company had only six people, which has now grown to more than 80 members. We have assembled a very talented and multi-skilled team through Hiree.
Name five promises Hiree would make to a job seeker?
Manjunath: Hiree's customers gain 20x efficiency improvement in their candidate search. With the rebrand and accompanying technology changes, the company now extends beyond candidates in their notice period and expands to a larger base of job seekers. There is mobile app to make it easy to hire wherever you are. Good placements and great approach. The mobile app is a great factor, which has worked with the recruitment space greatly.
What about the future?
Manjunath and Abhijit: We have great plans for future. We want to only concentrate on giving the job seekers a great platform. For now, this portal has been designed for Indian job seekers. We want to grow eventually. We also want to establish ourselves in USA and probably in future, we would also like to do overseas placements.
What was the reaction of your family when they heard about your venture?
Abhijit: My family has supported me well. My wife works as a Japanese interpreter. She has had a career herself and comes from a business family and hence, understands what I want to do.
Manjunath: Initially there were some hiccups, especially while explaining the concept to my father. But they have given a nod and here we are. It was a mixed reaction, some excited and some considering it risky. But overall it was something worth trying.