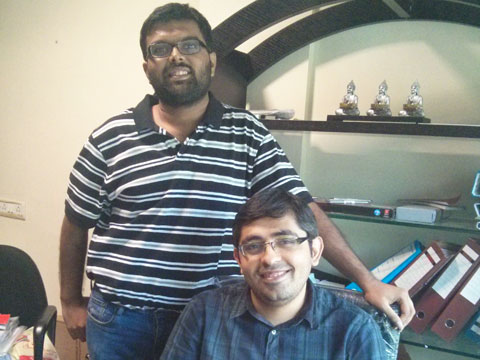 Jimish Jobanputra, a University of Illinois (Chicago) alumnus, worked in USA for five years until he realised his zeal for entrepreneurship. During his stay in the US, Jimish observed the concept of online shopping communities, which in turn were helping users make their final shopping decision. When he looked closely, Jimish found that in India there were communities for car, travel, education, etc, but there was no such community for online shopping in comparison to international counterparts. Also, the Indian e-commerce industry was at a very nascent stage at that point of time, which encouraged Jimish to start DesiDime.com along with his cousin brother Mehul Jobanputra in 2010 with the seed capital of Rs 15,000.
Being an integral part of the e-commerce ecosystem, DesiDime claims to contribute nearly 10 per cent to 15 percent of the traffic to various e-tailers websites. The duo also state that they have managed to build the largest online forum in the deals and coupons industry with 1.2 million posts till date, and have registered profit in just 4 years of existence considering the fact that none of the e-commerce players are profitable in the industry.
Jimish is the CTO and Co-founder, oversees technology architecture and loves to build products and businesses. Mehul, on the other hand, is the CEO and Co-founder; he looks after business development and has experience in defining corporate strategy, M&A and diversification strategy. Also, Mark Friedgan, a hands-on technology leader and entrepreneur, serves as the advisor and investor on DesiDime's board.
In an interaction with Entrepreneur India, Mehul Jobanputra, shares his thoughts about how DesiDime is different from other cashback websites in the market, challenges faced, key factors driving this space and roadmap ahead:
How DesiDime stands to be different with other coupons and cashback websites?
One of the biggest strengths of DesiDime.com is that it is a user driven community, where people discuss various things related to online shopping. Whether it is a product review or information about new deals, all is being discussed on DesiDime.com forum. So, a user not only discovers new deals and coupons, but also gets a forum to interact with other online shoppers.
What are the key factors driving this space?
Heavily funded e-commerce industry is one of the key factors that are driving growth in this space. Affiliate marketing industry helps e-commerce portals to acquire new customers at a very low cost and thus, they will continue to invest heavily in this channel giving a huge boast to the industry. Another key factor is the return on investment (RoI) of affiliate marketing industry compared to traditional advertising channels like TV advertising, print advertising etc.
What challenges you faced in terms of engaging customers? How did you overcome them?
We mainly faced problem of engaging users on our forum. We overcame this problem by introducing new gamification tools and running regular contest to engage users.
Highlight the benefits e-tailers enjoy by associating with a platform like yours. Do you think your revenue will get restricted due to the cost-per-sale model and the level of services they opt for?
E-tailers are able to acquire customers at a low cost through sites like us as compared to the heavy cost incurred in traditional advertising. With DesiDime.com, shoppers are able to make quick purchasing decision along with easy discoverability of products helping e-tailers immensely. We are constantly evaluating other options for monetising our platform. Currently, we partner with e-commerce websites for exclusive deals and also give out our featured deals space for a fixed fee.
On the back of burgeoning e-commerce market in India and the fact that most e-tailers are making losses, the ancillary/supporting businesses like cashback sites are witnessing huge growth and profitability. What's your view in terms of how big is the market?
According to our estimate, the current size of the affiliate marketing industry is around $2.5 billion and is expected to further grow by 30 per cent this year. Hence, cash-back, deal and coupon websites will continue to grow due to the various advantages it provides to shoppers and e-commerce portals.
How do you plan to leverage such a potential market going forward, in terms of constantly innovating with the products/offers, use of technology, taking advantage of increasing mobile penetration in tier 2, 3 cities, etc?
We have already launched our IOS and Android app and will soon be launching our developer API, which will give our developers the ability to make cool products on DesiDime.com data.
Do you have any plans to raise external funding in near future?
Yes, we intend to raise our Series A round of funding in the next three to four months.
Tell us about your future expansion plans and what kind of marketing strategy are you adopting to increase brand awareness?
We plan to evaluate our offline marketing strategy along with increasing the budget for online advertising channels such as PR, SEO, SEM and Content Marketing.
Throw some light on your revenue model?
We drive more than 3,000 daily transactions to partner websites. We charge a commission to e-commerce portals for every sale which happens through us. We charge a commission of around 3-4 per cent on electronics goods and about 10-15 per cent on fashion apparels etc.
Highlight some emerging threats for this space in near future?
Tracking affiliate marketing sales through mobile is one of the biggest threats for this space. Currently, only Flipkart has the system in place to track sales happening through mobile/mobile apps. Also, non profitable e-commerce websites could also emerge as one of the threats.