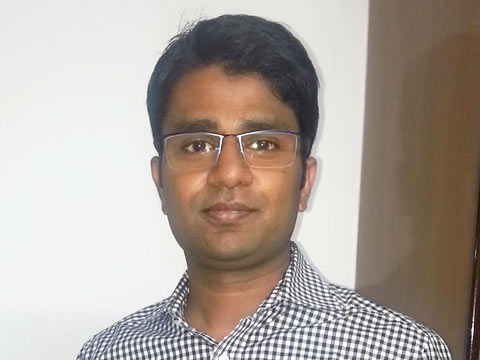 The 31-year-old Rahul Agarwal was an integral part of the highflying world of finance until an entrepreneurial bug bit him. Who would have known that a chartered accountant, who was always busy juggling numbers and calculating figures, would one day venture into the herbal products category and would discover natural ways to preserve and enhance beauty.
The journey of a serial entrepreneur...
Before turning into a serial entrepreneur, Agarwal spent 5 years working at Ernst and Young. He first donned the hat of an entrepreneur in 2007, by establishing Innovadia LLC, a revolutionary idea of spreading education worldwide with the help of teachers in India. Today, Innovadia LLC is one of the largest tutoring centre, running a government funded programme with the US Federal Government and is reaching out to more than 20,000 students in the United States.
"No other Indian company has been approved to work with the Federal Government under this program. Innovations capture my fascination and I believe that an idea should be terrific enough to lose sleep over," says Rahul Agarwal, CEO, Organic Harvest.
Thus, after tasting success with his first venture, he decided to take a plunge into another growing sector, which is beauty. Realising the amount of harmful chemicals hiding in the beauty products, particularly in cosmetics and skincare category, he has introduced a mild and natural product for the Indian consumers, which not only restore their beauty, but would also suit their varied skin tones.
Despite having no prior experience in personal care category and strongly discouraged by several industry stalwarts owing a good space in the hugely competitive beauty segment, Agarwal was determined to develop a quality product with a reasonable price and effective outcome.
"It took me and my team two years to conduct a thorough research about the beauty product market in India and abroad. The limited availability of pure and organic beauty products in the country, led to the inception of 'Organic Harvest'. We want to provide the best quality personal care products and promote the concept of safe skin," notes Agarwal.
How Organic Harvest became a renowned brand?
Organic Harvest was established in June 2013 to promote the concept of safe skin. Agarwal founded the company with a seed capital of Rs 5 crore. Today, the company is India's only homegrown brand with an entire range of organic skin and personal care products. The brand has been launched with a motto that 'human body is a part of nature and only nature possesses the secrets to preserve its beauty'.
"An intelligent use of plants grown without pesticides and chemicals instigated the name 'Organic Harvest' where products are not natural, but organic. Embracing the organic power of plants and their botanical extracts in abundance, combined with organic and natural ingredients, Organic Harvest has brought the ancient wisdom back to life in the form of its gentle and healthy line of beauty products," states Agarwal.
Organic Harvest specialises in hair care, body care and skin care products that are safe and effective. The raw materials used to formulate the products are certified by global organisations like EcoCert, OneCert and Natrue. The certification signifies that the raw materials used for manufacturing Organic Harvest products are derived from plants that have been grown without chemical fertilisers, herbicides and pesticides.
The company's product range comprises of daily day cream, anti-wrinkle cream, anti-pigmentation cream, scrubs, sunscreen lotion, toners, face wash to shampoos and 16 varieties of essential oils.
"Three years back, I started tracking this industry. 2011 was the time when people had started eating organic food; they were even using organic cotton. In the personal care industry, I observed that people had tried synthetic products, herbal and even natural products. I realised that the time was right to introduce organic personal care products," elucidates Agarwal.
Building a skilled workforce
Before launching the brand, a team of beauty industry experts were brought on board by Agarwal, to form the R&D team.  After a methodical research of two years, he discovered that people in India are not much aware about the organic personal care products and its benefits.  Therefore, he hired a team of sales girl and provided them with a thorough training for 15 days.
"We placed these BAs (Beauty Associates) in each outlet, where we had placed our products. These BAs started educating the customers about the benefits of organic products, which help us to gain profits and increase our presence in the beauty industry and minds of the consumers," says Agarwal.
Spreading wings
The brand has effortlessly captured the Indian market, with the products available at over 750 retail outlets in Delhi-NCR, Punjab, Bangalore and Hyderabad as well as parts of Maharashtra, Uttar Pradesh and Uttarakhand.
Within the next few months, Organic Harvest will also be launched in Chennai and other parts of Southern India. The brand recently launched three exclusive stores at prominent locations in Delhi, including Spark Mall in Kamla Nagar, Pacific Mall in Subhash Nagar and Hauz Khas Village. The aim is to open 3-6 more exclusive stores in leading malls and high street markets in the next 3-4 months.
With the boom of eCommerce industry, lots of people have started opting for online shopping. The products have also been launched on eCommerce sites like Amazon.in, ebay.in and Shopclues.com.
Moreover, seven more retail products and a professional range for premium salons will be introduced within the next 3 months.
Organic Harvest also plans to launch its products across the rest of Maharashtra, Goa, Rajasthan, Madhya Pradesh and West Bengal in span of next six months through multi-brand stores and exclusive outlets, to increase its current retail presence to 1,000 outlets.
Future roadmap
The estimated market size of the beauty and wellness industry in India is around Rs 40,000 crore, which is expected to increase to Rs 80,000 crore by 2017-18. As Organic Harvest is creating a buzz among an impressive list of repeat and referral customers, it foresees to become a leading brand in the much competitive personal care industry of India.
The company has already marked its presence in 9 states, covering around 2,500 outlets. Now, it plans to create a niche presence pan India in the next 12-18 months, covering about 25-30,000 outlets.
"Currently, we operate 3 Organic Harvest exclusive stores in Delhi and have plans for opening another 10-12 stores within a year. We are also in the process of launching an entire professional range along with 6-7 new products in the coming few months. We are expecting a turnover of Rs 15 crores in FY 15 and by FY 18, we aim to cross Rs 100 crore," concludes Agarwal.