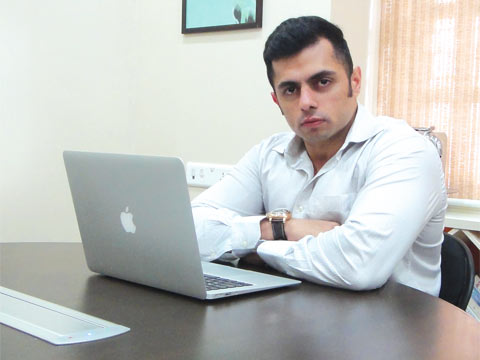 The aggressive batsman and vice captain of team India, Virat Kohli is also a man with long-term vision. Kohli who still has around 10 years of his cricketing career left, has already braced himself up for his post-retirement life. He has already turned entrepreneur by co-owning the Goa franchise of the ongoing Indian Super League (ISL) and is mulling on different business ideas with his manager Bunty Sajdeh, Founder & CEO, Cornerstone Sport and Entertainment. Sajdeh shares his association with Kohli, different ventures they are acting upon and much more in an interaction with Entrepreneur.
Tell us about Kohli's association with FC Goa and other business ideas being explored.
Kohli is the co-owner of the FC Goa franchise for the ISL. He has made a commitment of investing upwards of Rs 20 crore for a 10-year period in ISL. He is very passionate about growing football in India so he decided to invest in FC Goa.
Moreover, Kohli's own clothing brand will be launched next year. For his new clothing brand, Kohli is involved in terms of the designing, labeling, packaging etc. We are also planning an equity partnership in an existing Karnataka-based gym chain to expand it across India in 2015 with around 26 franchises. These are the businesses that will outlive his playing career. There will also be a fragrance launch by end of this year, which is more related to marketing and PR activity. The fragrance is being developed by us in association with a UK company.
How will FC Goa team benefit from Kohli?
What Kohli lends is marketability and credibility to a product he is associated with. Every ISL team has an A-list member because India is a very emotional and patriotic country. Players like Kohli epitomise those emotions. The value of the franchise automatically goes up with his association. Right from motivating players to marketing the team on social media and discussing ideas on athlete development is all what he brings to the table.
"This association has two sides to it for me. On the one hand, I am excited about football as a sport. It is my second favourite sport after cricket and when I realised there is an opportunity to be associated with the FC Goa team, I took it up. It is also a business venture of sorts for me. Let's face it, cricket will not last forever and I felt this was a good business opportunity" – Virat Kohli on associating with FC Goa team.
Why are you both mulling on different business ventures?
Sachin Tendulkar endorsed 30 different brands during his playing days, but when his journey came to an end, the brands moved on to the next set of youngsters. Kohli is very cognizant of this fact. That is why, we started growing him as a brand exponentially through merchandising and digital media spaces. We are looking at around 8-10 businesses but we understand that some of these businesses may work and some may not. Even if two or three of them work out well, it will be a good amount of initial success for us.
What will be Kohli's role in these businesses?
Kohli will not be involved in the everyday operations of these businesses. He is on the ideation and conceptualisation side of the business. The business exposure that he lacks in is what we will bring to the table, and we will make sure that he is kept abreast of the business discussions. He has travelled internationally and has seen what international athletes have done and he wants to replicate them. It is my job as his manager to explore opportunities for him.
How are you developing the brand equity for the cricketer?
We have invested a lot in Kohli's digital avatar that was produced in the US along with mobile apps and games. In the last one year, his followers on social media have escalated from three million to 22 million. This has become possible because of him being active on different social media platforms and staying away from endorsements that don't do anything for him as a brand. He had 13 endorsements last year, this year it is down to 11.