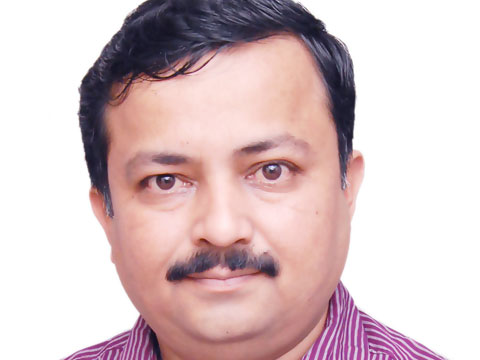 A 42 year old first generation entrepreneur- Nitin Godse, MD, Excel Gas and Equipments made it big through his sheer hard work- from a vegetable salesman to one of the top engineering entrepreneurs.
"I still remember the day when I started this business. It's the same day evening, when my elder son Aditya was born. I always had a dream of doing business right from my childhood. The idea was to 'start business' and be independent," says Godse.
Background
Godse hails from a poor family of a farmer based out of Akole village from Ahmednagar district, where he recalls his father earning a meager monthly wage of Rs. 400. His father worked as a salesman in 'Sahakari Kharedi Vikri Sangh Ltd'. Even Godse had to earn money for his education by doing odd jobs like working as labourer, selling vegetables etc.
Nitin Godse wanted to progress in life and achieve a small world of his own. Soon after graduation, he entered into a job as a Supervisor with a sister concern of Orkay Industries. After a year in the job, he moved to other company Technova Imaging System. When he realized that there is not much further growth without high level education, he decided to do an MBA course so that he could move to the top managerial level in short span of time. He has successfully completed the MBA course in 1994-96 from Pune University.
Soon after post graduation, he got a job in an agro-based company called 'Vishnu Priya Agro Industries'. The company was into fresh vegetable marketing. That was a period where there were no malls in Mumbai and Mumbai residents was relying on grocers. The company had very bright ideas of branding vegetables and selling it in the market as clean and hygienic vegetables. As a farmer's son and with immense knowledge in it, Nitin was instantly attracted to it. Within a short span of time, Nitin decided to start a similar kind of business. Nitin's dream has always been to become an entrepreneur right from the beginning.
In order to turn his dream into reality, he started his own business but funding was a problem. Finally, one known person invested 5 lakhs rupees in his business. His business started to bloom. He would get up 3.30 in the morning, carry heavy loads of vegetables from the market, then in the afternoon he would come back to the market clean it and cut the vegetables and put them in covers of his brand. This was hard for him, plus he did not receive any share in the company or any profit that he was entitled for. So, he had to shut down his own business and was forced to join another job to sustain his livelihood. At that point of time, a close friend of Nitin helped in getting him a job in a company that made industrial gas. He was appointed as a Marketing Manager in the company. He regained self confidence and got to travel across the country during those three years. But his dream was still there in back of his mind.

The journey begins...

Nitin laid the foundation of Excel Gas and Equipments Pvt Ltd on 31 December, 1999. Excel Gas & Equipments is into execution of turnkey projects in the field of ultra high purity gas piping installations. With no capital in hand, the company started on the basis of sheer hard work, skills and hope. Today, the turnover of the company is touching Rs 25 crores and the company has 150 employees on its own payroll.
Nitin Godse as the managing director is assisted by Pravin Godse who takes care of the day to day operations of the organization. They have successfully paved a way for themselves and made a mark in the field. In the past 13 years, Excel Gas & Equipments Pvt Ltd has created a strong space in the market. The company has grown to be a solution-based company for turnkey projects in gas piping installations.
Ranked as one of the top 5 companies, the company specializes in on-site piping and tubing installations, subcontracting, supplying a variety of onsite services like pipe and tube supply and fitting, on-site manual welding, orbital welding, helium leak check, instruments supply and erection and such others.
"With the wide range of services and the major visionary steps taken in the path of safety, the company has bagged the ISO certification in recognition of the organizations quality system. Another highlight of the company is that their services or projects are spread across India as well as in Middle East," says Godse.
Spreading wings
Middle East market is always a potential market for a piping company. Therefore, Godse started exploring the Middle East market and started getting orders from the region. As a part of the expansion strategy, he decided to set up an office in Dubai to cater to Saudi Arabia, Africa and GCC region.
Godse said that Middle East is an extension of our business. We foresee a big jump in coming years in Indian market. Clients specifically pharma companies demand quality piping as per international norms. The client list of Excel Gas and Equipments comprises of both public and private companies-Pfizer, Cipla, Reliance, Godrej, Indian Institute of Science & Research, Qatar Petroleum and BARC.
Huddles in the growth path
"My initial 5 years went in bridging the gap of seed capital. There was scarcity of money, telephone, space, transportation, employees, letter heads and everything." elucidates Godse.
During the preliminary days, Excel Gas & Equipments acquired a project of 13 kilometers of piping worth Rs. 58 Lakh but after that it discovered that the area was radioactive. The unit was typical government unit and they took their own time to prepare drawings and decide course of actions. The two months job took 3 years. Godse ended up paying Rs 1 crore on that project and was overburdened with heavy loans that he had already taken to complete the project.
"I suffered a loss of around 80 Lakhs as that was sole job we were doing. Money lenders started coming home.  It was very critical phase of my life. It took two years for me to come up from it," states Godse.
Expansion Plans
In order to provide their customers with quality service, Excel Gas plans to install 20 gas plants in 4-5 cities by 2016-17 with an investment of Rs 100 crores. Besides, in the year 2017-18, the company is planning to set up a seamless tube manufacturing plant in Gujarat.
"Excel Gas & Equipment Piping is steadily growing at 30 per cent year on year. The projects when fully commenced will help Excel Gas & Equipments to reach a turnover of Rs 500 crores by the year 2022," concludes Godse.