Incubation for SMEs
The process comprises wide-ranging business support programmes, to assist the beneficiaries establish and hasten their growth and development.
Tags: incubation
BY Entrepreneur | Jun 16, 2011 comments ( 2 ) |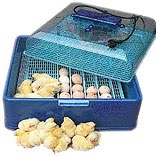 It is a public and/or private, entrepreneurial, economic and social development process designed to nurture business ideas and start-up companies. The process comprises wide-ranging business support programmes, to assist the beneficiaries establish and hasten their growth and development.
The aim of such a business cum innovation incubation centre is to promote the economic development of its community, by supporting new companies and their business development.
The basic services provided by such organizations are :
Start-up consultancy and business planning
Consultancy in business development (legal, marketing etc)
Consultancy for and/or access to financing, sharing of office services
Office space, and/or workshop / lab facilities for lease on flexible terms, training etc.
The Brigade Tech Park, a spacious technology park at Bangalore which has a range of features and facilities for software development companies, BPOs, biotech enterprises and corporate offices. Several reputed organisations are already operating from here such as Qualcomm India Pvt. Ltd; LG CNS India; IBS Software Services; Spice Communications.
Helping SMEs (Small & Medium Enterprises):
Globally the incubator model has emerged as an essential ingredient of the infrastructure required for the growth of high technology businesses such as Information Technology and Software development. Conventionally, these incubators acted as Institutes for the creation of cutting-edge technology through technology transfers from universities. These centers are once again in the news, this time in developing economies like ours. However, it is necessary to keep in mind the distinction between the traditional IT/ Science Parks and the Incubator Facilities. The main differencing factor is the availability of intellectual and financial support through a select consortium, which provides strategic advice pertaining to all business related matters.
It's vital for the SMEs sector to concentrate on its technology performance. The SMEs sector play a key role in the developed countries and one of the reasons for its success is a reasonable equity benefits in terms of distribution income.
A strong SME's sector is critical to terms of the services that it can provide to the larger enterprises and to the Medium enterprises. In the developed countries, the SME's have been performing well and the similar pattern is observed in advanced developing counties. It is also a known fact that in the developed countries, the large-scale enterprises are increasingly cost cutting and depending on the network of SME's. Hence, the technology strong SME's system is developing countries will be vital to develop, attract and work with larger enterprises. It would also encourage the newbie's to own the Intellectual property rights within India.
Advantages:
An incubation facility is a blessing to the SMEs due to its various advantages.
It helps to promote newbie ventures of young entrepreneurs
Provides a wide range of entrepreneurship development initiatives such as training, nursery incubator space during the initial gestation period, central common machining facilities, systems and networking support, catalogue library, funding schemes etc.
There is a considerable reduction in the initial investment commitments of the entrepreneurs. Other usual but useful facilities such as workshops, computer networks with internet facilities etc., have proven to be a boon for upcoming enterprises.
The instant availability of common facilities for new ventures motivate the entrepreneurs to confidently set-up their own ventures and relieves them of start up tensions thereby enabling them to focus their full attention on core competency development.
Moreover, most entrepreneurial incubation centers have ready availability of on-line consultancy in the form of a team of management professionals, to analyse various business propositions. This team helps to develop suitable business strategies and providing newbie entrepreneurs greater impetus.
Please add your comment
Shekhar
August 15, 2014 at 2:17 pm
Suppose if I have a great business idea , How can should I share without any fear of my idea being copied or robbed by the person or entrepreneur with whom the idea is shared ?????/
Reply |
neha
August 09, 2011 at 2:14 pm
Nice information for us .thanking you
Reply |