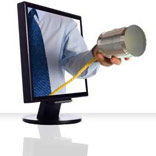 As most of us already know, VoIP or voice over Internet Protocol is a technology which enables users to make phone calls through the Internet. It's most important feature is that it reduces your phone bills to almost half. Owing to its cost effectiveness, Internet telephony has become very popular especially among small and medium enterprises.
Pavan Kumar, founder of 1World VoIP, a Bangalore-based service provider of VoIP says, "When we started the company in 2005 there was hardly any awareness about the technology. But gradually due to its cost effectiveness it is becoming very popular. It is generally popular in the corporate world that deals with people based overseas like in the US, UK or Australia. But, of late, enquiries for personal usage have also become frequent, especially by parents whose children live abroad."
Explaining the working of the technology in a lay man's term, Pavan says that all a consumer has to do is to get connected to the service provider through a VoIP gateway. This gateway can either be software or hardware. This gateway is connected to the service providers' server, which in turn is connected to either the US, UK or Australia depending on the services offered by a service provider.
What is a gateway and where can one get that? As mentioned earlier, a gateway is hardware or software which connects a user to the service providers' server; in case of hardware it's a telephone set using which calls can be made and in case of a software calling can be done using the computer system.
"The price of the telephone set ranges from Rs 1500-7000," says Pavan. Vijay Tapadia, Business Development Director at 247 Customer Care, which provides VoIP services says, "There is no need for hardware if one has a computer system. Free software like Eyebeam, Xlite etc are available on the Internet and can be downloaded free of cost. They are also available with the VoIP service providers."
The users will need to buy calling cards from the service providers in order to buy VoIP minutes. "Around 99 per cent of the calling cards are available on pre-paid basis. Their prices start from Rs 250," says Pavan.
So how much should one expect the communication cost to come down? Vijay says, "If you spend Rs 9 on making a call to the US using your telephone, on using VoIP you will spend a maximum of Rs 4." Pavan says, "If you make international calls for 2-3 hours everyday, in month you will consume 500 MB which will cost you somewhere around Rs 250."
Now that's really cheap, your communication cost reduced to almost half!