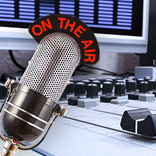 Gone are the days when there was just All India Radio along with a few local radio channels that one used to listen to on big receivers. The advent of portable and compact versions have made radio a craze among the youth, hence, a good means to reach this TG. Industry experts like Mr Harrish M Bhatia, Business Head at My FM feel, "With innovations happening in the radio industry like the invention of Internet Radio and the Digital Radio, the Radio is going to be the next big thing!" So why not leverage this opportunity to put your products and services across to your customers.
Advantages
A radio ad can do wonders because there are a lot of advantageous aspects to it.
Your market listens to radio:
 Each Radio channel is targeted to a particular section of people like AIR FM Gold for rural population of India including soldiers, Fever 104 FM for the youth, Meow 104.8 FM for the women, regional channels for particular regions and so on. So, an advertisement on the right channel gives you maximum reach. If your company is into providing training on effective parenting then the right channel to advertise will be a women oriented channel like Meow 104.8 FM.
Reaches a large audience:
In a country like India, where the majority of population is rural and cannot afford to buy a television, radio forms one of the biggest source of entertainment and also a good means for your product to reach them. If your company produces a product that is suited for the rural population then AIR is an option to advertise because of its wide coverage area amongst the rural population. "Companies producing FMCG advertise on radio because of this advantage," feels Mr Maninder Singh Sethi, Founder, Excelsior Public Relations.
Cost effective:
When you consider the cost of advertising through Radio versus the size of potential audience, radio is an inexpensive marketing option. The cost largely depends on the market share and popularity of the channel and on the time and duration that you want your ads to be on air.
Word of mouth:
 Radio marketing uses the word of mouth marketing, which is perhaps the most effective form of marketing. Marketing on radio can be made more effective if an RJ or some popular personality supports your product as listeners trust them and relate to them. Mr Sethi, adds, "I advertised my event on the radio through the RJ (Radio Jockey) of a channel and doing this created a better output."
Drawbacks
There are certain drawbacks also that are attached to advertising on Radio. The biggest one perhaps is that it creates just an audio effect and no visual effect unlike a television.  An ad on radio, unlike a newspaper advertisement cannot be cut and kept for future reference.
Be careful while developing a radio ad:
A radio ad is generally developed by agencies that are specialized in it. But there are certain points which you should keep in mind:
Your radio ad should contain catchy Jingles and attractive phrases so that this creates a long lasting effect on the minds of the audience
Try to keep your ad short and straight with pauses wherever required. This will help your ad idea reach the mass quickly
Repeat the important information like schemes, offers, contact name, number, and address, etc at least 2-3 times. This is because the listeners are normally doing some other work while listening to the radio and are not that receptive. 
Choose the radio channel that caters to your section of target audience.