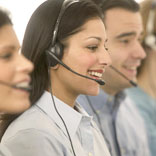 If you are a manufacturing company or a service provider and you are looking to penetrate into the market while keeping your costs down, an effective telemarketing strategy is what you require to boost your sales. Telemarketing is essentially using the telephone to promote or sell your product to prospective customers. A telemarketing team understands the specific requirements of your customers so that you can reach out to a larger section of the target audience with your products and services.
How to go about it?
Telemarketing can be carried out by hiring a team or outsourcing to a telemarketing company. Mr. Tejas Bhavsar, VP- Marketing, Aeon Software Pvt. Ltd, states, "Your choice depends on the volume of sales and the profit margin achieved on each product to be sold through telemarketing. If your sales volume is less, you could better hire a few graduates and train them as telemarketers. This would get your job done economically.
On the other hand, if your sales are higher and so is your profit margin as in sectors like retail, finance or IT, you can outsource it to a telemarketing company. The advantage you get by outsourcing is that you get your job done by a team of professionally trained experts. Costs may range from Rs 10,000 to  Rs 1 lakh depending on the product sold and the opportunities generated.
How good is telemarketing?
Mr. Sujeet Kumar Rao, Sales Manager, Axis Infovista Services Pvt. Ltd feels that through telemarketing, the company tries to make the customers aware of the various
plans and policies that are new to the market.
Mr. Rahat Raza, Manager-BD, Aeon Software Pvt. Ltd believes that the information that one gets through telemarketing is more genuine than what received through other sources. Apart from these, there are other advantages of telemarketing which are stated below.
1.Global reach
Through telemarketing, you can reach a larger section of audience, which would help tap more customers for your products/services. Mr. Gaurav Rai, Head- Marketing, Mataflex Technologies maintains that telemarketing is an effective means by which the company's marketing team can reach out to its customers located outside India.
2. Faster means of introducing new offers
If your company frequently attracts customers by introducing new schemes, offers, products and services, then telemarketing can help in communicating these schemes to the customers faster. Mr. Bhavsar, advocates telecalling as the fastest means of effective marketing.
3. Enhanced customer relation
Due to the fact that tele-callers are usually unknown to customers, they do not hesitate in disclosing their personal problems to the tele-callers, who in return advise the customers about how the company's product, services, schemes and offers can benefit them. This enables the company to win customers' trust.
4. Improves efficiency
At times, there are inquiries received by the frontline marketing/sales manager that can be better addressed by a person who has hands-on knowledge about the products, to save time. Such calls can be diverted to the telemarketing agents.
5. Minimises expenses
Telemarketing helps in reducing unnecessary cost. For instance, instead of sending your sales executive to a prospective customer based very far from your office, it will be a profitable proposition to have a telesales team close the deal over phone, involving less expense.
6. Reduces confusion and enhances customer support
The customers can get all their doubts, problems and queries solved or addressed by the telemarketing agents, which will help in reducing confusion and would leave the customers happy and satisfied so that they come back to you for business.
7. Finding new contacts
A telemarketing team not only sells products and services to the existing customers but also helps in adding new contacts and enhances the customer base.
The Flip Side
1. Can irritate customers
If your telemarketers are not doing their job, competently and the calls are wrongly timed or directed to wrong audience, your tele-efforts can back fire. People will tend to ignore them, sometimes even shout back at them. Mr. Bhavsar suggests that proper training should be provided to the telemarketers so that they aptly handle the situation, when the customers get irritated.
2. Hiring the wrong person
Telemarketing could have a negative impact on your business if the person doing the telemarketing is not well informed or has poor communication skills. He should be well informed about his company, the product he is supposed to market over phone, and latest schemes launched by the competitors etc. Care should be taken to select a person, who has the right attitude for telemarketing. A rude or discourteous tele-caller could spoil the reputation of the company.
3. Suitable only for a few sectors
Telemarketing is advantageous only for certain sectors like professional services, high value retail goods, IT and financial products. As telemarketing incurs sufficient cost, it is mostly suited to sell goods, which have a good profit margin.