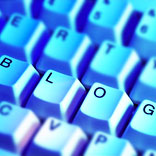 With stake holders relying more and more on the internet to know about the company they are working with or will work with in the future, it is very necessary for a business to have a web presence. Having a mere website does not suffice the purpose of making your customers and partners know you. One needs to walk that extra mile to make oneself known better.
The easiest and the most inexpensive way is blogging. Corporate blogging is a corporate tool for communicating with customers or employees or other stake holders to share knowledge, opinion and expertise so that they get to know you  better and feel comfortable doing business with you.
Business blogs are extensively used for marketing by the business community. They are an excellent method to share a company's expertise, build additional web traffic, and connect with potential customers.
"Corporate blogging really helps investors, share holders, clients and employees to know about company updates. It excites them and keeps them informed. It also helps in search engine optimization as search engines like fresh content. Any company which updates website with new content frequently, will be given priority over other sites in the same business category," says Deepak Bansal of Clearpath Technology, an internet marketing agency.
For small business owners without the time to learn web HTML or the money to hire a developer, blogging offers an inexpensive method to get your company's name out on the internet. In addition it is a very simple and easy-to-learn method. All you have to do is write your thoughts, link to resources, and publish. If you know MS Word, you can do blogging.
Deepak says, "In India, corporate blogging is mostly done by internet agencies for the sake of search engine optimization. It is less informative about company but mostly done for search engines. There are very few entrepreneurs who are doing themselves, and those blogs are really informative for users."
Blogs are a 2-way affair. So when you get into a conversation with a customer or a stake holder you get valuable advice from them. The blogger must have extent of time commitment in posting his blogs. It can be scheduled on a daily, weekly, or monthly basis, but the content of the blog must be updated actively to keep the blog active.
The success of a business blog is determined in terms of its traffic in most of the situations. And the process might cost you just Re 1 per word. So why miss out on such a cheap, easy and durable way of making yourself know. Go ahead give it a try!!!