4 pronged Sales Strategy
Sales is more of a system and less of salesmanship.
Tags: Sales is more of a system and less of salesmanship.
BY Entrepreneur | Jun 01, 2010 comments ( 1 ) |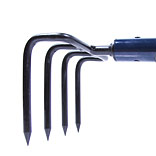 When the conversion ration of your sales leads increases, what do you credit it to? To the selling skill, or salesmanship? Conventionally many entrepreneurs tend to think this way. However great sales are a function of a great sales system in place. Anyone, who is a born sales person or not, can follow the system, follow it step by step and win a deal. Here are 4 steps to make a killing in sales.
1. Know your product
Begin with understanding your product inside out. Write down all the features of your product and the ROI (return on investment) your customer will get out of each feature. Different customers may have slightly different needs. But you cannot come out with a different product for everyone. The solution lies in pitching the product in a customized way (highlighting the required set of features) to different leads. Have you been doing it?
2. Sell a solution
What is the first thing to do when you meet a prospective customer? Go on and on about your product? Caution here! He is looking for a solution that will solve his problem, so he would be interested in only those features of your product that are relevant to him. Hence the first thing to do is to quickly engage with him to scoop out his 'problem area' which he wants addressed. Then pick up those features in your product which will be relevant to him and sell your product as a solution to his problem.
3. Offer a USP
Consider why your customer would want to buy your product when other players in the same area are offering the same product. So unless your product is an innovation in the industry, you must differentiate it well or sell a USP.
4. Give a guarantee
This is the hottest sales strategy. Tag your offer with a 'money back' guarantee. And what if you had to pay back to a few customers. That is the most effective way to know about the snags in your system. Secondly, the number of leads generated will far outnumber the number of money back claims (if any).
Please add your comment
Harsh
March 21, 2011 at 4:28 am
Very insightful and sensible. Keep up the good work!
Reply |