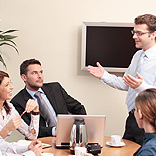 As far as a small business is concerned, a handful of key senior professionals form the body of the organization. This core team is responsible for leadership, decision making, sales and marketing. In fact they also communicate directly with the companies key clients. Having said that it s a painful realisation that small firms with high growth potential are victims of attrition especially senior employees. Quite often talented and well performing employees are poached away by competitors by luring them with fatter pay packets and allowances.
What plagues small businesses is limited resources to institute employee benefit and retention programmes. Thus smaller companies are left with limited options to react when an employee informs that he is leaving. It is a huge loss that an organization has to succumb to because the organization spends a huge amount of money and resources in training people for key positions. 
Exercise Precaution
One precautionary step is to build an ethical culture and clearly defined roles that promise rewards and growth based on loyalty. Sanjay Jha, Executive Director, Dale Carnegie says, 'One way to reward loyalty is to give them a lot more challenging responsibilities along with the commensurate compensation.' 'However never believe that money alone can hold your key employees,' cautions Sanjay. 
Many small businesses give employee stock options as an incentive. Another idea is to have attractive bonus plans and create performance linked opportunities.  Appreciate your core team for their achievements and involve them more in the decision making process.
How to handle the loss?
As the entrepreneur handling a small business you need to be hands on. Sanjay Jha, Executive Director, Dale Carnegie says, the entrepreneur should be able to multitask, at least temporarily when a team member leaves all of a sudden. This will help the organization avoid a crisis situation.
Secondly, when a senior level employee intends to leave, generally he will not do so without passing out some signals. He will try to speak out or even make efforts to resolve the issue. These cues must be taken seriously and should be addressed swiftly before much damage is inflicted. Engage into aggressive dialogue with the concerned person and address his concerns.    
If despite all your efforts you aren't able to alley the employee then the next corrective action is to control the damage caused by the leaving employee and replace the leadership. Quick handing of such contingencies becomes especially important if the leaving employee is handling some of the company's key clients. You should have systems in place to retain your clients so that your business is not affected.
Groom your employees to smoothly take over the vacant position. Remember, the sooner the organization recovers from the loss, the lesser is the damage.