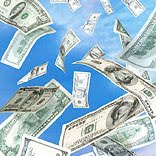 In the beginning of any new business, there are expenses galore like salaries (including your own), payroll taxes, rent and utilities and loan or credit card payments – expenses and bills that you have to pay on time to keep your business open and maintain your credit. But what do you do when your sales are slow or your payments are not realised in time?
Invoicing can help
Some customers want to be billed even though they're making a small, one-time purchase. If you insist that all orders under a certain amount of money must be paid for at the time of purchase, you speed cash flow by getting your money up front, and you save on the labour cost for invoicing and following up when an invoice isn't paid. Offer a discount for prepayment. Surprisingly, this can work in many industries.
Suggest related purchases
It's a lot easier to get a customer to make a second purchase after they have already committed to the first one. This works as well for service businesses, incidentally, as it does for retailers.
Mobilise your credit card processing capability
If you are a repair person or other service provider who performs services at his customers' locations, or if you sell at tradeshows, fairs, house parties or other mobile locations, get your customers to pay on the spot with their credit card. New devices and software that work with smart phone make this easy and practical for many small businesses.
Accept ACH payments
Some customers ask for permission to transfer payments directly to the bank account.
Cut costs
Look at your regular expenditures and see how you could reduce them.
Contact former customers
Call customers to verify that the contact person, phone and mailing address of the past customers are still the same. Find out if they still buy what you sell. Or, suggest an additional product to them.
Check credit ratings
To improve your chances of getting paid (and getting paid on time) check the credit rating of new customers who place large orders.
Do not extend credit to businesses or individuals who show up as risky on the credit check.
If a company has a history of paying very late, has tax liens or multiple problems listed on their report you need to get paid up front.
Put established customers on pay-in-in advance status if they've filed for bankruptcy, even if they've "emerged. Emerging from a bankruptcy doesn't mean the company is definitely back on sound financial footing. If the company's creditor turn tail and run again, you may never get paid. Then, you'd be out any inventory and labor costs you incurred. Yes, if you follow this tactic, you might lose the customer. But then again, you might not. Either way, you'll sleep better knowing you aren't going to lose money on a sale.
Sell your receivables
Make factoring a viable choice. Then shop around to find the best factor for your company to work with.