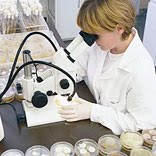 If globalization has given us world class experience, it has also brought with it the evil called competition asking to expand the role of strategic technology in these evolving times. It is a known fact that resource starved SMES who are struggling to find their foothold in the industry would not like to spend on R &D at the cost of burning a hole in their pocket. And since many of these companies enter markets without doing any research on it, they regret later as it starts telling on their survival and growth. SMEs need necessary competitive resources like new technologies to compete with large national firms, foreign firms and cheap imports. Rapidly changing consumer preferences, shorter product life cycle and growing quality consciousness clearly call for SMEs to upgrade their technological assets. "For a small company, the focus is on its product. Therefore, innovation and new offerings are very important to keep the flame of interest alive and burning in the customer which can come only through R& D", shares Bhavish Aggarwal of Olacabs.
Enjoying subsidies
Expenditures for R&D create significant spill-over effects. At the same time, R&D plays an important role for productivity growth. R&D is, therefore, one important area for government intervention.
Schemes
From 1 August 2008, the tax relief on allowable R&D costs is 175 per cent - that is, for each £100 of qualifying costs, your company or organisation could have the income on which Corporation Tax is paid reduced by an additional £75 on top of the £100 spent. It also includes a payable credit in some circumstances.
You can only claim under the scheme for SMEs if your company or organisation meets the definition of a SME for R&D relief purposes.
In certain specific situations, even if your company or organisation meets the definition of a SME, you may not be able to claim relief under the SME Scheme. But, you may be able to claim under the Large Company Scheme. This means that, if your company is small or medium-sized, you may be able to claim R&D relief under the SME scheme for one project and the Large Company Scheme for another.
If your company is small or medium-sized, then you can only get paid tax credit if your company is a going concern. This means its latest published accounts were prepared on a going concern basis, and nothing in the accounts suggests that its status (as a going concern) depends on it receiving R&D Relief or tax credits. If your company or organisation ceases to be a going concern after making a claim but before any credit is paid, HMRC treats the claim as if it has not been made and you can't get tax credit.
Changes to the rate of relief from 1 April 2011
The Chancellor announced in his Budget on 23 March 2011 that, subject to State Aid approval, the rate of SME R&D Relief will increase from 175 per cent to 200 per cent. Once approved, this increase will apply for expenditure from 1 April 2011.
Sector –wise preference
The top four industries, namely chemicals & chemical products, electrical & optical equipment, drugs & pharmaceuticals and machinery & equipment account for as much as 88 per cent of the total SME R&D. These industries remain the top R&D contributing sectors for all the sub-periods across small firms and medium firms
In addition to possessing a very low scale of R&D across strategic sectors, Indian SMEs' R&D in transport equipment saw a cut (-50 per cent), followed by pharmaceuticals (-31 per cent), machinery & equipment (-12 per cent) and relatively less in electrical & optical equipment (-2 per cent) in R&D. Decline in R&D intensity was also reported by SMEs from basic metal, food, paper, non-metallic mineral products, miscellaneous and diversified manufacturing activities.
Firm preference
Many a firms believe in outsourcing technologies since their own in house capability is limited. Moreover, it also depends on the type of market they are targeting. For example, whether it is for domestic market or foreign market. The level and type of competition differs requiring different type of solutions. As foreign investors partner with SMEs, this signifies the benefits of a larger and deeper endowment of technological advantages. The targeted SME receiving FDI now have access to the knowledge base of the foreign parent. So they do not incur inhouse R&D except small modifications in production technologies and equipments related to the technology transfer from parent to the concerned SME.
Conclusion
SME sector can be a fertile soil for innovation and technology development and can become the technology sources for larger companies if the government takes incentives for technology development in SMEs to enhance their competitiveness.