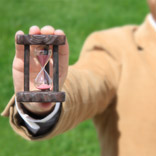 The year 2009 that has gone by has been very tough for businesses. It has been a bumpy ride throughout with a comparatively smooth close as the curtains were pulled down on the eventful 2009. The downturn taught many businesses many hard and soft lessons, how to cut down their costs, increase efficiencies, streamline their operations, bond with the core team and manage a crisis situation. Whatever the lows experienced, the year bid good bye on a positive note leaving vibrant hopes for a perkier 2010. The New Year gives you an opportunity to assess your highs and lows and the failures and achievements and to chart out a fresh list of targets for your business in this year. Here's how to go about it.
1. Begin with a Hats off to your achievements
2009 being a tough year, you would tend to remember and focus only on the downsides. Now is the time to change your attitude. A year is a long time in business. Begin your assessment by finding out and celebrating the upsides. Further you could go ahead assessing key areas of your business like sales, marketing, finance, HR and others.
2. Conduct a Review of your Core Activities
Your core activities include what exactly you do, your product or service and your target market. Ask yourself how has been the performance graph of your product throughout the year. What you can now do to increase profitability? What are the changes you can make to production, distribution, sales, marketing, price etc.
Another question to ask is have you been able to define your target market so far? Are your customers still intact or have their demands and preferences changed? Find out how your customer needs have changed? Would you need to make value additions in your product or would you search for newer markets?
3. Conduct a Sales and Marketing Review
Measuring the performance of your business without conducting a thorough sales and marketing review would be a futile exercise. What are your sales and marketing achievements as against the objectives set in your business plan. Your review should also include a SWOT (Strengths, Weaknesses, Opportunities and Threats) analysis of your business. Also it is important to benchmark your business against competition.
4. Review Your Finances
Check if you have a business budget and if you are following it or not. Secondly what is your cash flow situation. See if you can forecast your cash flow trends. This will help you anticipate problems and be well prepares for the same. Does your business need a contingency plan and do you have it in place as yet? Check your cost base and see if you would need to make changes. Additionally you should be able to judge if and how these changes will influence your customer relationships.
Check your state of profit margin and also review your taxes. How well prepared is your business to minimize your tax obligations. What about your loan or debt obligations? Would you need refinancing.
5. Evaluate your Employees
Annual performance reviews are traditionally always something that managers and employees alike tend to dislike, if not dread. But a well prepared and honest performance review is an invaluable way to base line employee performance and measuring their strengths and weaknesses, recognize their achievements, and ensure that individual goals are aligned with overall business goals. You may also need to look for training and cross training opportunities once you have held reviews to prepare your employees to meet fresh challenges of the new year.