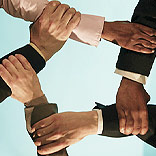 Anthony J D'Angelo once said, "In life, it is not what you know or who you know that counts, it is both." So true! It is not just your knowledge that works but also the networking which actually does the trick!
If you have recently initiated your venture or are running a few years old business, then networking or word of mouth can benefit you a lot. A major chunk of businesses in India rely on it. Networking not only allows you to promote your products and services, educate people on the various aspects of your business but also allows you to synergise with business groups where business ideas could be shared and new opportunities can be discussed and reviewed by the members. People choose to do business with the one based on trust and recommendations by their peers, family and co-workers.
As it is not feasible to meet every business prospect, in person, to grow your customer base so the better option is to spend some time on building your network, which will result in building up many new clients. You can build your business network by taking part in events and shows and exchanging business cards; organising product launch and other parties, keeping regular contact through mails or simply by talking over phone; and through business networking clubs and PR. "Due to availability of wide variety of communication tools, networking has become easy and has led to the growth of businessmen" says Gandaarv Miethal, Executive Director, Chandra Residency.
Networking helps you in:
Finding customers- Business networking helps you in finding new customers for your company. Building a rapport with people, who may need what you offer, can help you build your customer base. If you need some product or service, won't you prefer to go to someone whom you know and trust? Similar is the case with your customers.
Even those who do not have the need for your product can help you in building your business as they are a link between you and your potential customers. The people you know will be having their own set of contacts and it might happen that their contacts have the requirement for your product offerings. "Networking is like an atom bomb, its effect multiplies- If you discuss your offerings with one person, he will in turn discuss this with another two and those two with another four and so on." adds Gandaarv
Compelling- A phone call or any means of contact is more compelling for your prospective client as well as your customer if you have been referred by someone who holds importance for the person you want to make contact with.
Forming joint ventures- You can also reap the advantages of networking in another way and that is by forming joint ventures. A joint venture brings better results than two individual campaigns as you can cut down on the costs and the investment of time and money.
Learning from one another- Networking not only helps you in making direct money but can also help you in being informed on various issues concerning business. Networking ways like events and shows, business networking clubs, PR gives you an insight of what is happening in your industry and you get to understand intricacies of businesses.