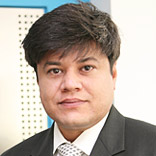 Being the leader in the imaging and printing space for past 25 years, HP India has been committed in its endeavor to partner with growing businesses, and help them understand the advantages associated HP's innovative products. Mr. Samir Shah, Director – LaserJet and Enterprise Solutions, Imaging & Printing Group, HP India, tells us what is the driving force behind the SME sector and what have they been doing.
Bhuvnesh Talwar (BT): What is your definition of Small and Medium Businesses?
Samir Shah (SS): Small and medium enterprises are companies whose headcount or turnover falls below certain limits. At HP, we believe that an SME organization is a company that thinks big through its innovative offerings, and has the zest to grow in today's competitive business environment through adoption of new technology practices and solutions.
In India, the SME sector accounts for about 39% of the manufacturing output and around 33% of the total export of the country.  According to the Ministry of MSME (Micro, Small and Medium Enterprises), this sector employs an estimated 31 million persons spread over 12.8 million enterprises. From HP's perspective, this means a largely untapped market that holds strong potential for the adoption of a customized printing and imaging environment.
BT: What makes the Indian SME space interesting to you?
SS: The SME sector in India is currently focusing on cutting costs, and making every rupee spent count. In this context, HP's Imaging and Printing Group (IPG) sees a huge opportunity in the SME segment in the country. The company is focusing on addressing the budgetary pressures being faced by SMEs through its comprehensive suite of printing solutions and programs, with colour adoption (Colour Matters) in offices being the latest initiative that we are undertaking.
One of the major concerns of the SMEs today is to help businesses obtain more value from their IT investments in this challenging economic climate. HP is already enabling Indian SMEs to drive down printing costs and to reduce energy use, while helping them leverage print management tools to further reduce costs, and renew their printer fleet. In this sense, we see immense potential for ourselves in the SME segment in the country.
BT: What are the different technology solutions and products offered by you for SMEs? Please mention their features as well.
SS: HP offers the widest range of LaserJet printing solutions to its SME customers. Some of the key features that make HP colour LaserJet solutions a must-have in the office imaging and printing environment are:
HP Instant-On technology – This technology uses cutting-edge fuser technology to produce the first page faster when a printer is coming out of Power Save mode so the print job is done sooner.
Colour Access Control – Enables IT teams to manage colour resources with ease by deciding who needs to print in colour and restricting colour printing to only those users, even on a shared printer.
Duplex Printing – Two-sided printing allows users to print on both sides of the page, cutting paper use by up to 50%.
HP Web JetAdmin – A simple print and imaging peripheral management software tool.
HP Universal Print Driver – This is a single driver that gives users instant access to a range of HP print devices--in the office or on the road--without downloading separate drivers.
To promote colour, HP also provides its customers with the In House Marketing Kit software, a suite of tools that can help SMEs produce professional-quality marketing material by using their HP Color LaserJet printers.
BT: In what ways do you manage to generate affordable quality products for the SMEs?
SS: As the number one technology company in the LaserJet printing solutions segment, HP offers the broadest portfolio of products, services and solutions to its customers across business sizes. Depending on the imaging and printing needs of a given organization we help them choose the best product for their requirement, HP has imaging and printing solutions ranging from low-end mono, single function printers, to high end colour multifunctional printing solutions.
BT: Do you find Indian SMEs adopting technology aggressively? What are the main deterrents for them?
SS: Most of the companies in the SME space have not realized the value that colour and in-house printing can add to their business. As the leader in the imaging and printing space, it is our endeavor to partner with growing businesses, and help them understand the advantages associated with the above. HP's printing solutions enable SME decision makers to take control of their in-house printing environment, while giving them the competitive edge in a cluttered market through smart use of colour. This leads to cost saving and efficiency within the organization.