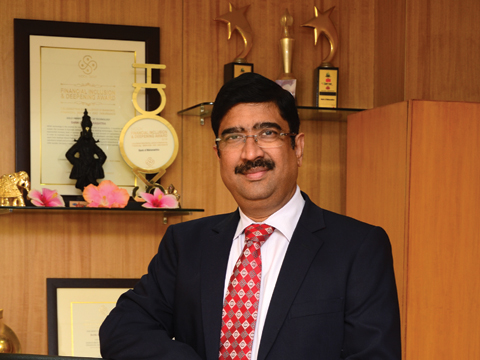 How is BoM meeting the credit requirement of the MSME sector?
We are using different schemes, which are helping the bank in meeting MSMEs credit requirement. We are providing working capital for MSMEs' growth. The only thing MSMEs need to do is to give a minimum contribution as a borrower and the rest capital will be provided by us. We not only provide MSMEs with credit, but also thorough counselling. We also hand-hold them and provide assistance. Additionally, we also monitor and check whether finance is provided expeditiously for SMEs.
How are you encouraging CGTMSE?
The CGTMSE is a good scheme and helpful for MSMEs. We encourage our branches and direct them to sanction as much as possible under the CGTMSE scheme. The scheme is comparatively better as the borrowers get the assistance without providing any third party guarantee or any type of collateral to the bank. To encourage this scheme among MSMEs, we are also providing 0.5 per cent concession on the rate of interest. We have been able to attract potential MSMEs under the scheme.
The non-performing assets (NPAs) of banks are constantly increasing. The recent figures also show an upward trend in this regard.What is your comment?
We understand that an SME or start-up usually faces problems that they may not have anticipated in advance. In such a situation, we analyse the problem of a business and try to solve it. We try to understand whether it is a long-term problem or a temporary one. We, then, try to provide temporary assistance for entrepreneurs. We provide them an additional support by the way of finance.
The Reserve Bank of India (RBI) has eased out some rules for identifying defaulters. According to RBI's new norm, the identification of the defaulter and corrective action plans can be done in 45 days instead of 30 days (earlier).
The Joint Lenders' Forum (JLF) has been incorporated by the RBI under which RBI has relaxed the norms. In case of MSMEs, the MSME Ministry has proposed certain recommendations to RBI. Currently, it is under considerations and if it comes, it will help the MSME sector. The proposal is, suppose a customer's overdue is of 60 days or more, so, before it becomes an NPA, the banks would immediately contact to the borrower. A JLF should be formulated for MSMEs as well so that the decision can be taken faster in case of defaulters. The recommendation is for extending the time period for identifying defaulter and taking corrective action in case of MSMEs.
How much disbursement took place in the last financial year? What is your expectation for this year?
In the fiscal 2014-15, our overall disbursement was about Rs 10,000 crore; and to MSMEs, it was Rs 2000-3000 crore. Moreover, the disbursement in this financial year (2015-16) to the MSME sector will have 14-15 per cent growth and overall disbursement growth of the bank will be around 8-10 per cent.
What kind of initiative is the bank taking to help the industry?

We have rationalised the rate of interest. We are providing the interest at a much competitive rate and affordable way. We have all products and are ensuring lesser turnaround time. Currently, our rate of interest is 10.25 per cent. We are establishing central processing centers for retailers, MSMEs and corporates.
RBI brought down its key policy rate twice this year. Can we expect the BoM to cut interest rates now?
We will review it and see whether our costs of deposit have gone down. We are a commercial banker. If our costs of deposits have not gone down, then we will not be able to pass it to the consumer. We need to review our situation. We have the Asset Liability Committee that will look into this matter.