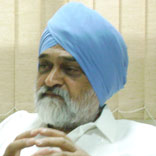 The enormous variety of entrepreneurs in the country presents a tremendous challenge before the government to devise support strategies for everyone, right from the bottom of the pyramid to the top. In an interview with Taslima Khan Montek Singh Ahluwalia, Deputy Chairman, Planning Commission, spoke on government's initiatives to promote a healthy environment for entrepreneurship in the country.
What is the government doing to help entrepreneurs?
Indian entrepreneurs face a lot of constraints, especially the small entrepreneurs. The government's job is to remove these constraints. A major one is power. Say Mukesh Ambani who runs one of the best companies is dependent on his own power. But the small guy has to get his power from the utilities. The problem here is if he is getting overcharged or the cost of power is high for him. Secondly if the power supply is irregular, the quality of his production will get affected. There are SMEs doing a variety of machine work, requiring power.
So if the government were to say to the SMEs, we are going to do nothing for you other than to deliver you reliable power, it would be big boost to SMEs. But unfortunately SMEs don't do that. They say, since we know you can't do this, why don't you give us this sop, that sop.
What are the initiatives to promote a healthy environment for entrepreneurship to flourish?
In order to promote a healthy environment there is a general feeling that clustering is a good idea. However the central government's role in clustering is limited. There is more of state government role in it. So all we are doing is signing a cheque for the state governments. The effectiveness of the entire scheme depends on how state governments work on clustering.
What are the major issues around cluster development? What should be the approach to cluster development?
One of the biggest problems is people like to name a few clusters and define them. What the governments should do is follow the market. That is to say, where some clustering has begun, support should come from the government to make it a bigger cluster and improve the infrastructure etc. Our fellows typically want to start a new cluster in some backward district. Say, Tirupur is a cluster. Once it got formed, the government took a big step to improve the infrastructure. So the approach to clustering should not be that look this is a district that has no industry, therefore let us set up a cluster here. Respond to the market need instead.
There is a lot of reluctance on the part of banks to lend to SMEs, even to rated SMEs. Your comments.
I agree with that. However the reason banks are reluctant to lend is because your fiscal deficit is so high. If Mr. Mukherje, our Finance Minister were to suddenly drop the fiscal deficit by 2 percentage points of the GDP, the release of resources would be of the order of 120000 crores if not more. Banks will suddenly have 120000 crores of liquidity and of course if they try to keep buying bonds, interest rates on bonds will go down. And if they happen to lend to the government of India at 6% and you have a rated SME that is willing to borrow at 12%, they might well be tempted.
Today what is happening is they can make all the money they want by lending to the government of India. So in order to encourage banks to look forth more aggressively down the credit ladder, you have to get the grill and the workshop which is really the government out in the credit market, to some extent. This is what people mean by crowding out.
The finance minister's outlined programme reduces the fiscal deficit from about 6.8% to around 4%. That is 2.8%of GDP which is approximately 200000 crores. That means 200000 crores of money will be lying around, looking for investments. Interest rates would generally do down and banks would be looking for good guys to lend. And somebody would tell them that look the untapped area is really SMEs.
The Prime Minister has set up a task force for overall development of SMEs and the recommendations just came before the budget. But unfortunately the scheme has received just one crore of budget allocation. Your comments.
Why do you think the budget allocations are important for SMEs? Government would better concentrate on providing better infrastructure, hassle free environment, more lending by banks, more venture capital. The government has limited funds and in my view it should focus on improving the power situation for SMEs, more incentives should be given for cluster development which has to be done mainly by the states. I would be in favour for increasing budget allocation at the clustering level. And then you need a banking and financial environment that supports good SMEs.
There is a huge section of entrepreneurs in the country who are pushed into entrepreneurship because they have limited options. Will these micro enterprises be sustainable?
I agree that many people are pushed into entrepreneurship. These people are not going to succeed. They are just treading water, trying to make the best they can. And they are going to stay there in a very vulnerable environment . As the rest of the economy improves and as soon as they find better jobs elsewhere they are going to stop being entrepreneurs. A large number of complaints come from these entrepreneurs, the forced entrepreneurs. I am going to concentrate all my energies on making life better for SMEs which have the potential to grow big.
What explains the high rate of failure of new businesses? 
Out of those who take a conscious decision to become entrepreneurs, only 6-8% are going to succeed. This is the group that is going to expand and soon come to the middle stage and then they are going to grow big. A very large number, may be 50% to 60% will continue to do well but will remain SMEs. They won't scale up but they are going to a have a good life. Say there is a guy who opens a dhaba and prospers making good money so that even his son prefers to run the dhaba rather than work in a workshop. So he's doing fine and he even owns a Maruti car.
On the other hand there will be another guy who will do so well, that he will go on to make one restaurant, then another and he will have a chain of restaurants.
And then there are some guys who would do lousy job and they are not meant to be entrepreneurs. They went into it because nobody was giving them a job.
In the United States, the rate of failure of small businesses is 30%. 30% of small businesses fold up. That's the trend universally. New businesses have the highest rate of failure. However, the advantage in that system is that it is easy to fold up and start something else. In our system they keep on hanging around asking the government to save them and that is not a solution.
What can the government do to provide more support to those who are doing reasonably well as entrepreneurs?
Government schemes are meant for bringing relief to the very bottom which is actually not the most important.
I personally think we should create an environment where the middle group can do reasonably well, but most important are those who have capacity to expand to become the Narayan Murthys of the future.
SMEs are innovation hubs of the country. What is the government doing to promote innovation in the country? What should we expect in the 12th five year plan?
Well we want to make the innovation issue a big issue. The earlier approach was that growth is caused by investment, we must stimulate growth by giving incentives to investment. Today the notion is that, once you have sufficient investment flows, growth takes place because of innovation which increases productivity. So Mr. Arun Maira has been tasked with the job of speculating on strategies for promoting innovation. It is not easy. It can't be done by having a centrally sponsored scheme on promoting innovation. It is more about creating an ecosystem. 
Most entrepreneurs do not know as to how to convert their innovation into a successful product launch. What kind of support should be given to them?
That kind of support is not provided by the IAs officers of the government. That support is provided by creating an ecosystem so that the entrepreneur with an innovative product can get the capital to push it forward, or sell the IPR to someone else. But many of our entrepreneurs wrongly think that because they have invented something, so they must be the ones who should take it all the way to fruition. An innovator may need not be a great businessman. They must understand that.