Excerpts of the Interview of Dr. H.P Kumar
National Small Industries Corporation Ltd. (NSIC), an ISO 9001 certified company, since its establishment in 1955, has been working to fulfill its mission of promoting, aiding and fostering the growth of small scale industries and industry related small s
Tags: NSIC
BY Taslima Khan | September 01, 2010 | COMMENTS ( 0 ) |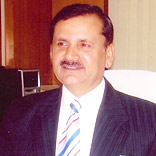 Dr. H.P Kumar
Chairman-cum-Managing Director National Small Industries Corporation, New Delhi
National Small Industries Corporation Ltd. (NSIC), an ISO 9001 certified company, since its establishment in 1955, has been working to fulfill its mission of promoting, aiding and fostering the growth of small scale industries and industry related small scale services/business enterprises in the country.
Taslima Khan (TK): What motivates you to work for MSMEs?
HP Kumar (HPK): NSIC's mandate, since its inception, has been to aid, counsel, assist, finance, protect and promote the interest of micro and small enterprises in India. As, we all know that in any economy, the greatest need is to create employment opportunities at local level for initiating overall growth of the region. After India's independence in 1947, the prime objective of India's development strategy has been towards achieving economic growth with self-reliance, social justice and alleviation of poverty. Accordingly, the industrial policy laid emphasis on achieving a high growth rate, national self-reliance, building up of indigenous capacity, encouraging SMEs, bringing about balanced regional development and reduction of income inequalities.
Micro and Small enterprises (MSEs) are the engines of local economies and are the best way of achieving the above objectives. They drive innovation, spur equitable growth, create jobs, and supply poor communities with better products and services thus complimenting the social responsibility. This motivates us to work for promotion of MSMEs in the country.
TK: What are the major areas on which NSIC offers assistance to MSMEs?
HPK: NSIC has been operating various schemes of assistance for providing help in marketing, technology, credit and Infomediary support to MSMEs. These schemes are designed keeping in view the needs of the micro and small enterprises operating in various clusters or elsewhere. The schemes are user friendly with least paper work. The aim is to render assistance well in time when it is needed.
With the changing needs of SMEs' sector due to globalization, NSIC has also re-oriented its various schemes for rendering assistance to the sector. The schemes of Hire Purchase and Leasing of machinery and equipments which were the prime focus of NSIC's assistance in past 40 years have now been replaced by other innovative products which are more relevant in today's scenario.
Quality certification of products manufactured by SMEs, rating of performance and credit worthiness of micro and small enterprises, management and skill development, training, information support, marketing facilitation through Marketing Intelligence Cell, B2B Portals and international exposure are some of the new schemes which have been implemented by NSIC to enhance the competitiveness of micro and small enterprises sector in India. This is in addition to various schemes of assistance, operated by NSIC, for providing help in marketing, technology, credit and Infomediary support.
We function like a professional organisation in order to market our products and make them acceptable to the customers in order to be a self sustaining organization. The success of company's schemes can be gauged from the fact that demand of our products is rising day by day and we are opening more and more branches to disseminate our services to a larger number of small enterprises.
TK: How far have the recommendations of the Task Force been implemented (as against the dead line of 6 months)?
HPK: The Task Force had envisaged a greater role of NSIC in extending Marketing Support to the MSME sector and envisaged following specific areas of intervention by NSIC:
Setting up of a Marketing Intelligence Cell for MSME sector to collect and disseminate both domestic and international marketing intelligence.
Enhancing the operations under Consortia formation and Brand building to 4-5 times,
Enhancing Raw material assistance,
organizing sector specific international trade fairs in metropolitan cities
Organizing exhibitions of NER products in major state capitals
We, at NSIC, have taken these tasks for implementation on top priority and have drawn our business plan accordingly. We have drawn a time bound action plan for the implementation of each one of these recommendations.
I am happy to mention that in accordance with the Task Force recommendations, NSIC has very recently established a Marketing Intelligence Cell which was inaugurated by the Principle Secretary to the Hon'ble Prime Minister of India. This Marketing Intelligence Cell will serve MSMEs in many ways. The objective is to make MSMEs more competitive in today's environment and empower them to be ready to meet future challenges. This Cell will assist lakhs of MSMEs all over the country in giving them information and intelligence to help them grow in their businesses. This cell will not only provide information about domestic & International business, suppliers of goods, technologies & services but will also assist them in Marketing Research, Planning for Marketing, Business environment analysis, Scenario Planning, Win-Loss analysis in near future. Other informations like: domestic & international tenders, exporters and importers, technology suppliers, equipment & raw material suppliers, information about the latest trends, designs and customer demands & Customer Support services, are available through this Cell.
We have also initiated simultaneous actions on other tasks assigned by the Task Force and I am sure all these tasks will be accomplished in accordance with the assigned time schedule.
TK: What is NSIC's role in assisting the Government in meeting the objectives suggested by the Task Force?
HPK: NSIC's main role in assisting the Government in meeting the objectives suggested by the Task Force is to expeditiously and effectively implement the suggestions of the Task Force assigned to NSIC so that MSMEs can reap the benefit of their recommendations and become globally competitive.
TK: Please tell us about the incubation facilities at NSIC?
HPK: Creation of self employment opportunities to tackle unemployment in the country has been a big challenge. In this regard, NSIC has started a new programme by providing integrated support through incubation of unemployed people in order to empower them with knowledge & infrastructure and other support services for setting up of new small enterprises in manufacturing and services sectors. We have developed a package of training programmes which provide complete hand holding right from start i.e. from practical on the job training to preparation of project reports, market survey, raw material assistance, identification and procurement of plant & machinery, credit support, testing and handing over of the project.
Through this programme, our objective is to equip unemployed people with adequate technical and supervisory skills so that they can either support their own businesses or become employable to earn their livelihood. This is a very useful programme considering the need of creating more and more employment opportunities in the country. The programme facilitates incubation in low cost projects like Bricks Manufacturing, Wax Candle Manufacturing, Socks, Ice Cream Cone, Paper Napkin, Soya Milk, Ginger/Garlic Paste, Tomato Ketchup, Steel Cutlery, Pet Bottles , Chalk Crayons and many more such low cost & small projects. The idea is to create self-employment through providing low cost machinery/projects which could create employment for 2 to 5 persons per project with an investment between Rs.2 lac to 10 lac. Total duration of the Incubation programme is 3 months with 4 weeks practical on-the-job training and remaining period being utilized for sourcing of technology, arranging finance and completion of other documentation etc. Any one aspiring to become an entrepreneur can apply and take part in the Incubation programme.
In order to impart such skills to large number of unemployed people, NSIC is setting-up a number of Technical and Incubation Centres (NSIC-TICs) at various locations across the country under Public-Private Partnership (PPP) mode. 52 such incubator centres have already been established in different parts of the country. Our aim is to establish such centres in every district of the country. These model of Incubation have also been quiet appreciated by various countries who have shown their interest to replicate such models in their countries. Our preference is to make these TICs self sustaining and successful model in public-private mode.
TK: At present, there are over 26 million enterprises employing about 60 million people. How far has NSIC been able to reach out to this segment.
HPK: NSIC has assisted hundreds of thousands of first generation entrepreneurs in setting up their small enterprises and assisting them in their growth. A significant number of medium and large enterprises of today had started their businesses with the help of NSIC and have now become multi-national conglomerates.
Increasing the reach of NSIC to a larger number of micro and small enterprises & providing them the integrated support services is the main focus. We have plans for expansion of NSIC's reach from 40 offices four years back to 200 offices over next three years with the aim to provide services to MSMEs at their door steps. We have also signed MOUs with various Industry Associations in order to work with their members closely and synergise our products with their requirements. Inspite of being a promotional organization, NSIC has achieved self sustainability in its operations and has become a dividend paying company. Our endeavour is to strengthen our financial results while continuing to extend promotional services to this sector. This would enable us to serve wide spectrum of Micro and Small Enterprises (MSEs) in the country and also enhance our business volumes thus making each product of NSIC a self sustaining module. It will be NSIC's endeavour to strengthen small enterprises to meet the demand of global competitiveness, which is the key to the future of small enterprises in the present context.
Our services are also being acknowledged all over the world. Many developing countries are seeking our assistance in development of small enterprise sector in their countries and replicating the Indian success story. NSIC has been providing assistance to various developing countries in formulation of their policies for development of SMEs' sector and implementing various programmes of assistance which have already succeeded in our country.
TK: You recently got into a tie up with credit rating agencies? Please explain the modalities of how you are going to offer crediting facilities through them?
HPK: Performance & Credit Rating Scheme is a very unique way of empowering the small enterprises to face internal and global competition. NSIC has identified and empanelled various national and international agencies for rating of MSMEs. The enterprises are free to choose any of the empanelled rating agencies. NSIC provides financial assistance to the extent of 75% of the cost of rating (maximum of Rs. 40,000/-) to all the rated units. This rating benefits the units in many ways like establishing their creditworthiness which helps them in accessing credit from the bank quicker and cheaper and thus economizing the cost of credit. It also certifies their performance ability which would help procuring orders from foreign and other bulk buyers and analyzing the strengths and weaknesses of units. It also prompts the owner in bringing changes to improve upon their operating performance. The rating serves as a trusted third party opinion on the unit's capabilities and credit worthiness. A good rating enhances the acceptability of the rated unit in the market.
TK: A huge section of SMEs do not have information about the various support schemes of NSIC and of the government. How do you reach out to Masses?
HPK: To reach out to masses, NSIC has opened MSME Info-Call Centre in its premises. This centre serves Micro, Small & Medium Enterprises by way of various services and provides information about the schemes and programmes relevant to them. The Centre undertakes the following operations:
Telemarketing of SME services
Creating awareness amongst SMEs
Customer Support services
Business Development
Infomediary Services
E-Newsletter.
This Info-Call Centre not only promotes information exchange with MSME's pan India & abroad but also enhance NSIC's reach to large number of MSMEs all over the country besides improving its service delivery.
Besides the above, NSIC also organizes various meets and campaigns in association with relevant industry associations all over India to promote its services. We have also signed MOUs with various industry associations in order to understand needs of MSMEs better and suitably synergizing our products with their requirements. This has enabled us to reach at the door steps of MSMEs and serve wide spectrum of Micro and Small Enterprises (MSEs) in the country.