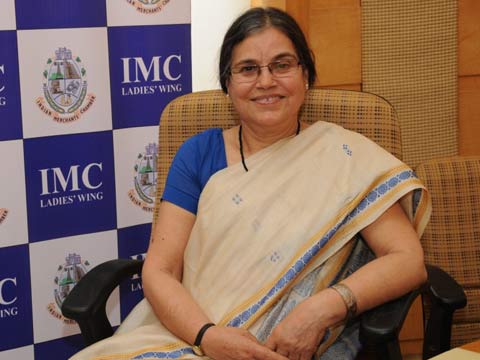 Krishna Bisht
Founder, Mahila Haat
Women of Kumaon (Uttarakhand) are well-known for knitting art, but several factors like illiteracy, lack of self-confidence, weak negotiation skills and lack of awareness on fair market price of their craftwork, acted as a major setback for them to become self-reliant. Krishna Bisht, who belonged from Kumaon, came forward with her vision to strengthen the marginalised women artisans by providing them skill development trainings.
Inception
Established in September 1989, Mahila Haat is a national level organisation with a mission to empower women, particularly the underprivileged, through economic upliftment and social emancipation.
Mahila Haat was founded as a facilitation centre for poor women producers, who face common problems such as - lack of marketing support/strategy, quality of product, inadequate wages, difficulties in raw material procurement etc. The NGO developed approximately 45 Self Help Groups (SHGs) which facilitated loans and bank accounts to the rural women. Also, women from these groups were informed about issues like education, health, hygiene, nutrition, adolescent girl's education, and agriculture based activities like poly houses, vermi compost, etc.
The activities of Mahila Haat have helped in recognising women's multi-dimensional role in society. More than 300 women are working through Self Help Groups (SHGs). More than 500 women are directly working for an exporter, thereby getting rural employment.
Women in rural areas work as a daily wages worker. Hence, they face a lot of issues to sell or promote their product in the market. Here comes the role of Mahila Haat, which provides advanced training to empower these women by hiring professionals.
"We have associated with NID (National Institute of Design), which came forward to help us for this work and they start sending their designers to train rural women about modern knitting at a very low cost," asserts Bisht.
Key initiatives
Since 1997, Mahila Haat has extended its activities primarily in the rural areas of Kumaon region in the state of Uttarakhand. So far, Mahila Haat has facilitated more than 8,000 women artisans, from low income families covering 195 villages and 3 towns of Uttarakhand.
In 2000, Mahila Haat has also organised Uttaranchal festival in New Delhi. "The objective of the festival was to celebrate the genesis of Uttaranchal and provide a common platform to different crafts of the region and bring them at one place and present the whole of Uttaranchal in the capital," says Bisht.
Promoting Education
Mahila Haat realised that illiteracy hinders the development of women and therefore, women were facing problems in costing, profit analysis, banking, paper works, etc. Moreover, women were restricted from several opportunities like Panchayats, ASHA schemes, etc. To address the same, Mahila Haat has opened 35 literacy centres for imparting formal as well as functional literacy to women of Almora district.
"641 women were associated with our literacy project and indirectly 1,200 women members were strengthened through literacy programme like workshops, meetings, seminar, etc," shares Bisht.
In the Kumaon region of Uttarakhand, children continue to be the most vulnerable section of the society and their growth and development remains a major concern. Mahila Haat is supporting the education of 117 rural education of Almora district.
The literacy project of Mahila Haat has helped in enhancing the capacity of 57 women through teacher trainings. Almost 474 women have completed the formal literacy course.
"Women now are boldly going to banks, post offices, grocery shops and are using calculation skills. Activities with adolescent girls have given a new direction to their lives, some of these girls are actively involved with developmental activities," says Bisht.
Bisht not only convinced the parents for primary education, but also encouraged old age education and adolescent girl education in the area. For this, they have developed one library named 'Shiksha Sansadhan Kender' in Almora, where they conduct one meeting every month and prepare the plan of action for the future.
"Mahila Haat identifies poor families those who need help to get their children in school. Till now they have sponsored approximately 125 children from different location," indicates Bisht.
Achievements
Krishna Bisht recently received an award from Indian Development Foundation in December 2010 for women empowerment and environment. She worked to organise the women producers in Bihar, Tamil Nadu, Nagaland and Uttaranchal. For this task, she organised different workshops, surveys and studies with women producers of different organisations.
Recently, Jankidevi Bajaj Puraskar 2014 felicitated Krishna Bisht for her support towards social acts and upliftment of women at the grassroot level. The Jankidevi Bajaj Puraskar is one such IMC Ladies' Wing's initiative to recognise women entrepreneurs for their extraordinary and outstanding entrepreneurial excellence in rural India. The jury decided on Krishna Bisht for her courage and act of bravery towards helping rural women to start off their own business by teaching them skills required to turn them into a self supporting entrepreneurs.