"Current State of This Market is Extremely Promising"
Enhance, a comprehensive cosmetology care source that provides cosmetic dermatology services in India. Sanjeev Mahajan, CEO, Enhance Clinics, has started this source with the objective to provide best experience for its customers with advanced clinical techniques. In an interaction with SMEntrepreneur, Mahajan talks about beauty and cosmetic surgery industry in India.
Tags: Sanjeev Mahajan, Enhance Clinics, cosmetic dermatology, advanced clinical techniques, abdominoplasty, breast surgeries, scar revision, liposuction, dermatology services
BY Ritu G Chauhan | November 06, 2013 | COMMENTS ( 0 ) |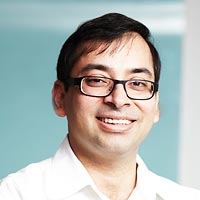 Sanjeev Mahajan
CEO, Enhance Clinics
Tell us about Enhance. What types of services are provided by your clinic?
Enhance is India's fastest growing chain of clinics offering world class cosmetic and dermatology services. We offer cosmetic, plastic and hair transplant surgeries in a safe environment. All treatments are performed by highly trained staff. Our services include cosmetic treatments like abdominoplasty, breast surgeries (breast lift, breast reduction, breast augmentation) facial implants, brow lifts, hair transplants, scar revision, liposuction, nose reshaping, as well as specialised dermatology services.
Please share with us about your entrepreneurial journey. How has been the journey so far?
Like every entrepreneur, my journey has been very exciting. I moved away from a very large retail organisation to a new start-up with the objective of creating value in a totally different industry. My focus now is to make Enhance an organisation where each member feels like a part of a family, a real stakeholder in the organisation and is not bound by any set of standardised organisational roles.
Share the inception and growth of Enhance aesthetic and cosmetic studio. What motivated you to start the biz idea?
Along with Dr Khanna and Matrix Partners, which has always backed the right kind of start-ups in emerging spaces, we saw the opportunity of creating a niche in the business of beauty and cosmetic surgery. Globally, India is one of the top five markets for the beauty business. Indians are increasingly becoming aware of the safety and high quality of the services that established cosmetic clinics provide and are therefore taking whole-heartedly to such procedures. Annually several people fly down from across the world for treatment. Hence, the motivation behind Enhance was to tap the immense potential in this segment.
What were your main challenges initially? How you overpower them?
The main challenge has been to bring in right people and ensuring that the imagination of all those involved is suitably fired up in the right direction.
How did you arrange initial funding? What was your main source of funding?
We are a PE-funded organisation and the main funding for the project was come through that route.
What are the emerging opportunities for entrepreneurs in this segment?
India is viewed as one of the most progressive markets in the world for the beauty and cosmetic surgery industry. The market is throwing up tremendous opportunities for entrepreneurs. The objective should be to create the right kind of business model and attract like-minded investors to branch out and capitalise on this bourgeoning segment.
Are you planning to expand your business through franchising?
We haven't initiated franchising yet because we wanted to get our brand and business model template standardised first. Now that we have achieved this for Enhance Studio, we look forward to joining hands with like-minded business partners who understand the business of beauty and cosmetic treatments and the kind of devotion to quality such businesses involve.
Shed some light on your future plans.
The plans for the near future involve scaling up in terms of the number of studios. We are looking at expanding our clinic strength to 15 and then gradually to 30. The objective is clear: Be the number one in our space within the next 12-15 months. Speed is the key here!
What is the current state of the Indian cosmetic market? What are the growth factors?
The current state of this market is extremely promising. In the domestic context, with the increase in awareness and the proliferation clinics like ours, this mindset is being altered for the better. More and more people are going in for minor or advanced corrective treatments and are getting the results they expected. This bodes well for the growth of the industry over all.
The cosmetic surgery market in India is expected to grow at a healthy CAGR of 40 per cent for the next 5 years. This kind of hyper growth, coupled with the increasing awareness amongst consumers will ensure that the ''Business of Beauty'' continues to flourish in the days ahead.