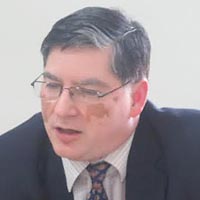 Dilip Chenoy, MD and CEO, National Skill Development Corporation, shares his vision about the programme and more in an interaction with SMEntrepreneur.
 
Please tell our readers about 'Power to Empower Challenge' (P2E).
In an attempt to encourage young entrepreneurs to be part of the mammooth business opportunities within the skills development sector, NSDC has co-organised a Vocational Skills Enterprise Plan Competition focused on encouraging innovative and implementable business solutions that contribute to the development of a sustainable vocational skills ecosystem in India. P2E is India's first skills enterprise plan competition and is currently in its third year. It also aims to incubate and Seed Fund models which are ready to be launched through financial assistance. The finale event will take place in the month of March 2014 during which the winners of the challenge will be announced. Winners will receive cash reward of Rs 3.5 lakh in the operations category and Rs 1.5 lakh in the Idea Category by the Muthoot Pappachan Foundation, the CSR arm of the Muthoot Pappachan Group.
Please elaborate your mission of building a sustainable skill development ecosystem in India.
Our objective is to contribute significantly (about 30 per cent) to the overall target of skilling/up-skilling 500 million people in India by 2022, mainly by fostering private sector initiatives in skill development programmes and providing funding. To build a sustainable skill development ecosystem, we plan to first, upgrade skills to international standards through significant industry involvement. Second, enhance private sector initiatives through PPP models. Third, focus on underprivileged sections of society and on the unorganised or informal sector workforce. Fourth, play the role of a "market-maker" by bringing financing, particularly in sectors where market mechanisms are ineffective or missing.
What are the initiatives taken by NSDC in regard to skill development?
In terms of creation and funding, till date the NSDC Board has approved a total of 115 skill development proposals. These are expected to skill over 75 million people over the next 10 years with an annual training capacity of 14.5 million when these organisations reach full capacity. To enable support systems required for skill development, the NSDC Board has approved the setting up of 28 industry led Sector Skills Councils (SSC's) with representation from various industry members, government bodies, industry associations etc. Out of these, 17 SSCs are operational and have developed 2747 occupational standards as on 1st January, 2014. The SSC's are working towards creating National Occupational Standards (NOS) which specify the standard of performance an individual must achieve when carrying out a function in the workplace.
What other measures government is implementing to promote skill development in India?
At the policy front, the government recently launched the National Skills Qualification Framework that organises qualifications according to a series of levels of knowledge, skills and aptitude. Also, to address the issue of affordability, the Ministry of Finance launched the STAR scheme last year to motivate youth for joining skill development programme. Under this scheme the prospective trainees are awarded financial help of Rs 10,000 on an average, after completing their assessment and receiving a certificate. Apart of this NSDC is also working with several State Governments for implementing vocational training programmes at the school level for class IX to XII student.
What other steps would you undertake in future to make youth more competitive?
First of all, we need to ensure that skills that are being imparted are at all times mapped to the needs of an employer or the job, and people are trained in a way that their skills are at par with other countries. Furthermore, we need a structural database, sector-wise, validated and owned by the employers, to ensure a synergy between the demand and supply of the skilled manpower in different sectors across the country. In addition to the sectoral strategy, we also need to increase the existing capacity eight times, stabilizing at the ability to train over 20 million per annum in order to train 500 million people by 2022. In 2012-13, a total of 5.1 million people were skilled. In 2013-14 the endeavour is to skill around 7.3 million people, across 20 central government ministries and NSDC.
How technology can be an enabler in improving the skilling system?
If the skilling system has to scale as required, the use of technology is a must. We need to support technology led interventions across the skill value chain. Recognising the dearth of technological intervention in the skilling space, NSDC is working on supporting several models to enhance the skilling eco-system. These cover interventions to lower cost of skilling i.e. simulators, increasing the reach of good trainers, e.g. satellite training centres, enabling distributed learning through online content, ensuring transparent and repeatable assessments through online assessment will help in ensuring both scale and quality at a low cost.