Helping Hands
SKS Microfinance launched in 1998 is one of the fastest growing financial services in the world which has served more than 5 million women members in poor regions of India. Their sole purpose is to eradicate poverty and it believes that access to basic fi
Tags: microfinance
BY Bhuvnesh Talwar | October 22, 2009 | COMMENTS ( 1 ) |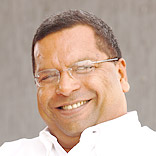 M R Rao
COO, SKS Microfinance Ltd
SKS Microfinance launched in 1998 is one of the fastest growing financial services in the world which has served more than 5 million women members in poor regions of India. Their sole purpose is to eradicate poverty and it believes that access to basic financial services can significantly increase economic opportunities for poor families and in turn help improve their lives. M R Rao, COO, SKS Microfinance, tells us how SKS has been delivering its purpose.
Bhuvnesh Talwar (BT): What are the eligibility criteria for an entrepreneur seeking loan?
M R Rao (MR): SKS follows the peer-lending model developed by the Grameen Bank of Bangladesh. There are two parts involved—formation and administration of the group.
A group is a collection of five individuals who come together to gain access to credit. Groups are the building blocks of the peer-lending model, and strict credit discipline starts with strong groups. SKS uses five-member groups. Experience has shown that a five-member group is small enough to effectively enforce group peer pressure and collective responsibility on a unanimous basis. Groups must be self-chosen as only then will members be able to serve as guarantors to each other.
Groups must have the following characteristics: Poor, close proximity of members, no close relations in order to avoid personal problems, mutual trust and the adult member should not be above 55 years.
BT: What are your target groups?
MR: SKS targets the Poor and Upper Poor class. The upper poor class consists of those families which earn Rs 25,000 to Rs 50,000 per annum like the medium farmers and small entrepreneurs and poor class are generally families falling under below poverty line like landless laborers. This is the segment of the poor that can benefit most from microfinance. Overall, SKS target constitutes of Rural (74%) and Urban (26%). Through its NGO, Swayam Krishi Sangam, SKS works with the Ultra Poor or destitutes who need a far more intense involvement and handholding. SKS provides the ultra poor with vocational training, social awareness and health awareness over an 18-month period and also provides these families with assets which they are taught to manage.
BT: What kind of entrepreneurs avail loans from SKS?
MR: There are various activities which the members undertake like, trading, kirana stores, livestock, production, services etc. In total there are 161 activities which our members undertake.
BT: What is the maximum amount of loan that can be availed of by an entrepreneur?
MR: All members (clients) are eligible to borrow Rs. 12,000/- depending upon the activity which the member undertakes in the first year of joining the SKS Group. From 2nd year onwards the loan size is increased by Rs. 4,000.
BT: What are the different loan repayment options available?
MR: Loan repayments follow weekly repayment schedule. All repayments and fresh disbursements happen during the center meeting which is held every week. Our loans are for 50 weeks.
BT: What kind of problems do you face while repayment of loans?
MR: SKS enjoys a very strong repayment record and our NPAs are negligible. If a member is unable to repay an installment, the other members in the Group/Center share the responsibility for the repayment. In the few cases of defaults, its usually due to migration or natural calamities.
BT: What is the rate of interest charged by SKS?
MR: SKS works in 19 states. In AP, Karnataka & Orissa SKS charges 12.5% flat rate of interest and in rest of the states SKS charges 15% flat rate of interest. In our newer states our rates of interest are a little higher at 15 % flat and 26 % diminishing. There is also a loan cover fee of 1 percent which helps us offer insurance cover for the period of the loan.
BT: What is your default rate?
MR: Our current default rate stands at 0.5%.
BT: Apart from credit, what other facilities does SKS offer?
MR: Apart from income generating loans, SKS also offers insurance products jointly with Bajaj Allianz. We have covered nearly 2 million lives across our network with this retail micro insurance product. SKS also provides life enhancing products like water purifiers, mobile phones, and solar lights at a better price than the existing market price. Also SKS is providing housing loans, education loans which are in pilot phase. This February, SKS has tied-up with Metro Cash n Carry to supply inventory to the SKS members who have Kirana stores. SKS has initiated the project with 90 Kirana stores in and around Hyderabad and now has extended the pilot to 1500 stores.
BT: How much support have you given to women entrepreneurs?
MR: 100% of SKS borrowers are women and so women entrepreneurs are the core of our work. Our entire member base of 5 million plus is women in the upper poor and poor sections of the society in urban colonies and rural areas.
Please add your comment
yusuf nawaz
July 25, 2010 at 12:29 pm
We want SKS Microfinance to start their operation in Assam as other cos.are also performing nicely.
Reply |