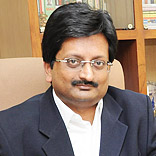 He studied to be a CA. However after a stint in software, he went in to retailing. T.S. Ashwin set up the first Odyssey store in 1995 in a suburb in Chennai. It was his passion and belief in the brand and the urge to see it grow that he decided to sell his entire stake to Deccan Chronicle. In conversation with Punita Sabherwal, Ashwin opens his book of business to show what it takes to master the art of speciality retail.
Punita Sabharwal (PS): Tell us about your tryst with Odyssey
T.S Ashwin (TSA): I am a first-generation entrepreneur and I have been in this business for over 14 years. I started my career in 1989 as a Software Analyst, with a Mumbai-based software company, after completing my graduation and a short stint at NIIT. That was the period when computerisation was rapidly expanding and software companies were mushrooming.
After 3 years, I quit the job to set up an exclusive computer bookstore in Chennai. The store housed computer books, magazines and accessories and provided a set-up, where a computer professional could browse and shop in an ambience that matched international stores. The store became popular, very fast. However, it was still a niche segment. Not satisfied, I set out to do something larger and more exciting.
In 1995, with some borrowed financial resources, I set up the first Odyssey leisure store spanning 3500 sq. ft. stocking books, CD/DVDs, gifts, toys, stationary, cards and multimedia. It was an instant hit among the locals and business rapidly scaled up.
PS: What made you sell your entire stake in Odyssey to Deccan Chronicle?
TSA: Organised retail was growing and large players were showing interest in this segment. I didn't want lack of capital to inhibit growth. To fund further expansion and to give the company the strong backing of a large business group, I sold my entire stake in Odyssey India Limited, some years ago, to Deccan Chronicle Holdings Limited (DCHL), the fourth largest media group in India. Odyssey is now a 100 per cent subsidiary of Deccan Chronicle. I continue to drive the operations of the company in the capacity of Managing Director.
PS: How many stores do you have at present and what are the expansion plans of your company?
TSA: There are 45 Odyssey stores. Seventeen of them are regular format (6000 sft and more) and 28 are express format outlets.   Apart from Odyssey stores across various formats, we also have two specialised eyewear stores under the brand name, The Eyewear Store, which stock and sell all major international brands of sunglasses and prescription-frames.
We have just entered into premium and luxury pen retailing by signing up exclusively with over 15 of the best international luxury pen brands. These will be retailed under the store brand, Editions. There will be shop-in-shops in select Odyssey stores apart from independent mall stores. The flagship Editions stores, which will come up next year in Mumbai and Delhi will showcase the most expensive and the best pens and accessories.
PS: Whaqt about the expansion plans?
TSA: We plan to have 17 more stores in the FY 2009-10 (Oct'09-Mar'10). The stores will be launched in the following cities:
Hyderabad: Odyssey store - 1, Editions – 1
Chennai: Odyssey store - 1, Editions – 1, The Eyewear Store – 1
Coimbatore: Odyssey store – 1, The Eyewear Store -1
Delhi: 8 (Odyssey express formats in Delhi Metro), The Eyewear Store – 1, Editions – 1
PS: How many franchisees do you have at present and how has franchising fuelled the expansion of your company?
TSA: We don't have any franchisees as we do not operate under that model at all.
PS: What are your target retail locations for expansion?
TSA: Our focus for the next one year, at least, will be further expansion and consolidation in the states of Tamil Nadu, Andhra Pradesh, Karnataka, Maharashtra and Delhi/NCR. We are already in some of the B and C- class towns like Trichy, Salem, Nagpur, Calicut, etc. We intend to open more Odyssey, Eyewear and Pen stores across all metros and cities like Vizag, Vijaywada, Mysore, and Mangalore.
PS: How beneficial is it to open retail outlets at airports?
TSA: Travel retail is a huge opportunity that is opening up in India. Earlier, neither the airports nor railway stations were places, where passengers liked to spend time. The new airports and metro railway stations have changed the perception. The facilities and ambience are truly international. There are many amenities provided to passengers and efforts are taken to make passengers comfortable, while they wait for their flight/train. In this context, the scope for impulse shopping by the passenger tremendously increases. That is precisely the segment we are in – books, music, magazines, stationery, gifts, etc. We operate retail outlets at the Bangalore, Hyderabad and Delhi airport terminals. All of them have been good in terms of performance and have also given us good brand visibility.
PS: You are also expanding through the kiosk mode? What led your entry into kiosk model and how many kiosks do you have at present?
TSA: Ours is an impulse segment. There are new books and music titles releasing almost everyday and people like to get their copy as soon as possible. Everyone has some small stationery requirement everyday, people want the latest magazines as soon as they hit the stands, and the need for having impulse gifting options, etc. This means that there is a need for impulse buys. All it requires is to understand the catchment area where our customers frequent and launch an outlet in the format that suits the place. This prompted us to create multiple formats to take care of every defined and relevant catchment area like IT parks, residential townships, corporate establishments, and multiplexes. But a lot of these places don't have built-up retail spaces. Hence, there was the need to develop the kiosk model. We have seven kiosks at Delhi Metro stations, five each at Bangalore and Delhi airport. We will have 15 more kiosks that will roll out across various Delhi Metro stations over the next 2 months.
PS: What kind of marketing and promotional initiatives do you undertake?
TSA: For the stores, we do a lot of below the line events like poetry workshops, book author signing / reading sessions, music album launches, toys / board games workshops/contests, drawing and painting competitions, paper craft/pottery workshops, karaoke competitions, story telling sessions, quizzes, cookery demonstrations by reputed chef-authors, etc. We run special campaigns for the Christmas, Valentine and Back-to-school seasons. Apart from this, smaller promos are done for Mother's day, Fathers' day, Raksha Bhandan, Diwali, Friendship day, store anniversaries, Independence day, etc. We also undertake a lot of corporate branding initiatives.
PS: Is your brand involved in any kind of co branding? If yes, who is your brand partner and why did you choose them?
TSA: We have a co-branded credit card with ICICI Bank. They have the largest reach among private banks and they are also our corporate banker. Hence, the decision to tie-up with them.
PS: What is the success-mantra for leisure retailing?
TSA: Getting to understand the perfect catchment area in each city/town for leisure retailing is very critical as the target audience is a certain segment of society that wants to go beyond the basic necessities of life and indulge in some finer things to pamper themselves, their families and live their 'aspirations', etc. This will get you the best location. The format has to be in line with this target profile – they are people who have achieved success in life, travelled the world over and seen the best of retail. Hence, a great ambience is critical, to connect, as the first impression. Then comes the perfect category mix. We chose our category mix as we found that there are supermarkets/hypermarkets for food and grocery, brand/independent/department stores for clothing and accessories but no 'one place' to go for all the other leisure needs of a upwardly middle class family with aspirations and want for a better lifestyle. As for products, we keep the 'books customer' in mind and build the rest of the products around those likes and preferences. Book is our core category. Good and knowledgeable staff, who can connect with the customers and build a relationship, ensure the last mile is also in place. We have to keep the 'book customer' profile in mind while planning things, other elements will then fall in place.
PS: What kind of tie-ups do you have with other retailers for the presence of Odyssey products?
TSA: We don't have any private labels as of now.
PS: What are the investment and area requirements for the store and kiosk?
TSA: Capital expenditure for store comes to approximately Rs. 1600-1800 per sq. ft and for a kiosk it is about Rs. 2300 per sq. ft as it is smaller and more modular.
PS: Tell us about the sourcing of your products.
TSA: Sourcing/ tie-ups are done at our Corporate office in Chennai but the regional offices and warehouses take care of replenishment for the stores. We source most of our Indian products from the manufacturers directly. We also import a lot of our books, toys and stationery directly from China, US, Germany, Australia, etc. We have exclusive tie-ups for most of our toys and stationery imports and these products are currently available only at Odyssey stores.
PS: What led your entry in the eyewear category? How do you see the market for prescription eyewear increasing in India?
TSA: We are constantly working on format and category extensions to build the overall business of the company. As a strategy, we wish to remain in the lifestyle and leisure segment. We already stock select brands of fragrances, jewellery and watches in our stores. We felt that eyewear was a good extension to this. Apart from the presence in select Odyssey stores, we saw the opportunity in creating a separate store brand by combining prescription-wear also. So the concept of 'The Eyewear Store' was created and positioned as a destination for premium and luxury eyewear. The store has an international ambience and a large range of frames and sunglasses to choose from with the best in eye testing facilities. There are niche brands like Chrome Hearts, etc in the store. Plus one can see many options in luxury eyewear also; frames and sunglasses priced at Rs 1 lakh plus. Considering the increased computer usage, improper and unhealthy dietary habits and lack of body and health care of the middle class population, especially in metros, the demand for prescription eyewear is bound to increase.
PS: In the time of retail blues, what has been your strategy to succeed?
TSA: We have stuck to the businesses we know – lifestyle and leisure. We have used this opportunity to create focus areas, channel all our efforts in improving efficiencies and productivity across functions, build better monitoring and control processes and systems, improving the understanding of the business by those at senior levels and increased their interaction with staff at lower levels, invested more in technology to be able to analyze the business performance better and plan ahead, looked at new opportunities and extensions in our own segment, the latest being our foray into premium writing instruments.