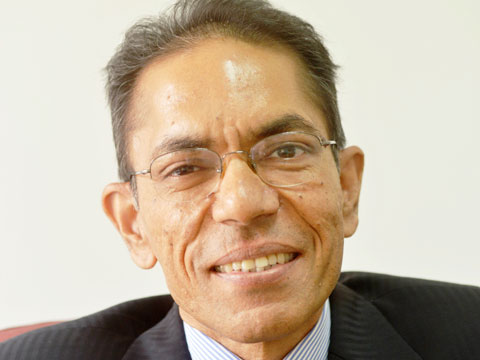 Deepak Jain
MD, Dlecta Foods Pvt
D'lecta Foods, formerly known as Devashree Foods Pvt Ltd, commenced operations in the year 2001. Primarily, the company served as a as a marketing firm and played a key role in bringing cow ghee to Indian consumers. Today, D'lecta Foods products and services include food ingredients with special focus on dairy, bakery, confectionary and nutrition. Moreover, in the recent past, D'lecta Foods introduced a range of vending solutions under the brand name D'lecta Café.
In an interaction with EntrepreneurIndia.com, Deepak Jain, MD, Dlecta Foods Pvt discussed about its range of consumer products, pricing strategy around these products and revenue model.
Can you give us glimpse of the transformation from Devashree Foods Pvt Ltd to Dlecta Foods?
As Devashree Foods Pvt Ltd, when we started with marketing and distribution of Dynamix cow ghee, the country was still in a sluggish growth phase. From 2004 onwards, the spurt in economy led to tremendous growth in retail demand and we started experiencing the supply side constraints. We, therefore, decided to broaden our supply base by getting into manufacturing. However, we remain a marketing company at our core and do not see any reason to manufacture. Even, we entered into the Foodservice business with our dairy range, particularly cheese and butter. Looking at the huge prospects of the bakery industry, we also decided to enter the bakery inputs area with our whip toppings, fruit fillings and chocolate ganache. Having established our brands in foodservice, we entered the retail space with our own Dlecta branded dairy products. We recently entered the beverage vending business to cater to OOH (Out of Home) consumption of beverages under the brand Dlecta Cafe.
What were the breakthroughs in terms of growth since 2001?
The real breakthrough is that the company is now established as a premium quality player in 3 verticals: Retail, foodservice and vending. We are poised to grow rapidly in each of these verticals because the brand acceptance and logistics network are now in place.
Before venturing into the world of entrepreneurship, from where did you start you career journey? And what drove to kick start Devashree Foods Pvt Ltd?
After completing my education, I was initially involved in my family business of non-ferrous metals. Subsequently, I joined Dynamix Dairy Industries Ltd. I worked there for 7 years. As a whole time director, I was part of the key team that set up and commercially stabilized one of the country's most advanced dairy plants. With over 2 decades of experience in the dairy industry, I have served on the Indian National Committee of the International Dairy Federation and have also been a member of the MMPO Advisory Board of the Ministry of Agriculture.
When the entrepreneurial bug bit me again, I decided to go for the dairy sector because of its tremendous growth potential.

What were the major hurdles that you had faced during the initial days of setting up your own venture?
Any new business has to struggle to achieve a minimum breakeven volume of business. We went through the same challenges. In 2001, when we started, the market conditions for growth were also not as positive as they are today. With hard work and innovation, we managed to survive and grow.
Today Dlecta Foods has wide range of consumer products including vending solutions, what are your revenue streams?
Our product portfolio encompasses Consumer: Dairy – Ghee, UHT milk, Cream, Cheese and Creamers. Foodservice: Dairy (Butter, UHT Milk, Cream, Cheese, Creamers) and Bakery inputs (Whip topping, fruit fillings, chocolate ganache) and vending: Tea, coffee, creamers, beverages (soups, hot chocolate etc), vending equipment, and serving accessories like cups & stirrers.
What kind of pricing strategy do you follow as India is a price sensitive market?
Despite India being a price sensitive market, we are not inclined to negotiate on the quality of our products. In each of the verticals that we operate in, we are positioned as the highest quality value supplier. So, we may not be the cheapest but we try to provide the best value to the consumers. To know what a certain section of the consumers want and to cater to that audience with our best, is our strategy.
There are also other players in the market that provides vending solution. How different is the Dlecta Café from others?
Dlecta Cafe is about providing great out-of-home (OOH) beverage experience. We realized that there was a great opportunity to innovate and provide better OOH beverage experiences. Most of the current players provide premixed powders made from instant tea/coffee, milk powders and sugar. The consumers are not happy with either instant tea or milk powders. Also, there are no options without premixed sugar. Our beverage options revolve around brewed tea, real milk and no premixed sugar. With our latest innovation, the country's first automatic tea brewing machine, consumers can have a cup of freshly brewed tea that would taste as good as the one made at home.
The company has also marketing partners across Europe, Africa, the Middle East and South and South East Asia. Which country is doing good in terms of business?
Our overseas business is mostly in the Middle East and South Asia.
What are your growth and expansion plans for the next two to three years?
In the last 5 years, we've clocked around an average 25 per cent YoY growth. Our projection is to continue to grow at this or higher rate for the next 3 years.

Please add your comment
billige nike
April 17, 2015 at 5:42 am
Wow that was odd. I just wrote an really long comment but after I clicked submit my comment didn\'t appear. Grrrr... well I\'m not writing all that over again. Anyway, just wanted to say great blog!
Reply |
online uk shoes
April 07, 2015 at 7:46 pm
Whoa! This blog looks exactly like my old one! It's on a completely different topic but it has pretty much the same page layout and design. Great choice of colors!
Reply |