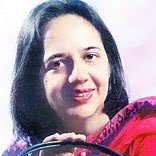 Converse India, which was recently in news for CWGs waste upcycling project is the result of a woman's vision of providing employment opportunity to thousands of aimless youths and women living on breadline by engaging them in a unique project that involved upcycling plastic to create beautiful products of value like footwear, bag etc. Her hard work was recognised with a recent accolade from the government as they handed her the Woman Empowerment Award, 2009. In a chat with us, Anita Ahooja, Founder and President, tells about her pet project and her expansion plans.
Seema Seth(SS): Tell us about Conserve India. How did the company come into being?
Anita Ahooja(AA): It started as an NGO in 1998, and in 2002, it become  a hybrid by preparing  a proper profit arm. And we have tried to maintain all the three bottom lines in our enterprise like:
Ambition of achieving our financial goals like any other commercial company. But what is noteworthy that alongside, we are passionate about our social and environmental goals as well.
Secondly, we are training the poorest of the poor wherein we work with ragpickers and very low income craft persons. Women are also our focus and we are looking for those groups who are not in the main stream yet.
And lastly, maintaining our environmental goal to work only with material that comes in waste.
SS: Who supported you initially?
AA: I was very lucky in the sense that I got help from both my husband's side and my maiden family. My brothers are environmental lawyers; they gave me a lot of thought process. My husband is a businessman, so he joined us in exports and he gave the commercial face to it.
SS: What was the first team and how was the experience of building the first team like?
AA: It was a bit challenging as the idea was new and not many believed in it.  We had developed a new technique called handmade technique of fibers.  Now, of course we have  a patent for it which we got after pursuing it for 5 long years. Moreover, our work was different from others like, we were picking up plastic from street and sorting it colourwise which no one had done before and then making it into textile which is very much like leather. There are different processes and accordingly we got people to do the job. Furthermore, in Hindi, we don't have many names for colours and these were the initial challenges and then things started to fall in line. Then we started to pay better salaries for working in factories, and the labours liked coming out of unorganized sector.
SS: Where did the idea of starting a project from waste material come from?
AA: I was watching waste on streets and thought of  using this resource to do upcycling and recycling. We are a landlock city. And we wanted to use resource that is easily available and we wanted to work with low income so this suited us.
SS: So what challenges did you face initially?
AA: Finance was a big roadblock since we were a self funded company. Moreover, since our idea was new, we faced a lot of problem to get outside funding. The angel investors have come now. Also, people thought why NGO was interested to become financially sustainable so this also posed a big problem to us.
SS: What are your products? Where do you position your products?
AA: We make all kinds of handbags, footwear and interiors, we have a diversified portfolio and we are 100 per cent export company and our products go to  Europe and America.
SS: Why are your products not seen in the domestic domain?
AA: We are concentrating in meeting the export demand currently. We do have plans of entering the Indian market, which we are still considering.
SS: What's your brand like, tell us about the name Conserve India.
AA:  Actually, there is a brand war going on(laughs). There are people co branding and people using Conserve tag but it will be a long time when we will be an international name.
SS: What is your marketing strategy? What promotional methods you use to popularize your products?
AA: Trade shows are our bread and butter where we get 4 to 5 buyers every time. We are very much in media, we have  a new factory which is ISO and compliant and we are targeting big buyers. We try different programmes (like the recently held CWGs) which gives us instant recognisation.
SS: What are your future plans?
AA: We are trying for the forthcoming marathon in Mumbai but bigger waste can come only from bigger events like London Olympics where waste starts to come a  year before.
SS: Which are your high selling products?
AA: Bags, and we are doing a lot of R and D in footwear for which we have a separate unit. Footwear should also catch up in a big way.
SS: How do you maintain quality?
AA: We ensure sturdy waste like material of plastic bags, tyre tubes etc. Because I personally feel that if I buy a product, say, a bag or footwear it should last long.
SS: What is the USP of your products? Who are your competitors?
AA: We are patented, we make in house, we have technological edge, our product cannot be copied since it is complicated. Moreover, world wide planet change and recycling is getting importance and it is an interesting line.
We do have competitors like the bag manufacturers of China but our product is different and we have to explain that to the buyers which is a bit different.
SS: How many factories and workers you have in total?
AA: We have I unit where 300 workers work and we also outsource quite a bit.
SS: Apart from the award, did you receive any kind of help from the government? What are your expansion plans?
AA: No, but let us understand that recycling industry needs to be given recognisation. Plastic is a global problem and we get 1000 franchise requests every day. For expansion, we are concentrating on Franchise model for which we are eyeing Africa currently. We would also like to take our products to other countries like Afghanistan etc. And here, a little help from government won't hurt us.