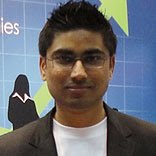 When Pallav Nadhani started out at the age of 17, his pursuit of entrepreneurship had a single focus: he wanted to earn his pocket money, and not crib in front of his father like many teenagers of his age. Add to it his love for technology and inquisitive nature that helped him monetize his passion and create a business out of it. Today, InfoSoft Global (P) Ltd. is a software product company that sells data-visualization components for web, that includes charts, graphs and maps (like those you see in Microsoft Excel), but made for Web and Enterprise Applications. The company's flagship product FusionCharts is the industry's leading component in this category globally, and has 17,500 customers and 350,000 users in 110 countries, including a majority of Fortune 500 companies. In a candid conversation he reveals all this and much more on how he has achieved and what he still craves for.
Archana Pareek: How did the company come into existence?
Pallav Nadhani: The company was incorporated in 2005. However, I had started work on FusionCharts as a product in 2002, when I was 17 and in Class XI. During my school projects, I found charts offered by Microsoft Excel very dull and boring – and that's when I decided to write some code to build a parallel charting solution for web. I wrote some code, and then an article on it for a website called ASPToday.com (now extinct), which paid me $1,500 for this article. This was my seed capital for the business. After the article was published, I got amazing response from the readers (who were developers) and that gave me the idea to build a product out of it. We started with a single product (FusionCharts) and today we offer over a dozen products in data visualization space
AP: How did you develop your first team (of employees)? What were the challenges you faced?
PN: The first employee was hired through my cousin's reference. Then we used the standard methods (job site, reference network) to build the team further. My biggest challenge was that I was a 20 year old guy trying to hire experienced people, without having any experience in handling people. I had no knowledge, whatsoever, of HR policies, retention strategies, formal documents, etc. However, the first set of people who joined me like my product vision and hence themselves didn't pay much attention to these items. Later, we hired experienced HR people and consultants to help us with this. In fact, we're still in a learning process in this domain.
AP: What is the biggest challenge you have faced so far while operating through the web base in India?
PN: Finding good people to work for us and selling them the story that working for a startup (or SME) is fun, since most of them want to be associated with big brands having employees by hundreds of thousands. Since our primary market was not India initially, Internet/security has not been much of a problem. In the last few years, India has definitely picked up and is an important market for us now. But, making Indian customers understand the value of our products (we're almost 10x priced at our competitors) has taken us time, as India is a value-sensitive market.
AP: What is your growth plan for the company?
PN: We're in a growing market, as data visualization is becoming an essential part of the industry. All the new applications that you see have a strong reporting module, and customer's requirements for such reports are growing every day. We started by selling to developers (we call it D2D – developer to developer) and are now expanding to mass consumer market using our new offering for PowerPoint (called oomfo – http://oomfo.com). This product (which is free, btw) allows PowerPoint users to create exciting and stunning charts in PowerPoint, more than what Microsoft offers.
AP: What has been your key business strategy to bring it to this level since it's inception?
PN: We offer licenses of our products. These start at $199 and go up to to $150,000. We offer data-visualization components for Web and Enterprise applications.  But when we began we started with 1 product and 1 person (me) in 2002. Today we've over a dozen products, 50 employees, 2 offices, 17,500 customers and 350,000 users. For the first few years, we more than doubled our revenue every year. Our strategy has been to focus intensively on the product. We pride on being the best looking charting solution around and at the same time being very easy to use. We highly value creativity in every aspect of the product that we offer to our clients.
AP: What have been the key marketing and brand building strategies for your business and how do you define your USP?
PN: At different times of year, we give discounts to our customers and channel partners. During new product releases, we sometimes give cross-selling discounts. Before and after certain tradeshows in which we participate, we give discounts to attendees. In competitions organized by other companies, we sometimes give our products as goodies/gifts. We've association with various channel partners (resellers) in 30 countries and affiliates in over 50 countries. Furthermore we, let the customer be the sales person. In fact we hired our first sales person after acquiring 10,000 customers. Secondly we believe in selling benefits, not features. This helps us first understand customer needs and then only sell if our product helps him achieve something better/faster/cheaper. And lastly we use inbound marketing.
AP: What is your word of advice for startup entrepreneurs?
PN: Make sure you've a valid pain point that you're solving. Validate it with customers. If first plan doesn't work, pivot. Next is to get the right team (co-founders or initial team). If you get the team right, most other things are a breeze. And the final word of advice would be- use outsourcing carefully, and definitely not for your core activities.