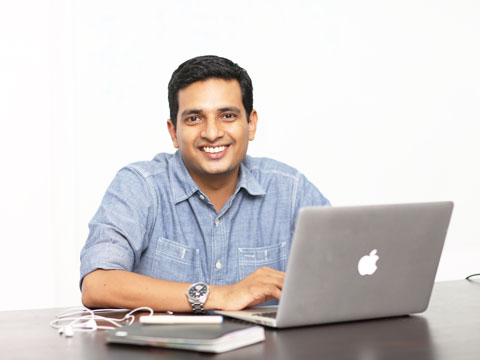 Toppr is a startup in the education technology (Ed Tech) space, where there has been significant growth of players who are looking to capitalise on the movement of training. Toppr was founded by two IITians, Zishaan Hayath and Hemanth Goteti in April 2013. The key objective of the company is to tap the large education market that is currently underserved.
In a span of just one year, Toppr has successfully managed to enroll more than 40,000 students, achieving 100 per cent month-over-month growth. The firm's USP lies in combing content with technology and design. Toppr's adaptive platform makes it easier for students to save about 50 per cent of their practice time for engineering and medical entrance examination.
In an interaction with EntrepreneurIndia.com, Zishaan Hayath, Co-founder, Toppr.com, talks about how his organisation is partnering with schools and coaching institutes for expansion across India:
Please give us a glimpse of your entrepreneurial journey - from the e-commerce marketplace Chaupaati bazaar to starting an education technology portal Toppr.com?
Starting a venture was always a dream. So, within three years of graduating from IIT Bombay, we set out on our entrepreneurial journey. We co-founded Chaupaati Bazaar, a mobile commerce startup that enabled millions of mobile users to buy home appliances, children's products, books and magazines. The company was later acquired by the Future Group in 2010.
We identified that the current education system was extremely overpriced and technology starved. Capitalising on the opportunity, we started Toppr in 2013, an online test preparation platform to complement offline coaching for engineering and medical entrance examinations.
Where did the motivation come from to start an ed-tech portal?
The Nike app for running motivated me to achieve more. While using the app, I realised that technology influenced and changed the way I run, how much I run, who I run with and when I run. Measuring my run in so many different parameters motivated me to achieve more. It made me realise that if a simple task like running could be impacted in such a big way when combined with technology, imagine how beneficial it would be to a complex and competitive task like exam prep.
After Chaupaati, when we were exploring our next tech start up, the education sector seemed like the obvious choice. It was a large market with several pain points but mostly underserved as far as technology was concerned. Therefore, we started with an online exam prep platform for practice and tests to compliment classroom coaching.
Can you take us back to your pre-entrepreneurship works experience? Does your previous work experience help you to scale up your venture?
Prior to Chaupaati and Toppr, I worked at Opera Solutions on strategy and operations for Global Fortune 100 clients in London, New Delhi, New York and Shanghai. As I was one of the first employees in the India office of Opera Solutions, I also worked on firm development, office set-up and expansion and saw the office grow from 1 to 50 employees.
These experiences have helped me immensely throughout my entrepreneurial journey and gave me the confidence to implement ideas and attract talent. One of the highlights at Opera was structuring a $1.4 billion print outsourcing deal to turn around a bleeding $2.4 billion publishing house that had recently been acquired by a private equity firm which taught me how to deal with situations and problems at scale.
Is Toppr a self-funded venture?
No. Toppr raised its initial funding in an angel round from Kasyap Deorah and Abhishek Jain, Zishaan's seniors from college, when the company was started in April 2013.
How difficult was it for you to pool in all the resources during the initial days of your venture?
Every start-up has its share of difficulties while getting started. Finding good people who would join a startup at an early stage is difficult. We were fortunate to have attracted great people mainly from top premier institutes including IITs, BITS, NITs, IIITs who have had previous startup experience.
Toppr combines education and technology with beautifully crafted design and setting high standards to achieve all these things together was a challenge initially. However, we have been successful in achieving those high standards at every stage and today we count it among our USPs.
Recently, Toppr raised Rs 12 crore from SAIF Partners and Helion Ventures. What is the percentage of stake they hold in your venture? How did you utilise these funds?
We are glad to have partnered with SAIF and Helion as both of them have an excellent track record of investing in disruptive companies across various sectors. We have invested these funds mainly in expanding the team and increasing our marketing efforts. We have also significantly ramped up our operations across India and are partnering with schools and coaching institutes.
The education sector comprises of several players who provide similar online test preparations materials. What is the USP of Toppr?
There are other players as well, but as you rightly mentioned, they provide online test perperation material. Toppr's USP is not just about good content, it is about combining content with strong technology and design.
The content is developed inhouse by a team of subject experts and a community of IITians who prepare the modules. These modules are curated before being released on the platform for use by the students. The content gels well with the technology platform and the design which creates an immersive experience for students to excel.
What is the present traction of students in Toppr.com? What kind of feedbacks have you been receiving from students?
In the 18 months since Toppr began operations, more than 40,000 students have been using the Toppr platform. We are adding 10,000 students every month. Around 2 lakh questions were attempted and practiced on Toppr.com in Nov 2014. We have grown from a team of 5 earlier this year to a team of 50 currently.
How profitable is your venture? Would you like to mention any number in terms of revenue you are targeting for the next fiscal year?
Starting a company makes sense only if it can be profitable and that is something we care deeply. We are almost doubling month on month and during such a high growth phase, you have to invest for the future to reap benefits at scale. We have steep targets both in terms of users and revenue and we are on track to achieve them.
What will be your growth and expansion plans for the next two to three years?
Currently, Toppr will only focus on test prep market for medical and engineering examinations and establish itself as a leader in the industry. Venturing into other subjects and markets will come at a later stage.