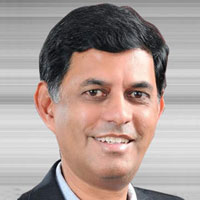 Please take us through your entrepreneurial journey.
A Ph.D from Indian Institute of Science, Bangalore and having an experience for more than 24 years in software engineering and software delivery management, my expertise have extended from a wide spectrum of life cycles, programming paradigm, and technologies, to managing multi-location product development teams. I served as the Managing Director of Winphoria Networks, India (a soft-switch start-up), which was subsequently acquired by Motorola. Now with Silvan Innovation Labs, I am engaged in developing home automation and security products for emerging markets like India.
What challenges did you face while starting your venture and what cureent challenges for you?
While starting a new venture there are many possible challenges that one faces and so did I. One of my major concerns was the constant change in this field. Like I said earlier, there is always a new thing to learn every day and to cope up with that and creating something better was definitely a challenge, when we began and is currently one of the challenges too. These challenges as a matter of fact let us grow; the need for something new drives us to create something more better for our consumers.
Please tell us in detail about the products and services that you offer? Also elaborate on the pricing range?
At Silvan, we understand that today's demanding lifestyles' need intelligent homes and facilities. We have extended the remote management and automation concept to include a host of routine functions and varied lifestyles to bring one state-of-the-art facilities. Entrance, security, light and switches, kitchen and appliance scheduling are the areas where Silvan's expertise lies. The price range for installation of our solutions in a particular unit would roughly start from about Rs 25, 000/- and goes up to Rs 5, 00,000.
Define Internet of Things (IoT) in your terms?
Internet of Things (IoT), a phenomenon where objects (connected over a network) interact with each other without human intervention, is poised to open the gates of the next technological revolution. Internet-connected objects, such as washing machines and smart refrigerators to bathroom scales, gadgets that connect to the Internet are on the rise in homes, and apps are the means to monitor and control them. These "connected things" communicate with each other and begin to work on their own without one acting as a messenger and telling them all the time what to do. 
Are there any government policy regulating IoT in India?
In terms of government regulations, currently there are no obvious policies governing the use of IOT. However, the government will have to focus on security aspects associated with IOT. Also, potentially lot of data can be collected with IOT in place regarding usage, storage, analysis, etc. Privacy concerns will grow with this and some regulations will have to be put in place to manage the privacy concerns.
In what ways IoT can open a plethora of future opportunities for businesses/start-ups/entrepreneurs to capitalise on?
The IoT market is already big and will continue to grow. Everybody has become a tech-savvy today and IoT definitely makes lives easier. When thinking about an opportunity for business or start-ups, one always focuses on the current requirement of the mass. Now when we look at what each one from the mass needs then that would, without any doubt, be comfort! People are moving fast, everything works at a supersonic speed, be it the Internet or the metro. Nobody wants to waste any time, which is where IoT will help save time and energy. Entrepreneurs will drive in rewards if they capitalise on something which would never cease to grow.
What tips or advice you have for aspiring entrepreneurs?
Lots of successful entrepreneurs started off with their own business in a slow pace, and there is no shame in starting slow. Just start. Good entrepreneurs should have an enquiring mind and there should always be a room to learn more, especially when it comes to the IoT world. Never stop asking questions. Grow your network. Knowledge is the best thing to be achieved or gained from someone and last but not the least; if you want to be successful then you have to work hard!