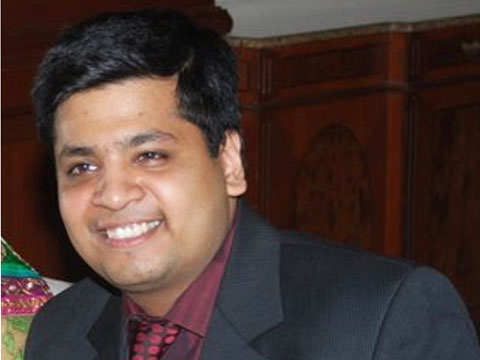 IndiaOnline is an exceptional network of over 350 India centric portals. It is a conglomerate of all resources and services that one might be searching through internet, about India or its cities or states. The most unique feature of this network is that each Indian state and city has been covered under separate domains, which are identical in nature.
In an interaction with Entrepreneur India, Rahul Jalan, MD, Indiaonline.in unfolds the mystery behind creating a pool of 350 websites, which covers news and updates in multiple regional languages of every nook and corner of India.
How did you conceive the idea of creating 350 India centric portals via India online network?
India is a very vast and unique country with diverse religions, languages and tastes. Every state and city speaks a different language, but uses one common medium of communication, Internet. Realising the difficulty of presenting India, its states and cities in different vernacular languages to meet people's requirement, it was impossible to achieve through one website. Moreover, the idea was to create a premium city portal for region of India, which focuses completely on that particular city and to which the residents can directly relate to and enjoy the services hassle free. The biggest advantage or USP of this network is inter-link between all portals.
Do you call it India specific search engine or India specific directory?
We simply call it a 'network of 350 portals' which covers everything about India. It is not just a search engine or a directory, but it has a lot more to offer. The network covers detailed content on every city and state of India. It covers news and updates in multiple regional languages from every nook and corner of the country. It is not an India specific search engine, but a network of city-specific search engines covering every city of India, whether small or big.
How do you mange to run the 350 websites? What is the number of workforce do you have right now?
Managing and maintaining so many websites comes with a heavy price tag and is definitely much more expensive and difficult as compared to managing one website. However, it gives us a unique and distinct identity of being the largest online network of websites in India, which is far more valuable to us. We are currently a team of 40 people which mainly consists of web developers and web designers, content editors, writers and other supporting team members. Furthermore, we have a strong team of 150+ freelance content writers spread across the country to heavily contribute in our endeavour of creating world-class content in all 350+ websites. We have already started to add new team members in our Business Development, Marketing and Support team besides looking to further strengthen our development and design teams. The company intends to further create a network of 5,000 plus business associates or franchisees across cities or towns in the country, to sell our various paid products and services.
India online network is a large network of online directory where everybody can access any information about any place. What is the imperative need of creating 350 sites?
Every city of India deserves its own website, where the residents can enjoy all the localised services through their own city site. India Online Network was conceptualised with a single vision of creating a common platform for the masses to fulfill their daily online needs and requirements, while offering some unique services to them for the first time in India.  
Though there are niche and dedicated websites available for all the verticals, how do you pull up the advertisements for your sites?
Our facebook page is a good example of how we portray ourselves. We want to showcase ourselves as a one-stop shop for all kind of information one needs about India or any of its city or state.
How does your business model works?
Though, most of the services offered on the network are free. There are currently 2 primary channels through which the company drives revenue, premium website or listing packages for small businesses and individual professionals. Each city website has an integrated local search engine on which local business owners and professionals like doctors, lawyers, photographers, etc. can register and create their business, listing under 90 main categories. Along-with the business listing, each registered member can create a premium website for their business as well. The prices of websites and listing packages start from Rs.99 per month.
Can you give a snapshot of your expansion plans to 4000 towns through franchisee network?
We do not intend to directly market ourselves through our own sales channel. Rather, we have created a tremendous business or self-employment opportunity in the Indian Job market scenario, wherein we have planned to create a nation-wide network of 5,000+ business associates or franchisees to join us and market the above products or services in their own cities and towns. For this, we are inviting all interested individuals, web designers, web marketing firms, cyber cafes, ad agencies, marketers, freelancers and even students to join hands with us and be part of the growing internet industry of India.
What is the number of paid subscribers do you have at present? Any number you would like to reach within 2 years?
We have a very small number of paid subscribers as we have just initiated some test marketing steps. Until now, the entire focus was on product development. With whatever little efforts have been made towards marketing, we have received a tremendous response. As per a recent survey, there are more than 5.7 crore SME's in India out of which more than 95 per cent have their own website. That's our target!
 Any external funds raised by you? Would you like to mention the name of the investors?
Over the past 2 years, We have already invested a substantial amount of capital in this initiative for product development and content creation, which is completely funded in-house by the owners or founders of the company.
How does your revenue model works?  
Though, most of the services offered on the network are free, there are currently two primary sources of revenue – premium website or listing packages for small businesses and banner ads or promotional ad space on all 350 plus websites. In the future, new revenue streams will be added to the network like premium classified ads, premium obituary ads, premium events' promotion etc. The company intends to create a network of 5,000 plus business associates or franchisees across every city or town in the country to sell the products and services widely.