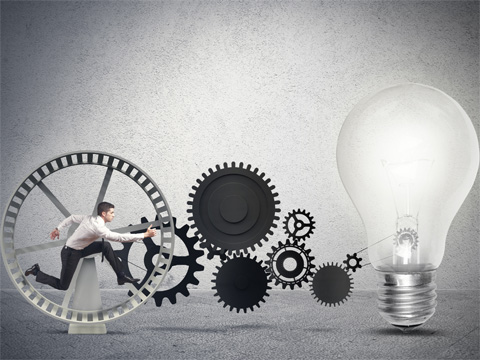 An idea can't become an enterprise overnight. The firm has to first meet revenue targets to run operations successfully and needs to maintain a good track record.
You have to work on every detail, plan skilfully and implement your ideas strategically to get yourself ready to be an entrepreneur. "There are only two ways to run your business. Do a research and find out what the leading trend is and start following the leader or be a leader and start your own trend. In the industry where I belong, it is better to be a leader. But one doesn't really know if he'll be required to follow." These words were stated at one of the talks involving one of the most reputed and respected entrepreneurs in the food industry, Sanjeev Kapoor, who not only runs Khana Khazana Pvt Ltd but is also a Chef Extraordinaire.
Testing the Waters
Whether you want to lead or want to walk on an already treaded path to success – all your ideas need to be tested. To ensure the success of your business, your ideas need to be given a reality check. Therefore, market research is very important and forms an integral part of the process. It is an excellent tool that minimises uncertainty and risk involved in a business and gives the information one needs to learn and analyse from. Even though CK Kumaravel, Managing Director, Natural Beauty Salons, did not research as much, his success can be attributed to the blue-sky thinking he personifies. "We didn't do much homework; we just put some numbers on the back of an envelope, did some analysis and decided that we would be doing salons," admits Kumaravel.
However, it is necessary to know that information on our prospective customers, competition and research analysis are only done through a prudent market research. Starting his journey in 2001 with the intention of serving hygienic food at affordable prices, Dheeraj Gupta, Founder, Jumboking Vadapav, says, "We are aspiring to become one of the largest QSR chains in India over the next five years simply because we have been very particular about our product line, the pricing, maintaining high quality standards and the need it fulfils of the customers right from the very start." Without that, budding entrepreneurs, the ride would become rather bumpy.
An idea can't become an enterprise overnight. The firm has to first meet revenue targets to run operations successfully and needs to maintain a good track record. At a recent Microsoft event in Bombay Stock Exchange, when a budding entrepreneur shared a tech-savvy idea, it was shunned because neither did it solve a problem or meet a need.
Before savouring the successful servings of the iconic product, Gupta lost half a crore trying to establish a sweets manufacturing and distribution business. Although he wanted to have the chocolate packaging model for his sweets business, it didn't take off. Today, he has over 60 franchised outlets across 12 cities. It was his aim to grow a chain as massively as possible behind his decision to take the franchising route.
Many other successful entrepreneurs like Zorawer Kalra (Founder, MD, Massive Restaurants) and Nitin Saluja (Chaayos fame) believe in building their enterprise by maintaining as much control as possible. They retain company ownership and have built their brand without outside owners. These are just different perspectives of looking at scaling up their enterprises.
Kumaravel's model, though, readies itself for the franchisee instead of going the other way round and it is interesting when he states, "Because of our name and work of 14 years, we have managed to pull off funding for our franchise partners as well. Banks have seen how our franchisees work, and therefore they are extending help by giving collateral free loans. So, today anyone can walk into our store with around Rs 15 lakh and the rest is arranged by us through our association with banks without any collateral. He/she is required to do some formalities, and the space for an awesome opportunity is created."
As a franchise owner, the entrepreneur will have to follow the operations manual prescribed by the franchisor. Thus, while the opportunity is ripe for aspirants to gain good returns with fewer risks, it does come with some conditions.
Many successful businessmen believe that starting up a business is what that matters for the people of this nation – whether it's starting on your own or taking up a franchise partnership. Dipak Agarwal, CEO, Head, Strategy, DLF Brands, believes that nothing can keep the spirit of entrepreneurship out of the Indian, "Indians can do anything, anywhere. The larger consumption in India will always attract production, so there is a lot of scope for any business to flourish here. There are 1.2 billion people living in a country whose doctors and engineers in the western countries are more than the residential doctors and engineers. Human capital is one of the greatest strengths that we have and the intellectual input we provide for the rest of the world shows our entrepreneurial mindset."
The Journey from Seed to Plant
While the decision to either take a franchise or going ahead the company-owned way rests with the entrepreneur's good sense, the options today range from jewellery to restaurants, to salons, spas, pre-schools, fitness, technology, training, financial services to retail.
But once you take up a business, there's no looking back. "Don't see anything that comes in your way. Do not try to see the destination, but the road ahead that is visible. Take one step at a time and keep moving. Do not think of becoming a Dhirubhai Ambani overnight, just keep moving. As long as you are moving forward, you will gain a lot of people, a lot of network and then it will start opening up," says Kumaravel.
Agarwal, too, reminisces about the things DLF did in the past and continue to do them to reach where it is now, "It was always our belief in the business, in what we are doing, our commitment to quality, to our customers and our commitment to the entire nation, the market and opportunity. We believe the journey has turned out to be good."
A successful business has no limits to growth if it is led by owners with large appetite for opportunity and a growing capability to leverage it. The country is a breeding ground for such leaders, if only they exploit their potential. "We keep fighting with the concern whether we'll be successful or not. I just say shun that method of looking at things. Instead of saying 'will we' just say 'how we are' and change your mind-set. Entrepreneurs form the fulcrum of modern growing India," concludes the director and promoter of Gold's Gym, G Ramachandran, who has started an online portal to help entrepreneurs fight start-up challenges.