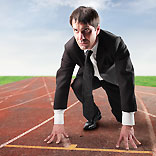 A key dilemma that all would-be entrepreneurs face is finding the business opportunity that is right for them. Should the new start-up focus on introducing a new product or service based on an unmet need, should the venture select an existing product or service from one market and offer it in another, or should one identify a niche market and develop a product accordingly? While most entrepreneurs make the strategic choice out of their own inspirations, one must be aware of the challenges and opportunities attached to each route.
Filling a need gap
The traditional approach to starting a business has been researching the market, identifying a need and then launching the business with a new product or service. When Agarwal Packers & Movers started off, there were no such services of packing and moving of goods through professionally managed companies. People had to use their own skills to pack their goods and leave it to the mercy of local transporters. So the concept was a total hit within 28 days of its launch, as this type of service was very much required by people who had to shift homes frequently. They now had a company that can actually pack and move their household goods with care and proficiency. "Starting a venture with a new service or product gives you an initial edge over people who enter the same space later, as you then become the pioneer of that product. People tend to have a soft corner for first movers in any sector, provided it is a success," says Ramesh Agarwal of Agarwal Packers & Movers.
Bishal Kumar Lachchiramaka of Drishti-Soft Solutions says, "The innovation factor is quite high for a new product and it can be made dynamic and flexible to adapt to various tested market scenarios, thus deriving a competitive advantage for the venture."
a) The challenges
Building a business around a need and coming out with a new product is fraught with challenges. The product may fail in development or marketing efforts. Figuring out who is the right customer for the product is often the most difficult process. For such ventures, it is important that the first few customers validate the business need and assist in defining a robust product specification and architecture. Secondly, the entrepreneur also has to deal with the complexities of defining a revenue model, which offers an attractive proposition for the customer to buy.
Building businesses around a new technology product is a popular fad among technology geeks from technical institutes and colleges. However, the rate of failure of such ventures is very high. They must realise that technical know-how and product development are just one part of the business. An important part of the product development strategy is to come out with a saleable product that is backed by a strong market demand.
b) Winning strategies
Starting business with a new product or service needs a group of competent people who may have different skill sets but share the same vision. Ramesh Agarwal says, "The guidelines of the project should be worked out to the minutest details with utmost care, looking into the customer's expectations from the product. The venture should constantly ask for customer feedback about their product, analyse it minutely, rectify the problem and re-launch it with a proper action plan."
Entering an unorganised space
The greatest single attraction of an unorganised sector is lack of competition, which allows a start-up to take baby steps. Furthermore, unlike a competitive market, you get sufficient time to learn from your mistakes and also correct them.
a) The challenges
The challenges of starting out in an unorganised space can be specific to the industry one is operating from. Take for instance, the largely unorganised footwear industry in India, which is dominated and successfully managed by the unorganised sector. Success of unorganised players is attributed to their regional sensitivities. The same factor poses a major challenge before an organised entrant. Each store will need to have a product mix customised to its local footwear fashion trends.
Chhabra Triple Five Fashions, the legendary apparel retailer, withstood several pains of stepping into an unorganised industry. When the retailer started off, most players did not even follow the basic accounting and reporting norms. Hence, significant efforts were required to get buy-in from all stakeholders, including suppliers and dealers, for creating transparent systems, which are imperative for maintaining a large network of stores. Besides, Chhabra had to spend a large amount of time training people and ensuring their development.
Real estate brokerage is a highly unorganised segment with rampant corrupt practices. Sam Chopra, Founder, RE/MAX India, says, "When we started RE/MAX in India, it took us a while to get convinced that an organised model like this would work in the unstructured, unlicensed and unregulated real estate brokerage environment. But once we were able to make inroads in cities like Ahmedabad, Chennai and Bengaluru, there had been no looking back. We are growing every single day, this growth has further helped in strengthening our network value proposition."
b) Winning strategies
In any unorganised industry, one needs to carefully study the dynamics of the business and a thorough research of the ground realities. Metro Shoes was able to successfully cross over to the organised segment by ensuring that their products are regionally relevant across all stores and by creating a performance-linked system that fosters entrepreneurship amongst all front-end staff and treats them as partners of their store.
One needs to enter an unorganised industry with an open mind. The key to success here is to innovate rather than following the prevalent practice. Create your differentiator rather than being a follower. "One needs to be impatient about success because being patient can easily lead to complacence in an unorganised industry," says Sam Chopra. It is very much like the stock market where the ones who invest in a downturn gain the most when the market booms. Instead of taking the wait and watch approach, take the leap today so that tomorrow you have an edge over others, he adds.
Crafting a niche
The obvious advantage of owning a niche business can be low competition, as the barriers to entry are high. Secondly, as Harshad Daswani says, "Margins generally tend to be higher and growth can far outstrip industry benchmarks. Further as the concept is new, marketing is easier."
A niche segment enjoys the brand focus. And as the niche segment grows (since the upper strata of the mass segments grows into the niche segment), it creates a ripple marketing factor. Since the niche segment also has a high brand value and a concrete brand recall factor, the new entrants into the niche segment find the product easy to relate. Gul Vaswani, Chokni Dhani Resorts, shares, "Twenty years back, when we commenced our business, we catered to the foreign tourists and domestic tourists were less. But in the last decade, due to quality highway infrastructure, higher spending power and influx in domestic tourism, footfall of the domestic tourists has become a high, consistent and across-the-year phenomena. Now mass is niche for us."
a) The challenges
The biggest challenge while venturing out in a niche market is to convince your suppliers, customers and channel partners that there is indeed a need for your product. This is followed by focusing on how you can best serve this niche and constantly add value. Once this is done and there is substantial interest in the product, fresh and diverse marketing/distribution channels have to be created. Harshad Daswani, Founder, Fountainhead Exports, says, "In any new niche, there is no benchmark or roadmap for success. So we need to convince investors and partners of the need, its scalability and then create channels to tap the consumer base."
It needs intensive research of the new concept and understanding of the demand and supply curve. It becomes equally important to create a marketing plan to reach out to the niche market, applying all the P's of management. CRM and referral management plays a major role in niche marketing.
Daswani says, "By definition, anything new is bound to have complications, so it is in a niche business. Trial and error usually works, it did for us." Another roadblock can be financing. You have to really believe in your product to convince investors about the feasibility of the idea.
b) Winning strategies
To be successful as a niche business owner, you need to thoroughly understand the concept and create a focused USP. Have a marketing strategy to clearly demarcate from other similar brands. Educate the client and let the client endorse further about the brand. Make the experience of the niche business truly a wow factor. In a niche business, constant research and innovation is an integral part of the business strategy. Subhash Vaswani, Managing Director, says, "We explored the populated, virgin and remote corners the state of Rajasthan. We also interacted with the artisans, performers and other rural persons to understand how the concept can be developed. But the process of innovation is never temporary. I still take pain to create newer designs, implement new cultural events and activities and keep my research team at task."
Starting as a competitor
On the face of it, it might appear safer to start business in an already established market than experiment with a new product. However, as Pradeep Hirani opines, "The risk involved in starting a fresh business is equivalent to that of delving into a well established market with giant competitors. However, if you have the basics in place, which include an analytical research of the market, a good study on your demographic target, a strong product and planned marketing to push the product, there is nothing that can impede growth."
A) Challenges
The greatest challenge an entrepreneur is faced with in a competitive industry is to create a strong competitive advantage and adopt the right marketing strategies. Pradeep Hirani cautions, 'One thing that can greatly hinder the success of a venture is wrong marketing.'
Consumers today have various options and the way a venture differentiates itself from others is what makes it outshine the mass competition. The strategy should be to surprise and pamper your clientele with innovative merchandise, service or concepts.
b) Winning strategies
Strong market research is an important determinant of success while entering the fray as a competitor. It starts with identifying the potential of a market and the entry barriers and scalability of it. The need and demand of the product is very important, the scope for re-defining the product in time, the competitive pricing and differentiating factor, etc must be taken into consideration.
Pradeep Hirani says, "We have focused on rejuvenating, re-thinking and re-inventing the brand to cater to market needs. Kimaya specialises in adding a different dimension to fashion, unveiling designer's edited collections with launches and soiree's that bring the best to luxury and couture to its discerning client base."
Competition, direct or indirect, will always persist, but resisting it isn't the solution. An innovative approach is the key to success. The timing of starting the business, including competitor watch, economic conditions and government support to the industry, could be crucial.