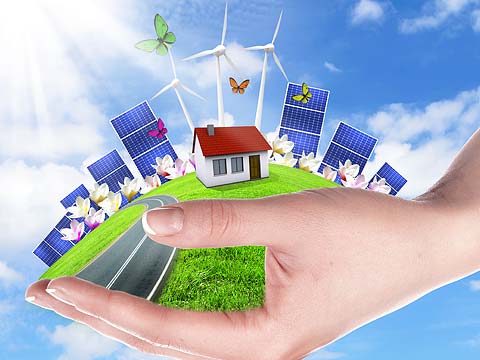 Renewable energy as compared to other sectors like technology, healthcare, eCommerce and others seems to be less lucrative sector in terms of investment opportunity, with few investors showing interest in this space. Moreover, from a start-up perspective, the industry is considered as capital intensive beacuse of the huge cost involved in terms of installation of projects.
But with Prime Minister Narendra Modi's recent announcement to increase India's solar power capacity to 100 GW by 2022, and several other measures initiated by the government, could make the country one of the largest solar power markets in the world. With suitable policy and regulatory framework, start-ups in this space can enjoy significant business opportunities and attract a large chunk of capital.
"These key initiatives by government have benefitted start-ups in the segment in a huge way. Ministry of New and Renewable Energy (MNRE) also announced to open a 20,000 MW for smaller players and start-ups. Much impetus is being given to small players," asserts Rahul Gupta, Director, Rays Power Experts.
India occupies fifth position in the world in the overall renewable energy capacity installations with an installed capacity of 32,425 MW. This growth is largely attributed to the government policies and private sector investments. "We have seen a remarkable increase in attention to renewable energy by governments around the world and organizations like the IFC and the World Bank," says Anish Thakkar, CEO, Greenlight Planet.
The Prime Minister has promised access to electricity for every household in the country by the end of the decade. India already has an installed capacity of 250 GW. The additional electricity demand creates a massive opportunity for renewable energy resources.
The Solar Energy Corporation of India has already increased the solar power capacity it plans to auction and get installed over the next three to four years. The additional capacity is expected to come from state solar power policies. Further, the government is set to push for ultra mega solar power projects to boost capacity. A number of such projects are currently in various stages of development. "It appears that the government will create policies to provide more conducive environment for entrepreneurs to venture in this sector," shares Prajakt Raut, Co-founder, Applyifi and Founder, The Hub for Startups.
Hurdles in Growth Path
Renewable energy business is considered as capital intensive in nature because to start a venture in this space involves huge amount of cost in terms of installation of projects and high interest rates. Moreover, the PPA (power purchase agreement) in India is not entirely bankable. Hence, financial institutions find it difficult to finance such projects. Swift changing government policies with respect to fixed PPA and REC scheme are some other challenges hindering the growth gradient.
"Unlike other sectors, where you can start small and go on to raise Series A, B, C and subsequent rounds of funding and then proceed to the private equity market, in case of renewable energy space, huge amount of capital is required from day one. So, it does not follow the normal process of fund raising like the eCommerce or tech firms require. The government needs to focus more and work towards building an ecosystem, where new businesses can find space to grow and attract capital," points Sumant Sinha, Chaiman and CEO, ReNew Power Venture and Co-Chairman, Confederation of Indian Industry (CII) committee on National Renewable Energy as well as the Chairman of the Indian Wind Energy Association (IWEA).
The business opportunities in the renewable energy space lies in Equipment Manufacturing, EPC (Engineering, Procurement and Construction), Operations and Maintenance, Engineering and Project Execution Consultancy and Project Development. Equipments are usually manufactured by large Indian and multinational industrial houses that have huge capital backing. Moreover, installation and construction requires huge initial capital and engineering expertise, which is not possible for new and small entrepreneurs.
"The projects involve government agencies and bureaucratic processes for permissions and paperwork, which makes it highly non suitable for new entrepreneurs. At global scale, small and micro wind turbines also have a small market, but it is non-existent in India," explains Digendra Singh Rathore, Founder, SolarWaale.com.
Solar energy is younger and less matured market as compared to wind and is divided into different segments – large scale solar (greater than 1 MW) and small scale solar (less than 1 MW). Small scale solar is further divided into grid connected rooftop and offgrid market. Grid connected rooftop is a very new market and is still in early stages. Till now, it is entirely dependent upon government policies and subsidies, so not much progress has been made.
Offgrid market contains solar lanterns and microgrids etc. It is a relatively mature market and a lot of big and small manufacturers across India are already doing good business. It has the least barrier to entry, and with little capital many new entrepreneurs have entered this space in recent times. Hence, except offgrid products, manufacturing in the solar industry (of solar panels, inverters, structures, etc.) is ruled by large MNCs or big Indian industries.
"The current models in the renewable sector have had challenges, especially on commercial feasibility, but it should be viewed as an opportunity that needs to be addressed. Given the government as well as the private sector intent to consider renewable and cheaper energy options, there is an appetite to evaluate and seek innovations in products, services and business models," explains Raut.
How to Gain Margins?
Due to rigorous competition, which is prevailing among the EPC companies and equipment suppliers, solar power is a very difficult market in terms of earning margins. The only way to make money in this space is to build a business proposition, which can offer some uniqueness and help players stand out from others.
"We offer best in class engineering services and local after sales support, which customers prefer and they are ready to pay slightly high for this. Then, we try to reduce our overheads by outsourcing most of the capital intensive activities like manufacturing of structures and onsite execution," highlights Rathore.
Sharing his thought on the same, Gupta says, "Subsidy and incentives are having a major role to play here. We are having a dedicated project team, which ensures on-time project execution and stringent Payments terms. Rays Power Experts conduct the complete designing of projects, its Technical and Engineering ground work, Installation process and Commissioning of projects."
Rays Power Experts is a global solar power development and EPC (Engineering, procurement and construction) company, with the highest number of solar EPC projects in India. Gupta claims that his organisation is completely debt free, where capital needs are taken care by company's internal accruals.
Government Subsidies and Incentives
Ministry of New & Renewable Energy (MNRE) has pledged a practice of tracking the evolving renewable power regulatory framework and develop a repository of information in a consolidated manner. This move has been taken to analyse the framework of the renewable energy regulations and issues related to renewable energy space as well as create a platform to share information on relevant issues.
With the introduction of Electricity Act 2003 (EA 2003), promotion of renewable energy gets a boost, as this act offers regulatory interventions for promotion of renewable energy (RE) sources through determination of tariff, specifying renewable purchase obligation, facilitating grid connectivity and promotion of development of market. Smaller players are bullish on this segment and are eying huge investments.
Some of the major policy incentives put forward by the government include – accelerated depreciation, generation based incentive, feed in tariff and viability gap funding. These incentives are likely to bring huge capital in the renewable energy sector. Right policy, right investment returns and right removal of roadblocks will allow India to grow manifold in renewable energy space.
Expressing concerns over the uncertainty in the incentives and measures adopted by the government, Rathore says, "The subsidies and incentives are only for setting up solar power plants. There is no direct provision to support start-ups. The incentives will benefit companies that are already in the business of setting up large solar plants and have access to huge capital. No small entrepreneurs are there in this space."
Fund flow
US president Barak Obama, on his recent visit to India, announced an investment of $2 billion for the betterment of green energy space in India. This foreign funds flow is likely to happen for the completion of the renewable energy projects in India. Start-ups say that they will get benefitted from foreign funds flow and this step will play a huge role in catapulting the Indian green energy space.
But the other side of the coin says that renewable energy is a new industry. It still comes under the larger category of power sector and like its parent category, renewable energy projects are big ticket games involving large industry players. Therefore, $2 billion investment would not benefit start-ups in a big way, as the sector is dependent on government policies. The investment would be mainly used for financing large projects.
"The billion dollar announcement is meant for the EXIM financing, which is really meant for importing and exporting equipments from US to India, which is then financed by US EXIM. So, we have to wait and see how the $2 billion amount is actually going to be allocated," says Sinha.
The opportunity for PE in solar is something that still has to be properly done. Infrastructure as an asset class does not necessarily mean the sweetest spot of private equity. India is a country where significant amount of leverages is being used and that is what the country is going to leverage in renewable energy. We are working with the government to enable great financing structure, green bonds and other things which will really help the industry, shares Ardeshir Contractor, MD and CEO, Kiran Energy.
Thus, experts opine with the fact that in the renewable energy space, regulations should be consistent and the government should play a crucial role in creating an economically viable model to attract the private equity capital.
Future Ahead
2015 will be the year when small scale renewables (mainly solar) will come into picture and the market will rise. When more and more people would come to know about the economic benefits of the solar energy, it will automatically open up the market and increase the visibility of the start-up community in the renewable energy space.
"Under the previous governments, there were targets, but the policies were little bit misaligned. With the new government, there is a lot of push behind all forms of renewable. The target is 100,000 MW, but if you further bifurcate the target, about 40,000 is meant for the rooftop, 20,000 is meant for skill for unemployed youth trying to create entrepreneurs in rural areas, and the rest 40,000 is for grid connector, out of which public sector will take some. It creates a huge ecosystem of opportunity. Opportunities could be in the areas of EPC companies, Ownership space, and Service providers because the scale of play is vastly changing around," explains Sinha.
Going forward, India intends to set up an ambitious renewable energy programme, which is expected to generate 15 per cent renewable energy by 2020. Moreover, the government is aiming to add about 100,000 MW in the next 5 years, which gives an additional investment opportunity of $100 billion.
"Over the next seven to eight years, about $100 billion of investment is required only in solar energy space, which requires over $30 to $40 billion of equity investment and that throws up a lot of opportunity for new investors to get in," concludes Sinha.