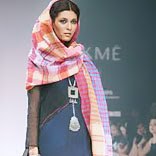 Chronology: From the days of Charkha, our handloom industry has come a long way. The cultural heritage, preserved for continuity has infact evolved into many characters, each chronologically identifying with different tastes and moods of genres of that particular time. If Mahatma Gandhi could well be the perfect trend setting model for early Khadis, Nehru for his Jacket, then Indira modeled well for the woman category. Other politicians also donned what was propagated by the torch bearers of early Independent India, but they somehow got dwarfed by the first accepted leaders who are still seen as Brand ambassadors of the trade worldwide.
Handloom evolved from here as people took to it willingly for its affordability and quality. Slowly, it started to become a style statement of politicians and journalists. Gradually, it caught the fancy of some designers who started to add variety to it with embroidery, motifs and designs etc. Well, the new avatar started to catch the eyeballs of youngsters, elites and foreigners and then it fell in place with the recognisation that was long due; fitting well as exclusive merchandise in its own land. Production started in a big way to meet the demand in domestic and foreign shores. Store chains of Fab India, Khadi Gram Udhyog  etc. are some good examples of its metamorphosis and big acceptance.
The Offerings: The Handloom industry that has adopted various measures and techniques to provide high quality and eco-friendly products to the world market mainly exports fabrics, bed linen, table linen, toilet and kitchen linen, towels, curtains, cushions and pads, tapestries and upholstery's, carpets and floor coverings, etc.
If you thought Khadi was only coarse cotton, rethink. A categorization state wise will unfold: Madras checks from Tamil Nadu, ikats from Andhra and Orissa, tie and dye from Gujarat and Rajasthan, brocades from Banaras, jacquards form Uttar Pradesh. Daccai from West Bengal, and phulkari from Punjab.
The Surat tanchoi with satin weaving and extra weft floats that are absorbed in the fabric itself has been reproduced in Varanasi. The Baluchar technique of plain woven fabric brocaded with untwisted silk thread, which began in Murshidabad district of West Bengal, has taken root in Varanasi. Their craftsmen have also borrowed the jamdani technique.
Then we have Kashmiri weaver known the world over for his Pashmina and Shahtoosh shawls which are unbelievably light and warm.
The states of Kashmir and Karnataka are known for their mulberry silk. India is the only country in the world producing all four commercially known silks - mulberry, tasser (tussore), eri and muga. Now gaining immense popularity in the U.S.A. and Europe  Assam is the home of eri and muga silk. Muga is durable and its natural tones of golden yellow and rare sheen becomes more lustrous with every wash. The ikat technique in India is commonly known as patola in Gujarat, bandha in Orissa, pagdu bandhu, buddavasi and chitki in Andhra Pradesh
The Statistics: The current capacity is 4.60 million and out of which 85 per cent is installed in India. India's handwoven sector with 3.89 million tonnes employs 6.55 million people accounting for 13 per cent of the total cloth produced and nearly 16 per cent of the total cotton exported of Rs.1772 million.
Market Players
Fabindia that has become a prestigious brand in India, registers a 40 per cent year on year growth across 22 locations in India during 2004 with an aim to have 40 stores in India by the end of 2005, with total sales of $ 22 million.
Fabindia's fabrics and designs are finding wide acceptance in Dubai. "Our fabrics are ideal for the climate of the Gulf because they are cotton and handwoven/handblock printed, with a feel that is not found in mill made fabrics," said Mr. Bissell. "Additionally, we source traditional blocks and weaves from Indian craftsmen and give them a contemporary touch, thus creating products that are uniquely elegant," he further added.

"Fabindia's range of home furnishings is comparable with the best worldwide. With the value addition of a distinctive look represented by the blending of textures and colours to create an exquisite handcrafted final product," said Mr. Bissell.
Gandhi Jayanti is a special time for these Khadi Sellers.
""During Gandhi Jayanti, we celebrate Bapu's birth anniversary and introduce his ideas and things symbolic to him to the tourists. With large no. of international travellers coming to India, we want to spread his ideas among more and more people, as much as we can. Airport being the first interface of the country for the tourists, there couldn't be more fitting place", opined Mr. Palmer, CEO DDFS who sell Khadi Gramudhyog's products.
Potential
Well, world over, the trend of natural living and organic products are gaining momentum. People expect everything to pass wield of magic wand and transform to chemical free products. This desire supported with rise in income can bring a revolution in the years to come. Next year may witness a good growth in domestic and export demand and a correct strategy can actually put this Industry in the world map. Depending on your level of commitment you may foray as a retailer, exporter or put up a cottage industry.
If putting up a cottage industry
After you have decided what products you are going to produce, do a recce to find the financial assistance you can get from government and special schemes and facilities( This will differ as per the industry type: whether it is a cottage industry or a power heirloom ).
Get designers, keep yourself updated of regular innovations and latest trends.
Start a website to get more exposure and promote your website.
Interested to retail?
If  tempted to start a retail, begin with first deciding on the model format and the location, whether it is going to be a small boutique or a big shop and in high street or mall. Next, gain a list of suppliers for sourcing.
You may also hold sale and exhibitions at intervals to get the new people attracted to your shop from time to time or participate in trade shows and fair by council and other bodies.
Want to Export?
    * You can approach the Council  for information about the foreign market and other related matters.
    * You can participate in the International trade fairs which would give a chance to directly interact with the international buyers at a subsidised rate.
    * You can also participate in the Buyers Sellers Meet for more personal interaction with the buyers.
    * Importers directory - you can have the addresses and contact details of the prime importers from this directory.
    * Get Handloom Export Council 's Atlas or Export Directory in four languages: English, Japanese, French and German
       that has a list of all manufacturers with  details of their expertise in Handloom Industry like weaving, colouring, spinning etc.   
An exporter need not necessarily be a member of the Council,  in which case he will not be able to avail the benefits that are extended to the members by the Council and the Government.
Conclusion: Handloom is matchless in its flexibility and versatility, permitting trials and encouraging innovation. However, in the present context of globalization and rapid technological developments, handloom sector is snowed under many challenges and the handloom products are being imitated on powerlooms at much lower price. There is a need to strengthen this sector given the employment potential and market demand for handloom products.
Moreover, due to lack of demand, the labors of this Industry who work on daily wages remain idle for most of the days in a month. Further, their wages have also come down from Rs.500 a day to Rs. 400.
Despite all this, there is optimism in the air for this trade. So, in keeping with the charisma of the trade, the government needs to push a little more to mend the remaining fractures of the trade and take it on healthy strides. Is National Handloom Development Corporation, Handloom Export Promotion Council, State Development Corportaions and the Ministry of Textiles listeming?