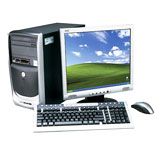 Are you so caught up in the day-to-day issues of your business that you tend to overlook your laptop or personal computer that needs maintenance? Your computer is the most important thing for you to run your business. Well, who would know this better than you!
Marketing, selling, interacting with clients, taking orders and even the smallest of business activity requires the help of your computer. However, business owners have become so habitual of their personal computers that they fail to recognize it as a technology that needs proper care and maintenance. Here are some easy steps, which you can keep in mind to keep your computer healthy.
Organise your data – Store data logically. May be you can have folders by the names of various departments of your business, or by the names of your clients.
When pressed by time many tend to name the folders and sub-folders randomly and then keep searching for it later. Give them logical names and destinations so that when you are looking for it you don't spend much time hunting it.
Do not clutter the desktop. Keep it clean. You can have shortcuts on the desktop for different files. But avoid those folders or shortcuts to folders, which you hardly use.
Update regularly – Your anti-virus needs to be updated regularly. Check for the latest versions of it and download them. Install the anti-virus which consumes less space. And turn the automatic update on. Even if you forget to update, it'll automatically happen.
Clean your disk regularly – Your computer also saves many files from the Internet that needs to be cleared regularly. If you are using Windows, it is very easy to clean up. Open your 'My Computer' folder and right click on the C-drive, then choose 'Disk Clean-Up'. Check the 'Temp Files' and 'Recycle Bin' and click 'OK'.
Do not install unnecessary software – Free software can be tempting and you might end up downloading more than one to serve the same purpose. So before you download one do some homework. Read some review, talk to a couple of people who have used it and then download.