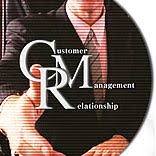 There is no single definition of SMEs, nor is any globally accepted definition of a small or medium-sized enterprise (SME). Small enterprises have an average of around 200 customers. Medium enterprises are ones, almost 500 customers. SME's could also mean a consultant working from home or the small enterprise catering to its 100 employees, right through to the 1000 enterprise workforce.
Is it worthwhile?
It is a common myth that CRM has little role to play in any cash crunched SME that is on a growth trajectory. As per a report, only 5 percent of Indian SMEs have adopted CRM. SME's now have a lot of options and can exercise them.

SME's are unable to capture sufficient customer information. Individual customer information is seldom if never captured. SME's fail to measure the profit and satisfaction per customer. Customer satisfaction and customer requirements are seldom taken into consideration.

Better customer service levels, globalisation, higher profitability, competition are the motivations for SMEs to get CRM installed.
The towering SME market
SME's now seek customer-oriented approaches rather than product oriented ones. Adjustments made to large enterprise solutions -basically shredding them thin so that they facilitate easy use by SME's is no longer a wise option since SME's walk down a path alone. These solutions seldom address the individual problems of SME's.

The requirements of an SME CRM software solution is easy installment, less technical resources, ease of integration, reliability and scalability. The industry biggies are all geared up to cater to SME's CRM requirements. Microsoft for instance has resolved to commit to better CRM solutions for SME's. Vendors are busy localising products and making hosted services affordable to SME's.
What's New?
Since most companies want quick returns on their investments, they are opting to go in for the hosted solution option. The advantage is a quick-return scenario. In this respect the application and data are hosted and managed by a third party. The customer has only to make use of the CRM service through a browser or front-end application.

The most lucrative market for hosted solutions is easily the SME market. The benefit for the SME of hosted solutions is that users can access their CRM package via Internet from anywhere. It can also be integrated into a company's website. It is designed basically with the purpose of providing customers with a customer-centric experience.


Conclusion: If SMEs understand that a little more investment can leverage their Customer Relationship, they should not shy away from inculcating that in their business. Remember, the pressure of paying a little more initially will reap rich rewards in the long run.