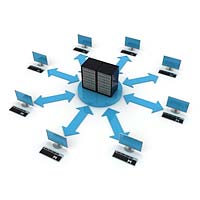 Staying current with the latest and greatest in hardware and technology is challenging for an organisation of any size, especially for small medium sized businesses (SMBs) that often have limited resources and personnel. It's no surprise then that today's SMBs are moving toward desktop virtualisation, which offers a modern and cost-effective approach that's a viable alternative to traditional PCs. Desktop virtualisation delivers all computer performance, manageability and security required for businesses to remain competitive in today's market with significant cost savings compared to buying and maintaining PCs.
Recent studies, focused on the State of IT for SMBs, reveal growing IT budgets and also continued rapid adoption of virtualisation technology, cloud services and tablets in the workplace. It's been also observed that while sizeable number of small and mid-sized companies has already adopted desktop virtualisation for their businesses, many others are looking into adopting the technology in the near future. However, limited IT staff and IT budget constraints continue to remain perennial challenges for this segment.

Such findings are intriguing as they reflect a need and growing shift towards modern computing solutions as the use of tablets and leveraging the cloud continue to escalate.
 
Desktop virtualisation, therefore, makes sense for SMBs as IT budgets are expected to grow and accommodate BYOD (Bring Your Own Device) and cloud office environments, all while staff sizes to manage the environments remain the same. Specifically, desktop virtualisation offers the following benefits to SMBs:
1. Long-Term Reduction in IT Costs & IT Staff Headaches
Continual management of multiple individual PCs, desktops and handheld devices is time-consuming, cumbersome and costly. 
Already strapped IT staff members can leverage desktop virtualisation technologies to control and make system-wide updates and upgrades from a single centralised source in a timely fashion, rather than updating workstations and BYOD devices one by one. The payback is – freed time to focus on other projects and fewer headaches.


In the long run, desktop virtualisation offers a reduction in administrative and maintenance costs, which increase over time with company size.
2. Improved Enforcement of Security & Compliance Mandates
SMBs are particularly concerned over the management of their end users – with security and compliance topping the list, and for good reason. For example, a significantly high number of laptops are stolen or sometimes even lost every year at public places such as airports. The loss of business-critical information is a very real threat particularly for industries, such as financial services and healthcare and for the government.
SMBs can turn to desktop virtualisation to meet security and compliance mandates by moving data off end points and into the datacentre where it can be more efficiently and securely managed. Compared to a conventional desktop, a virtualised desktop is more secure given that its data never leaves the data centre. The result is a drastic decrease in vulnerability and data loss.
3. Increase in Overall Employee Productivity
The impact on overall employee productivity is also worth considering. In typical scenario, a desktop machine going down means lost productivity as that employee has to sit around and wait around for the workstation to be repaired.
With desktop virtualisation, however, IT can get the user up and running again on a new instance of their original virtual desktop. The immediate ability to access the same desktop from a different device means no more lost time when such IT problems arise. Additionally, the fact that desktop virtualisation supports BYOD devices, such as laptops, tablets and smartphones, means IT is able to support the demand for a virtual working environment and immediate access to information.
As SMB, IT demands increase to support business growth, and, while staff sizes are expected to remain the same, now is as good time as ever to consider desktop virtualisation for making the most of your resources. By enabling streamlined IT processes and enhanced employee productivity in today's BYOD world, moving to desktop virtualisation can provide a step ahead in today's competitive SMB business environment.