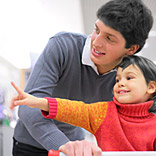 While browsing through various TV channels on a Sunday afternoon, I paused to know what keeps children hooked to Cartoon Network, Pogo and the likes. Though I couldn't get the answer to this question, another question came to my mind – big companies have the money to exploit TV to market their products to children, what do smaller companies do?
Children form a major part of the demography and more so business. Numerous products and services are targeted at them. Many small and medium businesses have products targeted at them.
With bigger companies the options are many. The best is to get their products or services associated with cartoon characters. Nothing influences kids more than that. The study conducted by Yale University's Rudd Center found that 50 per cent of the children (respondents) claimed that snacks from packaging with Dora the Explorer, Shrek and Scooby-Doo tasted better than snacks from plain packaging.
Another way is to associate a celebrity to your brand. The TV commercial for Boost featured Sachin Tendu lkar or Sunfeast had Shahrukh Khan in its TV ads. Bringing in celebrities whom kids look up to makes the product stay on the minds of the young ones. And when they go out shopping, they pester their parents for it.
The third way to be on the young buyers mind is to bracket together with a children's movie. When Zapak rolled out Zapak kids, it named a game after the Amitabh Bachhan movie Bhoothnath. Now when the movie became popular with the kids, talks about the game also took rounds.
Small business and Kids
Ms Garima Agarwal, Fonder, Peek-a-boo Patterns says, "The children's sector is an evergreen sector and a growing market and we have a passion for working with and for them."
Talking about her company's marketing strategies she says, "Most strategies (marketing strategies to target children) are relating to promotions with a message.  We also plan to reach out to kids through schools and other such institutions." She adds that for small business the best strategies are those which communicate through messages. Participating in events relating to kids helps in branding.
The present day kids
Kids of the present day are more vocal and exposed to the media. They have a peer group to move in and so keep themselves abreast of the happenings in their surroundings. Products like new toys, chips or other snacks are their way of being the talk of the town. With their nagging behaviour, they can influence the buying behaviour of their parents. It depends on you how subtly you use this psychology of theirs. 
With both the parents working, guilt can play a role in spending decisions. Time-stressed parents substitute material goods for time spent with their kids.
Mistakes SMEs make
Most SMEs do not have a plan for their marketing efforts. As and when they are approached by media to place advertisements they do it depending on their present disposable income.
Mr Deep Banerjee, an independent Marketing Support Consultant with 18 years of experience in marketing to children and youth says, "As far as SMEs are concerned their spent in marketing is huge but in lack of proper guidance. It is mostly driven on impulse and ego drive."
According to Mr Banerjee by placing some advertisements in newspapers and local TV channels small business owners think that they have reached out to the masses, not realizing that only a very small percentage of that mass is their actual target audience. They do not have a clear idea of who their target audience.
Expert Advice
Mr Banerjee suggests five points that need to be kept in mind:
Education – Most SMEs are not aware of basic concepts of marketing like segmentation and brand positioning. Any product is not meant for anybody. They need to educate themselves about these concepts and seek professional guidance.
Brand Activation – SMEs should go for brand activation activities like seminar, events or exhibitions. The money spent per person might be on the higher side but the effort will be more effective. Even if 2000 people walk to upto your stall in an exhibition they will be more serious about your product and intend of buying than the 8 lakhs you will reach out to through an ad in a newspaper or local TV channel.
Hatke effort – Sit and draw contest have little differentiating ability and might not help a smaller brand. Rasna can leverage by such contests because of the media spent backing them. For a smaller company Inter school and inter college events or apartment box could work better.
Right Pricing – Leaving large margins with retailers will not help your product move faster. This is not marketing. Rather spending more on packaging and material can be a better choice.
Social Media – Every SME should inculcate the habit of being active on social media. When it comes to marketing to children, a large portion of this target group has access to the Internet. So the notion of not enough penetration is just a misnomer. Facebook and Twitter can be great tools to market to children.
Target children responsibly
Correct that you have to achieve your marketing goals, but when you are targeting to children there are certain things that you should take care of, especially if you are in the food business.
Seven major food and beverage companies as a part of their self regulatory measure announced a common commitment to responsible marketing to children. Coca‐Cola India Inc., PepsiCo India Holdings Private Limited, Kellogg India Private Limited etc are few.