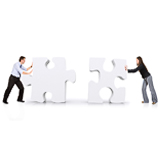 Entrepreneurs generally presume that consumers possess a huge appetite to which anything can be fed but today they have become very choosy and so it takes a lot more than hope to get people to purchase your product or service. Small business owners, in particular, need to identify and use new business building practices in order to create their own market and identity. Some of the main practices, which will energise your company's growth plans, are:  
Focus on your core product
A common psyche among small business entrepreneurs is the feeling of following the same business practices which the big guys do. But in reality small-business owners can really never compete in the same way because of the different business dynamics. So it's essential for small businesses to differentiate themselves by focusing on their unique capabilities and core products. Specialisation is an entrepreneur's greatest asset, which makes him/her stand out in the crowd and help him/her make his/her unique identity and market. Kiran Nandkarni, CEO, Kaati Zone says, "Clients/customers will buy your product/service when they trust the value attached is useful to them and believe your company is stable."
Be simple and precise
What every company needs is a simple 'elevator pitch'. A short, concise communication is required that conveys your message to the client in a few words and short time. It should explain the value your product or service offers to understand why it's useful to them.
Identify your strengths
You know it well, what gets you excited will help you reach your goals. Nothing can derail your growth plan more than discomfort and there are dozens of daily business requirements that every business owner detests. If you're finding yourself putting things off, it's time to start delegating. You know what you are best at so stretch and grow your capabilities in alignment with your interests and expertise. Ashish Kapoor, CEO, Yo China says, "Always make sure that you're focused on your priority task and delegate the secondary tasks."
Service strategy
Mapping your capabilities with your target clients' needs is an excellent way for you to determine your service strategy. You'll find that while you may be perfectly skilled in many areas, you're going after customers who don't need your particular expertise. As said earlier, a small company's value is that it can specialise in a unique, top-quality services and this is the reason why it has a better chance of flourishing. Rahul Jain, CEO at Business Coaching India says, "One common trait among many entrepreneurs is the urge to 'cast the net wide' and offer everything to every company. You need to develop a list of decision-making criteria that will help your clients choose your product/service and vice versa."
Right marketing tools
When deciding on a marketing strategy, implement one that goes with your product's/service's quality and the customers you serve. Identify the most efficient marketing tools you've used in the past that have worked for your company and refine it by adding new ideas for a fresh perspective. When selecting your marketing tools, evaluate them from the cost-aspect and decide what will yield the best return for your efforts. Each tool should lead to a revenue-producing result in one way or the other.
Plan of action
Your plan of action will give you the required impetus to measure your progress. Establish goals that can be reviewed quarterly and at incremental points within the three-month period, keep checking your plan to see if you're meeting your goals. This should be accompanied simultaneously by doing specific daily actions that will help you meet your goals. The daily strategy will keep the planned goal at the top of your mind.
Exercise the plan
As it says, execute the plan! Complete the daily actions and then do something extra to accelerate your success plan. While you approach your plan if you are facing any interruptions either get over it or substitute an action that you're comfortable with so you stay on course. Do not let unplanned tasks waste your precious time, which otherwise should be applied towards reaching your goal.