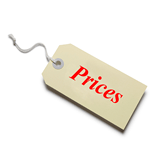 Pricing, the most important element among the 4Ps, needs special attention as this determines the profit margin of any business. Industry experts feel that if a company wants to sustain a business and grow, it must give emphasis to its product's pricing.
 "Price of a product should be determined keeping in mind what the customer perceives to be fair", feels Alkesh Agarwal, CEO, Refeel Cartridge Engineering Pvt. Ltd. "It should be in proportion to the value it offers" says Sunil Cherian, Founder, Burgerman, a fast food outlet of burgers and hotdogs. Your offerings should be priced in such a way that it covers your manufacturing costs but should not be high enough to let your competitors gain advantage and you end up losing your customers.
Key Pricing Strategies
1. Penetration pricing
If your company is entering a new market, it becomes very important to price your product in such a way that it helps you to widely penetrate into the market. Think less in terms of making profits and more in terms of reaching out to a large section of people while pricing your product. Renowned fast food chain, McDonalds used this strategy to reach out to a large target group in India by reducing their burger's price to just Rs 20.
2. Competitive pricing
If your company is producing a commodity or service, which has many competitors, then your pricing strategy should be to lure away your customers from your competitors. This can simply be done by lowering your product's price, comparitively. Price it such that it just covers your manufacturing costs. "We did a good research to understand the pricing of various products of our competitors before coming out with our product's price. We wanted it to be affordable to our target customers, says Cherian.
3. Product-line pricing and offers/schemes
In order to have an edge over your competitors, you can come out with schemes such as cash discount, discount on bulk purchasing (trade discount), offers like buy-one-get-one-free, or any other innovative means. You can also club two or more products, offered at a concessional rate. "Offers and schemes are important to generate excitement amongst customers" avers Agarwal.
4. Price leadership or premium pricing
If you think your product or service is unique and no other company offers a similar product then you can price it according to your evaluation of current demand and its future growth. An only cable operator in a particular area can always increase the subscription fees because he does not have a competitor.
5. Understand Consumer Psychology
"Price, sometimes, is perceived as an indicator of the product's quality, so it becomes very important to understand the psychology of your end customers before zeroing in on any strategy.