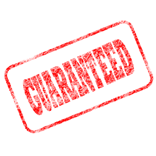 Think for a few minutes, would you prefer to buy a product that has no guarantee of paying back the money that you spent on it if it fails to give the promised benefits or would you like to go for one that 'guarantees' you a refund if the product does not meet the promised hopes. You would obviously go for the second choice i.e., a product that is backed by a guarantee... Won't you?
Similar is the case with your customers. They would be more willing to purchase your product if it is backed by a guarantee (or warranty) of time (of delivery), money or some other benefits. The idea behind this concept is that you, as the owner of the business can enhance your customer base by taking a few risks. For instance, Dominos, which promises to deliver pizza within 30 minutes of placing the order, has been able to give a tough competition to the market leader in Pizza in India, PizzaHut only because it guarantees its pizza free of cost if it is not delivered within the specified time.
A 'No-Loss' proposition due to the following reasons:
If you feel that your customers are satisfied with what you offer, you need not worry by offering a guarantee to them with the products as that will have the least risk but you help in building goodwill and trust
People are generally non-confrontational and don't want to make a big issue out of things. Just a handful of the total unsatisfied will come back to you
Make the strongest promise that you can comfortably live up to and market the promise everywhere you can.
Companies that make guarantee as a part of their USP are likely to prosper. For example- Dominos, Colleges offering 100 per cent job placement guarantees, and companies claiming Money back guarantee
Some Important Tips:
1. Get Recommendations- Try to get recommendations or testimonials from people, who have used your product and they believe that it is effective. This will enhance your brand's respect and goodwill.
2. Challenge, Warranty: Throwing challenges and offering warranty to your customer shows the level of confidence that you have in your products and aim at transmitting the same to your customers
3. Keep a look at your competitors: As always, keep an eye on the strategies that your competitors are making to lure your customers and plan an answer to it. An interesting example here is of Radio One 94.3 (Delhi) that guarantees playing one song once a day along with 'canteen wala hit' songs and Big 92.7 FM (Delhi) counterattacks it by marketing itself as the channel does not play the old and flop 'canteen wala' songs.
4. Recognise your strengths and consumer's expectation: It is very important to know and understand your area of strength and expertise and what the consumer expects from you- is that better servicing, competitive pricing or some other thing. Guarantee your customers on it so that it's a win-win situation for you and your customers.
5. Conditions Apply: Conditions Apply acts as a cushion for you. If you have certain conditions under, which you would offer the guarantee to your customers then you can add a section like this wherein you can filter out cases, which do not fit into your criteria of promising results.
6. Track your sales: Track how has the sales reacted by introducing the guarantee scheme so that you can further strategise.
Adding any sought of guarantee to a product has become common. So take care while marketing your product in terms of highlighting your guarantee. It should be such that it defines your commitment and accountability to your customers.