Building Trust for Building E Business
Trust is the first and foremost criteria to succeed in any business, more so in E business, where there is no touch and feel experience and the customers have to be satisfied with the image on the website
BY Entrepreneur | Apr 06, 2011 comments ( 4 ) |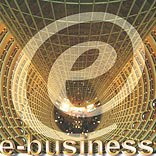 First thing to understand about e-business is that it is different from conventional business - not so much in the rudiments, which is essentially same for all businesses, but in its approach to customers.

If you are wondering you have a wonderful product and very competitive price line - but still your product is going nowhere, it is time to introspect. Besides, product quality and competitive prices which are extremely important qualities as competition is intense in Internet. But these qualities will come to the fore only when a customer will accepts you as seller. To understand why customers may not accept a seller on face value – we need to examine certain factors of Internet based b2b marketplace.

Let us see now the factors that influence consumer trust in a Web site and the specific Web site trust cues that are associated with these factors?

Take Professional Help (B2B Portals):
Make your buisness'credible'. For that see if your web-presence inspires confidence ? Your conduct has to be thorough businessman-like. Social networks like Facebook or Wordpress may be good for promoting your business but can not be considered credible business platforms.

You need to invest in a professionally designed business web-site. Without a credible web-presence - its going to be an uphill task to convince new customers about your ability and close transaction.

Put all information about your company so that a customer knows where you are coming from. Display products in front page for ease of access with their prices and important information so that a customer goes through minimum hassle in finding a product.

Next step is to build bridge with your customer through credible and professional communication. First requirement of credible communication is business e-mail. Then comes advertising which appears more practical.

Branding:
Branding is very important at a time when there are so many competitors already in the business. This may not come easy so continue it over a long period of time.

Customer Service:
Customer service is very important in all types of business more so in e business where the customer is dealing with total strangers, akin to a blind date. Your entire business, marketing, sales and profits depend upon customer feedback so be prompt in handling their grievances and making their life better.

Promote your business
Invite press, give interviews in major channels of print and telecast media, be seen talking about your product which will generate interest and trust in people.

Vouchers for compensation

A website once couldn't deliver my product in time. I cancelled that product in frustration but interestingly, got a free coupon of exact amount as compensation. Keeping some freebies to compensate will build credibility of your company.

Remember a new online sale site is mostly seen with mistrust, which people think misleads them by showing original products and delivering fake ones. Some people have actually built such sites which is a short term money making platform. If you want to go a long way, then there is no substitute to building trust. Start the process if you haven't already.
Please add your comment
sagarjagadishraj
July 18, 2011 at 7:43 am
It is interesting project so I wanted to try this, so please send me the detail.
Reply |
Nupur
April 16, 2011 at 1:38 am
Please give me further details.
Reply |
SANJAY J
April 12, 2011 at 3:11 am
i am interested in your project
Reply |
shikha singh
April 08, 2011 at 2:18 am
i wanted more about e business
Reply |