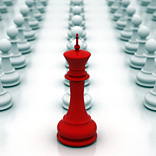 A 360 degree approach is imperative when an entrepreneur is mapping his success quotient and measuring it up with his organisations growth.
Are you one of those leaders who are used to hearing only a 'yes sir' around you? Are you always working hard and striving to achieve that all important invincible position in your organization? Do you always fear that a frank organizational culture will make you redundant? Then you need introspection, because an unidentifiable identity crunch may reflect negatively on your organization. It's time you do a self assessment of your leadership skill. This is most crucial to avoid detouring on to the non-entrepreneurial road, and steer heading your business in the right direction.
Diminish the 'I'm always right' criteria-Gloating in your own glory is a killer for any leader. For what once worked wonders might not necessarily replicate itself. So it is mandatory for any thoughtful leader to do a self-test each time he/she takes a plunge. The marking points would include measuring the extreme consequences that can arise. Each step should be taken with the same caution that you took your first with. This will reestablish your credibility, and clear the cloud of confusion.
Be vary of the 'Yes sir' clan- Once you stand tall on the high pedestal leading a mass, the ones who can make you fall are the negative impersonators hidden within your own skin. Since you are the owner and do all at the initial stage of your enterprise, it is very difficult for the employees to detach this fact and argue with you on a rational level. So it is the task of the leader to check time and again whether an open environment exits; and if it has ceased to exist, and then take it upon as an urgent task to rebuild the faith of the employees; being vocal about their ideas will pay off.
Keep the 'core values' intact- Let values stand above all. Make the 'value set' as the core part of your organizations cultural sub-set. It should be the most intangible component of your organization which stands even above you. The concept to check for is that, if you respect and stand for the core values such as truthfulness, integrity, keeping the environment green, etc. then automatically it will be followed down the line by all.
Easier said than done- The key to maintain your integrity as a leader and yet be able to lead effectively is to follow what you preach. The emphasis should always be on implementation. Employees form a company's DNA, this can be done by devising a value integrated organizational structure.
Make it public- The only way in which you can create a fool proof structure, is by integrating and involving all your stake holders and making your strategies/plans public. Make the list of values which are an inalienable part of your startup's communication, both internal and external. For instance, a sentence that is reflective of the values of your startup could appear at the bottom of your e-mails. Encourage your customers to help you get better at your business by letting you know if they perceive your startup as a values-based organization.
And finally, it is important for you to understand that the core task of a leader is to make himself redundant. It is only then that the system will operate above the people- based on core values, structured around the goals and striving to achieve the company's mission statement.